When my family adopted a Siberian husky, a daily walk became part of my life. While the weather was warm, I enjoyed our jaunts in the park. But when the temperatures plummeted and the snow piled deep, I faced the walks with dread and usually returned home shivering. I was not equipped for lengthy outdoor excursions.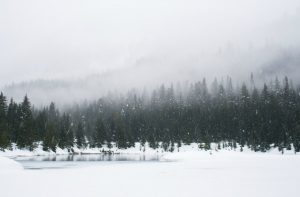 In theory, I knew the way to stay warm involved layers, but since my winter sporting mainly consisted of trying not to slip on the ice in the Walmart parking lot, I had never embraced the act of donning multiple sets of clothing. But when my toes grew numb and the wind left my ears aching, I decided to give layers a whirl. Fleece-lined leggings under my jeans and a sweater beneath my coat were my first additions. A second hat under my hat kept my ears from freezing. I doubled up on socks and sometimes on gloves as well.  
On days when the temperatures dipped especially low, I opted for the goose down coat that hangs in the family closet. It hangs to my knees and the sleeves engulf my hands, but the toasty level of protection it provides can't be bested. Even with my breath freezing in my nostrils and sub-zero frost clinging to my hair, I managed to stay warm.   
We all hope our lives will be filled with sunshine and happy days, but we also know we will sometimes be hit with storms. The car breaks down, a child gets sick, a job is lost, a loved one leaves, we face a death or a devastating medical diagnosis. Sometimes we get through one crisis only to be faced with another. At times the challenges seem to drag on longer than our strength to endure. We feel overwhelmed, unloved, or forgotten. Our faith may waver. We are left shivering in the cold.  
So how do we equip ourselves to handle the deep snow and icy temperatures that are an inevitable part of life?
The apostle Peter wrote, "And beside this, giving all diligence, add to your faith virtue; and to virtue knowledge; And to knowledge temperance; and to temperance patience; and to patience godliness; and to godliness brotherly kindness; and to brotherly kindness charity" (2 Peter 1:5-7).  
We add layers.
Spiritual layers. 
We start wherever we are and begin building. We add to our layers each time we pray in earnest. Every time we open our scriptures and partake of God's word, we add a layer. Each time we fast, do family history, minister, spend time in the temple, attend church, follow a prompting, we add layers, layers, layers. 
Building layers takes time. The Lord doesn't expect us to do it all at once. In Isaiah 28:10 we learn, "For precept must be upon precept . . . line upon line . . . here a little, and there a little."
Bit by bit. 
Little by little.
Layer upon layer. 
Our efforts may seem small. Simple. But "by small and simple things are great things brought to pass" (Alma 37:6). By consistently repeating our small and simple efforts, we build great layers. We make the effort to read His word over and over. We find a way to serve others again and again. We turn to Him in prayer every day, multiple times a day. As we do the work day by day, our layers grow thick and strong. 
There will be times when our layers won't be enough, when even through our hard built protection, the cold creeps in. That first winter, the cheap boots I owned left my toes cold no matter how many layers of socks I wore. To keep my feet from freezing, I had to invest in higher quality footwear. 
When we face especially difficult challenges and our regular spiritual layers feel inadequate, we need to invest more. 
Investing in spiritual layers requires putting in greater effort. That doesn't necessarily mean more time. It does mean expending more mental effort. Pouring out our souls in prayer rather than simply speaking words. Seeking to have the Spirit teach us from the scriptures rather than just reading words. Striving to know our Savior rather than simply knowing of Him. 
It means putting more trust in our Father in Heaven. More faith in His timing.
Elder Gerrit W. Gong of the Quorum of the Twelve Apostles taught, "As we come to trust God, sometimes through pleading in our darkest, loneliest, most uncertain moments, we learn He knows us better and loves us more than we know or love ourselves" (Gerrit W. Gong, "All Nations, Kindreds, and Tongues," October 2020). 
As we invest deeply in our spiritual layers, our efforts will bring us closer to the Savior. His power, His grace, His love will shelter us through the difficult trials. 
Nothing will stop the storms from coming, but as we build our relationship with Jesus Christ, we will feel His love wrap around us, engulfing us, providing the strength we need to weather whatever storms come our way. 
Our Savior Jesus Christ walks beside us through every storm. If we turn to Him, rely on Him, work to know Him day by day by day, no matter what frosty conditions swirl around us we will stay protected in His warm embrace.
About Cami Klingonsmith
Cami lives in Idaho with her husband, various family members who come and go, and an energetic Siberian husky. She volunteers as a costume director/seamstress for the drama department at her local high school where she gets to make elaborate clothing most people don't wear in real life—which is what makes it so fun. She enjoys reading, bird watching, gardening, and Zumba, but her greatest joy comes from being with her family.
Twitter •