Michelangelo once said, when asked about his sculpting approaches, that he carved away everything that didn't belong in his statues. What a wise approach . . . and his statues have lasted for centuries.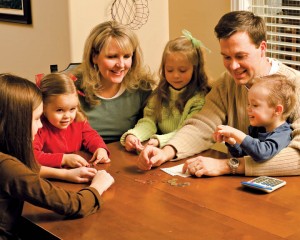 In many ways, his approach reminds me of the following phrase:
"The family that plays together stays together."
OK, so I got the saying wrong. I've heard it many times as "The family that prays together stays together." Can't argue that sentiment at all. It is true. But so is the first statement: "The family that plays together stays together."
Why does this remind me of Michelangelo? Hold on for just one moment and I'll try to explain.
Studies have shown, especially for families with teens, that recreational activities on a WEEKLY basis are essential to bond a teen to his family. It seems funny and somehow counter-intuitive – teens wanting to be with Mom and Dad? Typically, we think of teens pulling away from the family, seeking time with friends and only friends. But studies have shown otherwise.
Wise are the parents who ensure time together as a family. Even if the kids grumble outwardly, you might be surprised just how much your kids inwardly long for a bit of your time. I see so many families being pulled apart by the business of their lives. It almost seems today as if trophies are given for people with the longest "To Do" lists!
No wonder in this most recent General Conference, our prophet and other church leaders have admonished us in such clear ways to analyze our priorities to ensure we're not being sidetracked by things that harm.
When was the last time you "spent" time as a family together? of our lives, if we viewed "time" in the same light, what will we see that we "purchased" with it? Will we be satisfied with those "purchases"?
It is not easy to completely upend our current approaches to life. So much of what we do appears important on the surface; otherwise we would not do it. But if we viewed things through the lens of the prophet (or the Lord, for that matter), would we see things the same way?
The family that plays together stays together.
It bears repeating. And that phrase bears implementing into our lives. I've heard teens state that they wish their parents spent more time with them. How surprising and how wonderful! So let us all begin, those of us with children, to carve away some of the un-important "purchases" we make with our "time money."
Yes, indeed, we too can be Michelangelos for our teens and our families. We too can carve away all the un-essentials to joyful family living. Let's start today by scheduling at least four outings a month where we goes as a family to the park, to the beach, to wherever is closeby, and "spend" time building monuments that will last for an eternity. What monuments? Why, the family!
A little family fun anyone? :0)