My son's mission call finally came! Woohoo! If you've just started following my blog, then you know that my oldest son recently sent in his mission papers and was patiently waiting. Notice that I didn't say I was the one patiently waiting? I was going crazy with anticipation! It almost felt like when I was pregnant, excitedly waiting to meet this new little person who would forever be a huge part of my life. I knew that wherever my son would be sent would play a big role not only in my son's life, but also in that of our entire family.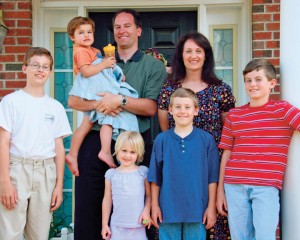 Well, if you read the title of this post, then you already know the punch-line…drum roll please….He's going to Argentina! YAY! It's the Argentina, Rosario mission to be exact. We're all completely thrilled! I served my mission in Spain, so I was secretly hoping he would get to serve in a Spanish-speaking mission. Yeah, he took Spanish in school, but you know how that is…he can say "Yo quiero Taco Bell" with a great accent, and that's about it.
He's supposed to enter the MTC on March 26. We've got a lot to do to get him packed and ready to go! We've already spent a fortune in those missionary stores and still need to purchase a few more items on the list he was given. One thing that surprised me was how outrageously expensive the shoes were. Of course, we were offered three choices of various price ranges and we inevitably chose the wallet-buster style. The shoe salesman first showed us the cheap shoes that will fall apart within a few months, then the moderately-priced shoes that will fall apart in a year, and finally the obscenely expensive shoes that are supposed to actually last for 2 years of daily abuse on dirt roads. I remembered how much I walked on my mission and how many cheap shoes I tore through in only 18 months, so we bit the bullet and actually bought the expensive ones. Three pair!
A scripture instantly came to my mind as I forked over the huge sum of money for his footwear: "And then shall they say: How beautiful upon the mountains are the feet of him that bringeth good tidings unto them, that publisheth peace; that bringeth good tidings unto them of good, that publisheth salvation; that saith unto Zion: They God reigneth!" (3 Nephi 20:40)
I used to be able to hold my son's little feet in the palm of my hand. I love the image in my mind of my son walking down a dusty road with his black name tag on his sweat-soaked white shirt, Book of Mormon in hand, big smile on his face, eager to share the gospel of Jesus Christ with the beautiful people of Argentina. At the end of the day, he'll take off his dirty, worn shoes and know that he did what the Lord commanded. From now on, Argentina will be holy ground for our family.
"Then said the Lord to him, Put off thy shoes from thy feet: for the place where thou standest is holy ground." (Acts 7:33)