One of the most exciting events for new members is to get the very first calling. A calling is a volunteer church position. It feels like such an honor—and it is—because it means you are trusted to take on a portion of the ward's work. You're a real part of the family when you have a job to do.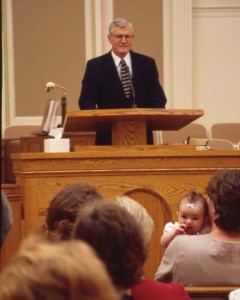 When a member of the bishopric offers you the calling, feel free to ask any questions you'd like. He won't be able to answer all of them, but he will tell you as much as he can. It's likely you won't have any idea what the calling involves, so ask him to explain to you what it is. Since the calling is a surprise, however, you probably won't think of the questions until you're already home.
Don't discuss your calling with anyone but your family until it's announced in Sacrament Meeting. Callings are considered confidential until then.
You will be "set apart" to the calling by a priesthood holder. This is a priesthood blessing which gives you the symbolic keys to your job (not keys you can physically hold.) You'll usually also be given specific advice or promises from Heavenly Father related to your calling or your personal life. Listen carefully to these and record them when you get home. They are a great help in understanding why you were given the calling and how to do it well. For me, they're also a reminder that God knows my name and is paying attention to me.
Every calling reports to someone. Most likely, the person who called you will tell you who you will report to, or at least who is over the organization. Once your calling is announced, someone will contact you to tell you more about your duties. By then, you may have thought of more questions. No question is silly, so ask everything that occurs to you. If you feel uncertain about your ability to do the job, ask for help. Your leaders will be happy to give you more instruction until you're comfortable. Even long-term members often get callings that feel overwhelming and have to ask for help.
No one expects you to be perfect at your calling. I generally feel that I won't be given a calling that's easy to do because I wouldn't grow or learn from it. I expect the calling to be hard and to have things not go the way I hoped while I'm learning. I continue to ask for help and to pray and study. Eventually, I get the hang of it and my skills grow. I've learned I can do things I'm called to do that I never imagined being able to do.
Callings are one of God's especially spectacular ideas. They allow us to have a sense of ownership in the church, of participating in its success. They also help us develop new skills and learn our full potential.
About Terrie Lynn Bittner
The late Terrie Lynn Bittner—beloved wife, mother, grandmother, and friend—was the author of two homeschooling books and numerous articles, including several that appeared in Latter-day Saint magazines. She became a member of the Church at the age of 17 and began sharing her faith online in 1992.