Some of the songs you sing as you begin attending church will be familiar to you from your previous churches, but many will be new. The hymns are not just a way to take a break. They serve many important purposes in our services and meetings.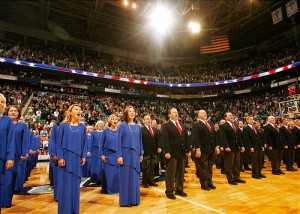 The hymns help to establish a tone of reverence. When I teach children, I can often calm them by having them sing. It draws them together, unifying them as they all sing the same words and (more or less) the same tune. If they're overly excited, a quiet song will settle them down. If they're bored, a song will bring them back and refocus them. This is also true in adult meetings. People enter a meeting thinking of their last class, the process of getting ready, what they'll fix for dinner when they get home, and what they will teach in the class coming up. However, the moment the hymn begins, they are drawn into the meeting in progress, and it soothes their souls so they are ready for the prayer and lesson. The closing song sends them home in a reverent mood.
The hymns are a form of bearing testimony and teaching gospel. The first time I ever attended church, I learned of several LDS doctrine through the opening song. The spirit testified to me these teachings were true. Some of them were things I had already known, but had not been able to find in other churches, and so the hymn was a lesson to me that I had finally come home.
As you sing the songs in your meetings, listen carefully to the words. Think about the message the song is teaching. Even if you don't sing well, sing with feeling. Imagine yourself bearing testimony of the things the hymn teaches. They are a prayer and a testimony to your Heavenly Father, and thinking about the words and the meanings of the hymn will give them power. You'll feel the spirit grow as you're singing, and when the lesson starts, you'll be better prepared to learn the gospel in your class.
Most of the hymns are online at LDS.org. Take time each week to read and study one of them, perhaps one you sang the week before. Become familiar with the words, the doctrines, and the messages the hymns offer. The next time you sing the hymn in a meeting, it will have more power to convert and inspire, because you'll be familiar with their messages.
About Terrie Lynn Bittner
The late Terrie Lynn Bittner—beloved wife, mother, grandmother, and friend—was the author of two homeschooling books and numerous articles, including several that appeared in Latter-day Saint magazines. She became a member of the Church at the age of 17 and began sharing her faith online in 1992.