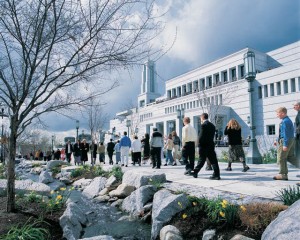 General Conference has been adjourned until October, but we can continue to learn from it and to experience its blessings all year long.
Because you're a new member of the church, there was probably a great deal in this conference that was new to you. The speakers might have been unfamiliar. By focusing on the teachings offered in this conference, you will be much better prepared for the next conference and be able to increase your knowledge of the gospel.
Conference materials are available online at LDS.org. You can listen to them now, and by Thursday, you will be able to watch them and read them as well. If you study two talks a week, you will finish them all by the time the next conference begins. Each week, choose two that meet your needs or that interest you and watch them again online. You can even download them to save on your computer or put the MP3 version on your player. Print out the written talk and tuck it into your briefcase or purse, to study as you have time.
Put a question mark by any part you don't understand. Then you can research that topic and become more familiar with it. If you have specific questions, write them on the back of the printout so you can take them to someone you trust or look up the answers yourself.
Highlight any part that is especially meaningful or helpful to you. Often, I write a quote from a talk on a card and prop it on my desk, where I spend much of my day, to read often. This allows me to absorb all the layers of meaning from the quote and to think of ways to apply it to my own life.
Notice who gave the talks you are reading. After you read a talk, do a search at LDS.org for other talks by the same person. Does he have themes that seem especially important to him? What can you learn about him from the things he says in his talks? Study his picture so you will be able to recognize him when you see him on television in the future.
Choose one aspect of a talk you read that week and resolve to apply it in your own life for the coming week. This makes general conference personal.
And that's what General Conference is. Although the same message goes out to millions of people, it is personal and just for you. On LDS.org we read:
"Mormons find that the same address can be understood in different ways by different people. Mormons ascribe this to a desire on the part of each person to receive uniquely relevant and applicable instruction and inspiration from sermons, with the help of God's Holy Spirit. This form of tailor-made learning, experienced by people of all faith traditions who sincerely engage with sacred texts or in religious services, is something that must be experienced to be truly comprehended.

"For Mormons, general conference is an exciting time when large numbers gather to hear sermons, sacred music and news. But the most satisfying, profound and exhilarating thoughts and feelings of inspiration come when one person receives an answer to a serious personal question or is reassured by a connectedness to God and others."
About Terrie Lynn Bittner
The late Terrie Lynn Bittner—beloved wife, mother, grandmother, and friend—was the author of two homeschooling books and numerous articles, including several that appeared in Latter-day Saint magazines. She became a member of the Church at the age of 17 and began sharing her faith online in 1992.