Returning to church after a period of inactivity can be scary. You're not sure how others will receive you and you're not sure how you'll feel. You may still have unresolved issues that bombard your emotions as you walk back through that door.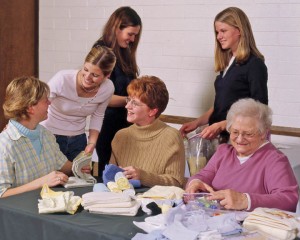 Your first day back will be easier if you're with another person. If your home and visiting teachers are still visiting you, tell them you're coming and ask if you can sit with them during Sacrament Meeting.
If not, you can call the bishop and ask that someone be watching for you when you arrive Sunday morning. Someone will gladly join you for the day and shelter you through your return.
If you're on your own for the day, do whatever you need to do to feel comfortable. Remember that you'll be more aware of yourself than others will. Many people may not know you and think you're new. Others may act surprised to see you. Treat this as something fun. I knew someone who returned after decades away. She took pleasure in quietly seating herself behind or next to someone she knew and waiting for their shocked reaction when they saw her. This game took away the nervousness of wondering how people would take her return.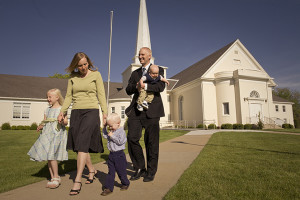 Most people will be genuinely happy you're back. smile and say, "It's a long story, but the important thing is that I'm here. So tell me, what's changed while I've been away?" This will distract them so you don't have to answer.
Look around for friendly and familiar faces. If you don't see anyone you know, choose someone to sit with. You'll be happier if you don't sit alone your first day. Introduce yourself, but don't feel you have to tell your story right away. If they ask if you're new, say, "I used to come to church here long ago. I've been away a long time." Then be prepared to start asking them about themselves to deflect attention from your own story.
The success of your first visit is really up to you. You can't control anyone else's behavior but your own. I move a great deal, and I've learned that how I feel about a ward depends a great deal on how I choose to feel. If I walk into a ward and start watching for all the things they do "wrong" or count the number of people who greet me, I go home feeling I found a bad ward. If I go in determined to be happy, I notice all the great things and remember all the nice people.
Then when I think about my day, I remember a wonderful ward. I can see almost any ward as good or bad, depending on what I choose to focus on. This can be difficult when you're returning, because you may already be sensitive and watching for problems, but try to train yourself to see the good. It's there, but sometimes the good people are quieter than the others.
After you return home, pray about your day home. If you can, talk to another church member about the experience. She can answer your questions and help you understand what you experienced and learned. Then commit yourself to continuing to attend church and return to full membership.
About Terrie Lynn Bittner
The late Terrie Lynn Bittner—beloved wife, mother, grandmother, and friend—was the author of two homeschooling books and numerous articles, including several that appeared in Latter-day Saint magazines. She became a member of the Church at the age of 17 and began sharing her faith online in 1992.