I first learned what repentance was in Primary, the children's organization g, we needed to repent for it. She had us learn and recite the four major steps:
Feel you're sorry.
Say you're sorry.
Ask for forgiveness.
Try never to do it again.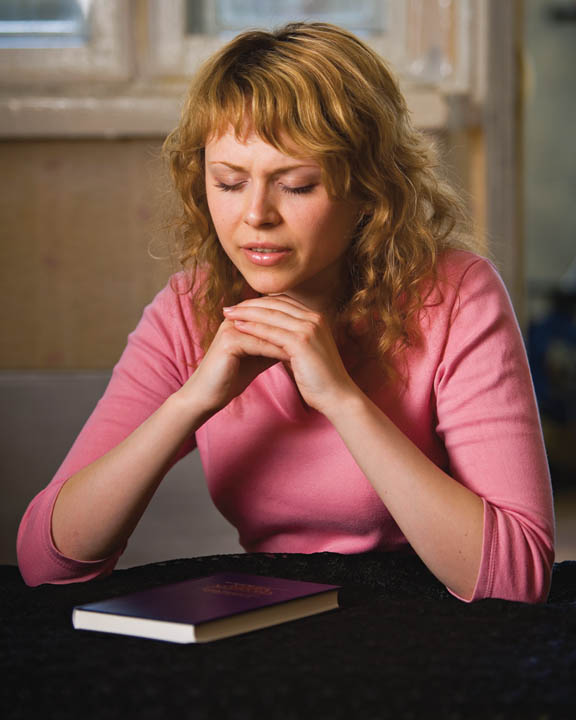 Maybe you can envision a group of six- and seven-year-olds reciting this in a singsong voice. It's pretty amazing that I still remember this particular lesson. At the time, it seemed to me like a consequence for doing something wrong, in the same league as getting sent to your room or having to stay after school.
But the power of repentance is a truly glorious blessing from our Father in Heaven. As human beings, we all fall short of perfection. The Lord knows this. In His mercy, our Heavenly Father provided us with a Savior to atone for our sins. Because He has paid the price, we are not lost forever when we fall short. Through the Atonement of Christ and the grace of God, we have the ability to repent of our sins.
Repentance truly begins with faith in God and the Atonement of Christ. We need this power from the beginning of the process, helping us to recognize and turn from our sins. True repentance can be difficult. Allowing yourself to feel godly sorrow for things you have done can be quite painful.
And that's where the first step we learned as Primary children comes in: Feel you're sorry. That involves recognizing that you've done something wrong, and then truly feeling sorrow for having done it. That's a feeling that many of us try to escape from, either by blaming someone or something else, or just dismissing it altogether and chalking the whole thing up to experience. But real repentance involves feeling that sorrow, recognizing that what we have done has offended God and has likely hurt others.
Have you ever watched a child being reprimanded (or reprimanded a child yourself) for hurting another child? Often the adult will command the offender to tell the other child he or she is sorry. And quite often, the offending child mumbles a rather nasty-sounding "Sorry," indicating that the child is really only sorry he's in trouble and not that he committed the offense in the first place.
So when we move to the next step of repentance, confession, or "say you're sorry," it isn't enough just to mumble a "sorry" and be done with it. If we've felt the real sorrow in the previous step, these confessions will be a lot more meaningful.
Who do members of The Church of Jesus Christ of Latter-day Saints confess to? It is usually a good idea to confess and apologize to anyone we have wronged or who may have been affected by our bad choices. It may be appropriate to confess to people who have witnessed our bad example that we have set for them. We also confess our sins before the Lord in prayer and pray for help to overcome them. Serious sins should be confessed and discussed privately with the bishop of your ward (local congregation); he can help you work through your repentance and determine when your repentance is complete. Higher Church authorities may be involved when needed.
The next step we learned in Primary is to ask for forgiveness. As you may have guessed, repentance in the end is not really a series of discrete steps. As we confess our sins to the Lord and to those we have wronged, it may be appropriate at that time to ask for forgiveness. The Lord is always willing to forgive those who are ready for it. People around us may understandably take a little longer. It's important to realize that our own salvation is not dependent on whether people in our lives forgive us – only on the Lord's forgiveness. But nevertheless, the forgiveness of others is something we seek after.
And as we confess and ask for forgiveness, we need to make restitution for our sins. "We must restore as far as possible all that has been damaged by our actions, whether that is someone's property or someone's good reputation. Willing restitution shows the Lord that we will do all we can to repent" (True to the Faith, pp. 132-135).
The final step we learned in Primary is to try never to do it again. Perhaps it goes without saying that if we repent of something and then turn around and do it again, we probably didn't repent fully the first time. True repentance includes an abandonment of the sin. We should also seek after righteousness. "It is not enough to simply try to resist evil or empty our lives of sin. We must fill our lives with righteousness and engage in activities that bring spiritual power. We must immerse ourselves in the scriptures and pray daily for the Lord to give us strength beyond our own. At times, we should fast for special blessings" (True to the Faith, pp. 132-135).
Repentance, although not easy or pleasant, is a precious gift in our lives and can bring us real peace and joy. All of us, regardless of our specific religious beliefs, can benefit from the power of truly seeking to purge wrong behavior from our lives and turning our lives over to God. As we use this power, we become better and stronger people.
(267)