"No pain that we suffer, no trial that we experience is wasted. It ministers to our education, to the development of such qualities as patience, faith, fortitude and humility. All that we suffer and all that we endure, especially when we endure it patiently, builds up our characters, purifies our hearts, expands our souls, and makes us more tender and charitable, more worthy to be called the children of God . . . and it is through sorrow and suffering, toil and tribulation, that we gain the education that we come here to acquire and which will make us more like our Father and Mother in heaven." (Elder Orson F. Whitney, in Kimball, Faith Precedes the Miracle, 98)
S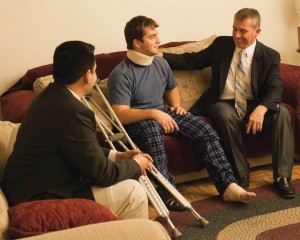 ounds tough, I know, but it is definitely worth it. This journey through mortality we are all taking was given to us as a time of testing, as Elder Whitney has just stated. We definitely knew what we were getting into, the risk and rewards, that were at stake. The whole revolves around the following:
Will we remember our divine heritage?
Will we remember why we are here?
Will we accept living prophets and apostles?
Will we accept the Gospel of Jesus Christ?
Will we accept Jesus Christ, the Son of God, as our Lord, Savior and Redeemer?
Will we live our lives according to the principles, practices and precepts of the Gospel of Jesus Christ?
Will we fight our way through trials, obstacles and tragedies to find our Savior on the other side?
These are few questions I ask myself often. Let me take you through my thoughts on the first one:
Will we remember our divine heritage?
Last week, I had the opportunity of reading a new book called "The Journey" by J. Adams. It was a thinly veiled parable of premortality and it caused me to ponder our heavenly home as well as the thoughts and emotions I may have had as I left. I can't remember, but a distant part of me knows that I was torn between sorrow of leaving loved ones and sheer unadulterated excitement at what I was about to undertake. According to prophets, both ancient and modern, mortality is about continuing our eternal progression–a testing period in which we could prove ourselves to our Father in Heaven–and I am certain I couldn't wait to get started.
You might ask how I know this? It's how I still handle things today. I look at a big job, break down into manageable pieces and get to work. Generally, about 3/4's of the way through a job seemingly similar to the magnitude of this one I think to myself, "What was I thinking?"
Eternally speaking, I know exactly what I was getting myself into when I accepted Heavenly Father's call to come to earth. I did what each of you did. I said, "yes" and all of you did too, that's why you're here. So what do I say now when I look at what remains of my life and say "what was I thinking?" Simply this, "I am a daughter of God. See (Moses 6:8)" This is all I need to remember, every single day, to move forward with all I know I must do. So yes, it is the remembrance of my divine heritage that plays a large part in keeping me pushing forward.
Over the course of the next few days I will answer each question posed in this blog article, but for now . . . remember that you are so much more than the face you see in the mirror every morning. Remember the divine spark inside you, fanned to flame, will take you further than you had ever hoped. Align your thoughts with God. Follow the path He has trod and you might be startled to see what comes about.