Today, George Osmond passed from this life and returned to that heavenly home from whence he came. As the patriarch of the Osmond Family, he and his wife, Olive, worked hard to , then Jimmy. During the 60's and 70's they ruled the airwaves and yet remained true to the traditions of their parents.
George and Olive met while George was still a Sargent in the military. They loved to dance, sing and fell in love with one another. After their marriage, George worked in real estate until he and his wife recognized the extraordinary musical talents of their family. They began training the boys to sing, sending them off for music lessons on instruments they didn't play, and through it all . . . George made sure his children understood the value of hard work and most of all, he and Olive made sure that the gospel of Jesus Christ was taught in their home.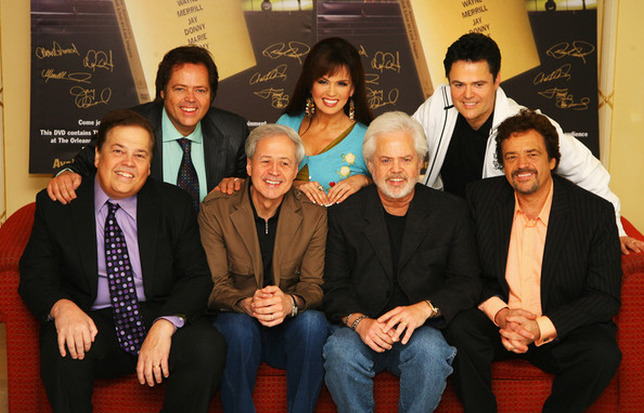 As the Osmonds became more and more famous, George and Olive were with them through it all instilling reality in an otherwise wildly unrealistic world. Their testimonies
of the gospel remained strong and they never faltered in being the example to their children, grandchildren, great-grandchildren and great-great grandchildren.
I think we could all do well to tip our hats to George Osmond who lost not a single child to Hollywood, but instead helped them to grow into the fine men and woman they are today.
FoxNews.com reported the following:
SALT LAKE CITY — 6 NOV 2007 — George Osmond, father of the famous singing family The Osmond Brothers, has died.

Osmond passed away Tuesday morning in Utah. He was 90-years-old.

A cause of death was not immediately available.

Family spokesman Kevin Sasaki told The Associated Press Osmond died at home, likely from natural causes incident to his age as he had not been ill.

"I spoke to Jimmy Osmond and he said his father had a great day yesterday and was in good spirits," Sasaki said.

The death was first reported by "Entertainment Tonight's" Web site and was confirmed by the AP through a spokeswoman for The Church of Jesus Christ of Latter-day Saints, of which Osmond was a member.

Donny Osmond was in the ET studio getting ready to tape a segment for a show when he learned of his father's death. Marie Osmond performed Monday night on "Dancing With the Stars."

Osmond married his wife, Olive on Dec. 1, 1944. She died in 2004.

The couple were the parents of nine children, many of whom became singing stars.