The life of a prophet is never an easy one. It never has been, nor do I suspect it ever will be. I have written of Spencer W. Kimball's early years, and of his mission years, and now I wish to write of the remainder of his life, difficult though it was. Descended of the great Mormon apostle, Heber C. Kimball who'd served under Joseph Smith, Jr. and Brigham Young, When we last left, he'd just returned from his mission.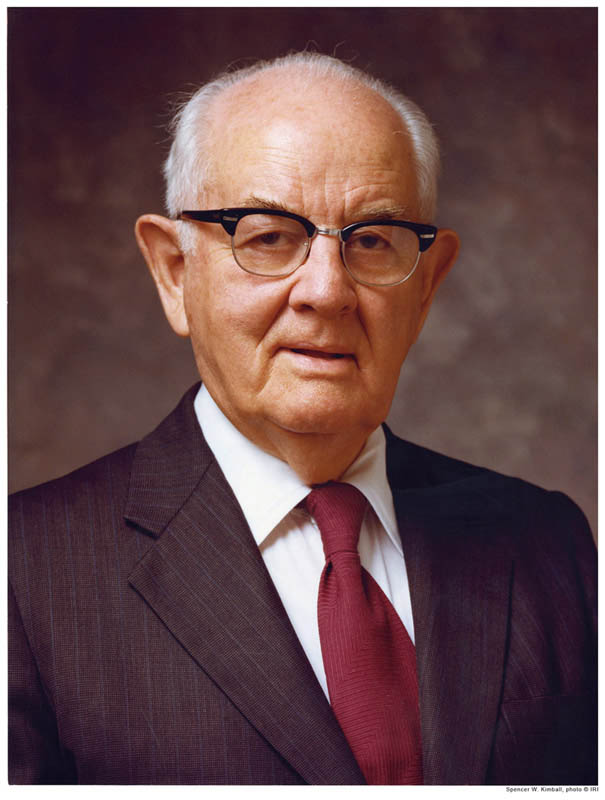 About seven months after Spencer W. Kimball returned from his mission, he met Camille Eyring. He'd read an article in the paper about her and decided then and there that he would marry her some day. She was the home economics teacher at the local academy and he arranged that he would meet her "by chance" as she was leaving one day. He joined her on the bus and they talked the entire way to her house. This was the summer of 1917, by November of that same year Spencer had made her his bride.
They had a good marriage and eventually had four children. One son said of his father:
"I know of no one more generous in spirit than my father. He is kindly and considerate, almost to a fault. Children tend to think of their parents as powerful authority figures, not subject to ordinary needs. But I know how much my father appreciates a sincere compliment or word of appreciation. And no expression of appreciation or affection counts quite as much as from his own family.

"I know there is nothing that gives him more satisfaction—after feeling that the Lord approves of his efforts—than to see his own family following his lead in trying to live righteously.

"If I had a choice by whom to be judged at the last day, there is no human being I would choose before my father." ("The Life and Ministry of Spencer W. Kimball," Teachings of Presidents of the Church: Spencer W. Kimball, (2006),xiv–xxxvii)
Spencer W. Kimball was called to be an apostle on July 8, 1943. His family had survived the Great Depression, floods and more, but he never faltered, never wavered in his service to the Lord. And now, the church as whole would be able to enjoy his sweet, gentle spirit as he served as a Special Witness of Jesus Christ.
About his call to the apostleship he responded:
""Oh, Brother Clark! Not me? You don't mean me? There must be some mistake. I surely couldn't have heard you right. … It seems so impossible. I am so weak and small and limited and incapable." Spencer assured President Clark that there could be only one response to a call from the Lord, but his willingness to serve did not immediately overcome his feelings of inadequacy and unworthiness.

"Those feelings intensified over the next few days, during which Spencer had little or no sleep. While he was in Boulder, Colorado, to visit his son, he went walking in the hills early one morning. As he climbed higher and higher, he reflected on the magnitude of the apostolic office. He was tormented by the thought that he might not measure up, that his calling might have been some mistake. In this frame of mind, he approached the peak of the mountain he was climbing, where he fell in prayer and meditation. "How I prayed!" he recalled. "How I suffered! How I wept! How I struggled!" As he agonized, a dream came to him of his grandfather Heber C. Kimball and "the great work he had done." This awareness calmed Spencer's heart. "A calm feeling of assurance came over me, doubt and questionings subdued. It was as though a great burden had been lifted. I sat in tranquil silence surveying the beautiful valley, thanking the Lord for the satisfaction and the reassuring answer to my prayers." ("The Life and Ministry of Spencer W. Kimball," Teachings of Presidents of the Church: Spencer W. Kimball, (2006),xiv–xxxvii)
Beset by health issues off and on, the most serious of which was cancer of the throat, Spencer faced this test with trepidation. To a man who spent his time traveling from place to place testifying of Jesus Christ in a soft and gentle voice this was devastating. The now Elder Kimball underwent surgery removing all of one vocal chord and part of another. For months he allowed his voice to rest until the day he finally decided to see if he could speak:
He went back home [to Arizona] for his maiden speech. … There, in a conference of the St. Joseph Stake, … he stood at the pulpit.

" 'I have come back here,' he said, 'to be among my own people. In this valley I presided as stake president.' Perhaps he thought that should he fail, here he would be among those who loved him most and would understand.

"There was a great outpouring of love. The tension of this dramatic moment was broken when he continued, 'I must tell you what has happened to me. I went away to the East, and while there I fell among cutthroats. …' After that it didn't matter what he said. Elder Kimball was back!"

His new voice was soft, deep, and gravelly. It was, in Elder Packer's words, "a quiet, persuasive, mellow voice, an acquired voice, an appealing voice, a voice … loved by the Latter-day Saints." ("The Life and Ministry of Spencer W. Kimball," Teachings of Presidents of the Church: Spencer W. Kimball, (2006),xiv–xxxvii)
This would be, as it had been all his life, a byproduct of the fierce determination Spencer W. Kimball had to succeed at whatever he chose. He suffered heart problems and never let it slow him down.
As an apostle and prophet of God, he authored the book "The Miracle of Forgiveness" which became bedside reading for Mormons everywhere when struggling through the process of repentance.
On December 30, 1973, Spencer W. Kimball was called and ordained as prophet, seer and revelator and President of The Church of Jesus Christ of Latter-day Saints. At his first address as prophet of the Church, in April Conference of 1974, President Kimball's talk became the watch cry of his presidency"
"My brethren, I wonder if we are doing all we can. Are we complacent in our approach to teaching all the world? We have been proselyting now 144 years. Are we prepared to lengthen our stride? To enlarge our vision? …

"I am under no delusion, brethren, to think that this will be an easy matter without strain or that it can be done overnight, but I do have this faith that we can move forward and expand much faster than we now are. …

"… I think that if we are all of one mind and one heart and one purpose that we can move forward and change the image which seems to be that 'We are doing pretty well. Let's not "rock the boat." ("The Life and Ministry of Spencer W. Kimball," Teachings of Presidents of the Church: Spencer W. Kimball, (2006),xiv–xxxvii)
"Just Do It" became his catch phrase and it became the motto of Mormons everywhere. President Kimball was the prophet of my youth. I remember his sweet face, his soft, gravelly voice and the love which shone from his eyes for every human being on the face of the earth. He longed for all the peoples of the earth to hear and accept the gospel of Jesus Christ. He wanted no one to live through mortality without having at least one opportunity to come unto Christ. His work has gone forward with the calling of each successive prophet and missionary work has exploded. There are tens of thousands, I believe the last number is above 70,000, full-time, part-time and service missionaries around the world spreading the gospel, the culture and the light of Jesus Christ to all they come into contact with.
Every Member a Missionary became the addition to "Just Do It" and President Kimball must be so happy to see that coming to fruition in the heart of every Mormon.
One particular story which touches my heart to this very day is of an instance when President Kimball was either waiting for or in an elevator. The other occupants were using the Lord's name in vain and President Kimball looked and them and in that soft voice entreated, "Please don't speak of my friend that way."
On November 5, 1985 Spencer W. Kimball passed away and the Church mourned our loss of this wonderful, gentle, sweet prophet of God who spoke so plainly to us. I remember standing next to his casket, for a brief moment, and even then I knew that this man had been, and would always be, a prophet of God. He testified of Jesus Christ in every land via technology and he loved the Savior so. His testimony stands today, to be read by all who so choose in The Teachings of the Presidents of the Church: Spencer W. Kimball. He has reached to us . . . who will reach back?