In this year's Christmas devotional, the president of the Church of Jesus Christ of Latter-day Saints, (nicknamed the Mormons), President Monson, talked about the innkeepers who turned away Mary and Joseph as they sought a place for Jesus to be born. He thought that later, the innkeeper might have been sorry, and might have chosen differently had he known who the baby was to be. But he didn't get a second chance. Jesus Christ was born and the opportunity to serve was over.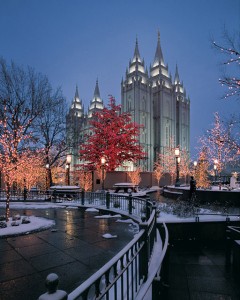 In Jesus' own life, he never missed a chance to serve another person. When someone needed healing, or a blessing, or words of wisdom, he stopped and took care of it right then. He didn't just preach service; he lived it.
The Bible tells of a group of children who were brought to see him. It was at the end of a long day, and the Savior was tired. His apostles tried to send the children away, but Jesus stopped them. He called them over and spent time with each child, serving them and showing them love. He had just one chance to show the children what the love of the Savior meant, and to serve them, and He took it, even though He was tired.
Recently I wrote about a blind man who called for Jesus' attention. The others in the area tried to stop him, because he was unimportant in the world's eyes, and they felt he shouldn't bother someone as important as the Savior. However, he wasn't unimportant to the Savior, who called the man to him and spoke to him politely, asking how he could help. He didn't turn away because the man wasn't important to society. He just served because service was needed.
Jesus Christ came upon a woman being stoned for adultery. She was certainly a sinner, but Jesus didn't worry about that. He stopped the men about to stone her and refused to judge her. His service likely saved her life. However, he gave her an even more important gift—he instructed her not to sin again. He didn't accept her behavior, or give her permission to live an immoral lifestyle. However, he didn't allow men to mistreat her. He rescued her and then instructed her to forsake the sin.
Throughout Jesus' brief ministry, he served all sorts of people, the rich, the poor, the valiant, the immoral, the kind and the not-so-kind. He looked for those who needed service and then served them without stopping to judge their worthiness.
In the Book of Mormon, a wise King named Benjamin said, "And also, ye yourselves will succor those that stand in need of your succor; ye will administer of your substance unto him that standeth in need; and ye will not suffer that the beggar putteth up his petition to you in vain, and turn him out to perish. Perhaps thou shalt say: The man has brought upon himself his misery; therefore I will stay my hand, and will not give unto him of my food, nor impart unto him of my substance that he may not suffer, for his punishments are just— But I say unto you, O man, whosoever doeth this the same hath great cause to repent; and except he repenteth of that which he hath done he perisheth forever, and hath no interest in the kingdom of God. For behold, are we not all beggars? Do we not all depend upon the same Being, even God, for all the substance which we have, for both food and raiment, and for gold, and for silver, and for all the riches which we have of every kind?" (Mosiah 4:16-19)
In this Christmas season, let's remember the example of the Savior and not miss an opportunity to serve just because we didn't realize how important it might be, or because we find the person in need beneath our notice.
About Terrie Lynn Bittner
The late Terrie Lynn Bittner—beloved wife, mother, grandmother, and friend—was the author of two homeschooling books and numerous articles, including several that appeared in Latter-day Saint magazines. She became a member of the Church at the age of 17 and began sharing her faith online in 1992.