Filling the well within us is an interesting concept. Some people take it to the extreme; others don't do it all. Like everything else Jesus Christ taught us, balance is critical to being a worthwhile servant of God.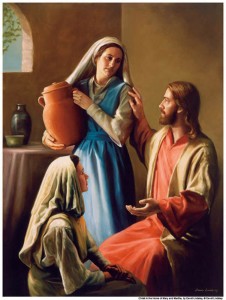 In an interaction with Mary and Martha, the Savior taught us a valuable lesson:
38 Now it came to pass, as they went, that he entered into a certain village: and a certain woman named Martha received him into her house.

39 And she had a sister called Mary, which also sat at Jesus' feet, and heard his word.

40 But Martha was cumbered about much serving, and came to him, and said, Lord, dost thou not care that my sister hath left me to serve alone? bid her therefore that she help me.

41 And Jesus answered and said unto her, Martha, Martha, thou art careful and troubled about many things:

42 But one thing is needful: and Mary hath chosen that good part, which shall not be taken away from her. (Luke 10:38-42)
The Lord is not encouraging Mary and Martha to eschew all their responsibilities and duties, but is reminding Martha that there is a time to stop and listen; a time to fill the well within. Mary chose to sit at the feet of her Savior and listen rather than clean and cook.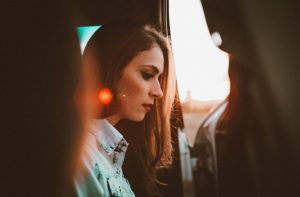 How should we apply this in our day? Several years ago, I was stretched to the limit. I worked full-time, had just suffered another miscarriage, was the Young Women president, a new wife, and essentially a mother to a teenage boy (my husband's youngest brother.) Stressed beyond all belief, I no longer had time for the things I enjoyed: no gardening, no cross-stitching, no reading, no movies, no dates with my husband, no football games, no trips to the temple. It was all about work, home, and church—that was it.
At one point, I came home from work and kissed my husband goodbye as he left for his own job. I walked upstairs to the kitchen table and sat down… And stayed there. Five minutes later, my husband walked back through the door. Surprised, I looked down at him.
"The Spirit whispered to me to return home and give you the blessing you need," he told me. He promptly walked up the stairs, laid his hands on my head, and, through the power of the Holy Melchizedek priesthood he held, offered me the blessing the Lord had in mind.
Specifically, I was told that I had to take time for myself. I had to make time for gardening, for cross-stitching, for football games, for temple attendance — all the things that gave me joy. The Lord said that I was of little use to Him if I was so strung out that I couldn't accomplish anything with any of my responsibilities. He reminded me that balance in all things is required and that above all, my happiness was critical to Him.
This taught me a powerful lesson: We must take the time to pause and fill the well within. Should you abandon your family on a daily basis to fill the well? No, of course not. But take time to drive up the canyon and visit your favorite spot in the mountains. Take time to go to lunch with family or friends. Take time to go on a weekly date with your spouse. Take time to do that which fills your spirit — for when your spirit is filled, the Savior can do so much more with you.
So be as Mary of old: kneel at the feet of the Savior and let yourself be fed. And also be as Martha of old, keeping to your responsibilities — but not so much so that all that brightens your life is strangled out of it.
This article was originally published in October 2007. Minor changes have been made.