Sister Julie B. Beck was called to be the General Relief Society president of The Church of Jesus Christ of Latter-day Saints this year. The recognized and ordained leader of over 5,000,000 women worldwide, she is a graduate of Brigham Young University, has 10 brothers and sisters, is descended from a former governor of Utah, Norman Bangerter, and is a loving wife and mother of three and grandmother of eight.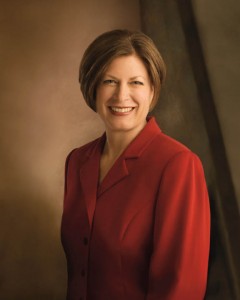 Sister Beck is also the woman who just gave Mormon women a call to arms, so to speak. Of her reaction to this calling, she said:
My dear sisters, I approach this awesome responsibility with a prayer in my heart. I have a testimony of the true restored gospel of Jesus Christ. The Savior is our leader and exemplar, our rock, our strength, and our advocate. Any part I can play in helping Him and His ordained prophet is a blessing in my life. I have always had a great love and respect for the sisters of this society, and I believe that the women of this Church are the finest, most capable women in the world. Please know of my love for you—the magnificent women of this Church. (Julie B. Beck, "What Latter-day Saint Women Do Best: Stand Strong and Immovable," Ensign, Nov 2007, 109–12)
From this alone, outside of the scant biographical details available about her, I see a woman of conviction, strength, love and capability. She has taken this most important call from the Lord, has thrown her shoulders back and simply said, metaphorically speaking, "What would you have me do, Lord?"
Of the women she has been called to lead, she said,
In order to do our part as women under the Lord's plan, we must stand strong and immovable in faith, strong and immovable in family, and strong and immovable in relief. We must excel in these three important areas which set us apart as the Lord's disciples. Through Relief Society we practice being disciples of Christ. We learn what He would have us learn, we do what He would have us do, and we become what He would have us become. When we gather with this focus, the work of Relief Society is relevant whatever your circumstance—whether you are 18 or 88, single or married, have children or not, or whether you live in Bountiful, Utah, or Bangalore, India. (Julie B. Beck, "What Latter-day Saint Women Do Best: Stand Strong and Immovable," Ensign, Nov 2007, 109–12)
She leads all Mormon women, age 18 to 120.
Faith ? The women of the Lord have long been called to stand strong against the assaults of the world. To lead, guide and shape the men and women who will then take up the banner and continue forward in our charge to spread the gospel of Jesus Christ to every corner of the world. 202 years ago, almost to the day, when the prophet of the restoration, Joseph Smith, Jr. was born, it took walking, sailing or riding to every land and teaching the gospel to all who would hear the word of God. Now, we still walk door to door, land to land, but we are also blessed with technology of every kind to spread that same gospel to every corner of the world.
The Lord has asked the men and women of the Church to take up this responsibility from before the foundations of the world were formed. We agreed, if blessed with the gospel of Jesus Christ in our lives, we would shout it to the world. We would live as His emissaries. We would behave as followers of Jesus Christ.
Sister Beck reminded us of this very sacred charge in her address at the November General Conference of this year. She said,
What a different world and Church this would be if every Latter-day Saint sister excelled at making, renewing, and keeping covenants; if every sister qualified for a temple recommend and worshipped more often in temples; if every sister studied the scriptures and doctrines of Christ and knew them so well that she could teach and defend those doctrines at any time or place. Think of our combined strength if every sister had sincere prayer every morning and night or, better yet, prayed unceasingly as the Lord has commanded. If every family had family prayer daily and had a family home evening once a week, we would be stronger. If every sister was self-reliant enough to be able to give freely of her knowledge, talents, and resources and if every sister's discipleship was reflected by what she said and what she wore, we would be immovable in that which is correct. (Julie B. Beck, "What Latter-day Saint Women Do Best: Stand Strong and Immovable," Ensign, Nov 2007, 109–12)
Sister Beck has taken up the call of prophets of the past who have asked the women of the Church to become theologians, immovable in our understanding and faith in our Lord and Savior, Jesus Christ, and His gospel.
We can do this . . . and women of God, be they Mormon, Catholic, Baptist, Methodist, Protestant or of other Christian sects, can take up the call to raise their families with the principles of Jesus Christ as their guiding light.
Mormon women know we have been given this charge by God, by His prophets and by the leaders of the Church, We simply have to faith that we can do as we've been asked and then we must act upon that faith.
Family ? We, as Mormons, know that in order to save the world we must save the family unit. The family unit is the center from which the eternities flow outward and onward. It is so important that the living prophet of God, Gordon B. Hinckley, and the Quorum of the Twelve Apostles issued a proclamation, from the Lord, to the world. Of this very sacred duty the Lord has given to the children of God, Sister Beck said:
The only place Latter-day Saint women will learn the whole and complete truth about their indispensable role in the plan of happiness is in this Church and its doctrine. We know that in the great premortal conflict we sided with our Savior, Jesus Christ, to preserve our potential to belong to eternal families. We know we are daughters of God, and we know what we are to do. Women find true happiness when they understand and delight in their unique role within the plan of salvation. The things women can and should do very best are championed and taught without apology here. We believe in the formation of eternal families. That means we believe in getting married. We know that the commandment to multiply and replenish the earth remains in force. That means we believe in having children. We have faith that with the Lord's help we can be successful in rearing and teaching children. These are vital responsibilities in the plan of happiness, and when women embrace those roles with all their hearts, they are happy! Knowing and defending the truth about families is the privilege of every sister in this Church. . .Because families are eternal, we cannot afford to be casual or complacent about those relationships. (Julie B. Beck, "What Latter-day Saint Women Do Best: Stand Strong and Immovable," Ensign, Nov 2007, 109–12)
Strong and immovable, as she has asked us to be, Sister Beck declared to the entire world that we will not apologize for who we are and what we believe. I back her up on that, unequivocally. We can stand, as sisters in the gospel of Jesus Christ, sisters in Zion (of one heart and one purpose) and declare to the world that we will not be devalued. We will not back down. We will not be ignored.
We WILL raise our children up to God. We WILL have homes of light and righteousness. We WILL live our lives according to the dictates of our consciences and the gospel of Jesus Christ. We WILL honor our covenants and promises. And we WILL NOT turn our backs on those things we know are our sacred duties and privileges.
Relief ? In order to drive home the purpose of the Relief Society, Sister Beck quoted a prophet and an apostle:
The word relief means "to lift up, lighten." It means "a raising [up]." "The notion is 'to raise (someone) out of trouble.'" Our service and the relief that we offer are a sign that we are the Lord's disciples and we are members of His true restored Church. It is a privilege to be part of this worldwide organization for women, whose name describes what we are meant to do: provide relief.

Joseph Smith said that the women of this Church were organized to provide for "the relief of the poor, the destitute, the widow and the orphan, and for the exercise of all benevolent purposes" and "not only to relieve the poor, but to save souls." That relief effort was further defined by Elder John A. Widtsoe (an apostle) as "relief of poverty, relief of illness, relief of doubt, relief of ignorance—relief of all that hinders the joy and progress of woman."

Notwithstanding the important relief efforts of the past, the greatest and most important work for the women of this Church still lies ahead. The earth must be prepared to receive the Lord Jesus Christ, and we must help with this preparation in the midst of wars, turmoil, natural calamities, and an increase of evil. There has not been a time in the history of the world when a full-scale relief effort was more needed. Because we are disciples of Jesus Christ and we have made covenants with Him, we are already committed by covenant to participate in that relief effort. (Julie B. Beck, "What Latter-day Saint Women Do Best: Stand Strong and Immovable," Ensign, Nov 2007, 109–12)
We have been given a very sacred and critical duty in the preparing of our families, the Church and the world for the second coming of Jesus Christ. Our role as women is not a slight or secondary role. Our duties are not of little consequence, but, as has been pointed out by prophets, apostles and a chosen and ordained leader of God, Julie B. Beck, we have been given a great work to do and it cannot be ignored or denied.
We have been issued a call-to-arms by Sister Beck and I, for one, answer that call. The standard has been raised in my home and I will serve the Lord my God in any way He has need of me.
I invite you to read her entire address, What Latter-day Saint Women Do Best: Stand Strong and Immovable, to Mormon women across the globe. She enlightens, delights, motivates and specifically details how to accomplish each of these things.
I am delighted with our new leader . . . I believe she will call the women of the Church to battle in ways that we have not heard recently.