"Organize yourselves; prepare every needful thing; and establish a house, even a house of prayer, a house of fasting, a house of faith, a house of learning, a house of glory, a house of order, a house of God." – Doctrine & Covenants 88:118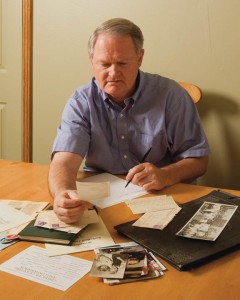 Why Organize?
I feel that organization is critical to good research for many reasons. First it cuts down on frustration. It's easy enough to get frustrated over my ancestor Mary Cotty for whom information about seems to constantly elude me. I don't need to be frustrated that I finally found some crucial information on her and misplaced it.
Second, organization can help prevent duplication of effort and research. I don't want to spend 45 minutes searching through piles of papers for the information I want. I also don't want to be so disorganized I accidentally misplace or throw away an important document and then have to duplicate the research for what was on it. Time is very valuable in Family History research. Being organized helps me find what I want right away, thus saving me time.
Third, being organized helps me plan for additional research. I know exactly what I've done and thenceforth what I still need to do. I can create plans of action and have those organized by date and location, helping me be more likely to actually get it done.
Fourth, organization is a wonderful skill to have in a general sense. Now and with your Family History is as good a time and place as any to start.
Fifth, your organization now, will be a great gift to the future genealogists in your family. You'll save them the trouble of having to do it themselves. Your documents will be better protected when organized, both from being thrown away and from other damage if treated properly.
So, get organized! Start by de-cluttering. Take those piles of papers and separate them into groups. These don't have to be the final groups into which you'll organize everything. This is just to give you a basic sense of what you have, which will help you decide on your organization plan. After you've done this, it's time to strategize.
Make a plan of action for getting your documents organized. Decide exactly how you'll be organizing your research then pick a place in your home where you'll be storing your research and get it ready. Make sure that for whatever method of organization you've chosen, that you've already got the necessary materials to make it happen quickly. Have file cabinets, file folders, colored tabs or stickers, highlighters, paper clips, pencils, erasers, markers, paper, binders, pedigrees, family stories or other materials at the ready.