"Organize yourselves; prepare every needful thing; and establish a house, even a house of prayer, a house of fasting, a house of faith, a house of learning, a house of glory, a house of order, a house of God." – Doctrine & Covenants 88:118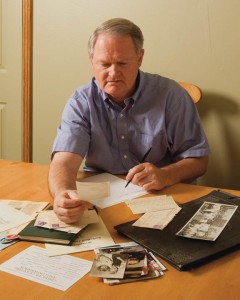 There are several different methods for organizing your Family History research and if you're like me, none of them seems to be the perfect fit. But they're all easily adaptable to your own preferences. I'll discuss the two main systems of organization below.
Organizing with File Folders
Mary E. Hill presents a method of Family History organization in an article online titled Organizing your Paper Files using File Folders. Visiting the link will take you to this article complete with step by step instructions on getting your File Folder system set up. This was the method of organization I was first introduced to. I've modified it slightly but it's a great way to organize and I'm still using this method.
Organizing with 3 Ring Binders
I also organize certain documents using 3 ring binders. I have one binder filled with colored page dividers. Between each page divider are many copies of one type of sheet needed for research. In this binder I keep blank research logs, blank correspondence logs, black and white maps (for tracing migration routes), blank pedigree charts and blank family group sheets.
I also prefer to use 3 Ring Binders when storing original documents and photographs as the sheet protectors offer more protection.
The 3 Ring Binder system is also my more finalized method of organization. I've got one binder devoted to my great grandfather's genealogy and it is organized by Surname, and within that surname by each direct male ancestor from the most recent on back.
Whether you choose to use the organizational methods discussed here or decide to create your own, keep in mind two main steps needed to create an effective organization plan for your papers: sorting and filing.
Have a location specifically for sorting papers. Mine is a hanging file folder I titled the "In Limbo File." Things I don't have time to file at the moment or don't know just where to file yet go in there for a time. On occasion if I have a document that could be filed in multiple places I'll make copies of it to put in all of those places.
Other categories under which you might