My husband and I had several conversations over the weekend about our holiday plans. Because his mother's health is quite poor, she and my father-in-law won't be joining us for Christmas like they have the past several years. And because they love their parents and want to share Christmas with them, my husband's unmarried sisters won't be joining us either. We can go and visit, but we won't be able to stay over night because there won't be room at their home. My husband is quite stricken by this. He feels like Christmas Eve, normally a time of wonderful communion and celebration in our home, will feel lonely and empty without others to share it with.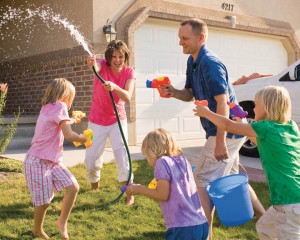 I feel sad for the loss of this tradition also, but I am able to see the good in it too. Now there will be the four of us, our little family, to grow closer together, to share a quiet evening remembering the Savior and enjoying our little festivities. Here my husband and I have the same situation facing us, yet how we each choose to deal with it will greatly impact the level of contentment we feel.
As I was pondering what I wanted to share with you today, this small situation of ours came to mind and I felt to write about how we can choose what attitude to take and our attitude can determine so much. In fact, perhaps it can dictate everything in the choice between sadness and happiness.
President Harold B. Lee, former leader of The Church of Jesus Christ of Latter Day Saints (or Mormon Church) once said:
"" ("A Sure Trumpet Sound: Quotations from President Lee," Ensign, Feb. 1974, 78.)
Too often we let what is happening in the world around us affect us negatively, drag us down, make us sad. I admit, it's hard, but that temptation can be overcome. I'm a big fan of lists and in this instance I might use a 'pros and cons' list. It's easy to immediately judge something as bad because it is different, not what we had hoped for or expected, but oftentimes we really can find the good in a situation if we take a minute to look for it.
In thinking of such a list for our Christmas dilemma I suggested to my husband that we could go see his parents for Christmas Eve, come home and then go back again on Christmas day. It wouldn't be perfect, but it could be done. Or we could see if there were some neighbors who didn't have any family they could spend Christmas with and invite them to join us. Or we could bake cookies and take them to people over the next few weeks as our little way of spreading some Christmas cheer. None of these suggestions replace the joy we felt in sharing our holidays with our loved ones, but they can be a type of joy, they can still bring happiness. And they might find themselves a new place in the Cross Family's Christmas Traditions.
Gil Robb Wilson, World War I aviator and first director of the Civil Air Patrol seemed to agreed with President Lee when he said "Fortunately, happiness is something that depends not on position but on disposition, and life is what you make it."
I am pleased to report that my husband has decided to have a happy attitude about Christmas this year. We will make our own new traditions with our small family and all will be well. If things aren't shaping up for your holidays just as you had hoped they would, I hope you'll think about what I wrote. Choose happiness, see the pros to the situation. You have the power to change it all, just by your attitude.