Abraham Lincoln said, "Most folks are about as happy as they make their minds up to be" (in John Cook, comp., The Book of Positive Quotations [1997], 7.)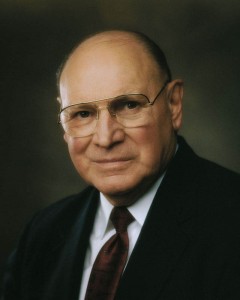 Have you made up your mind to be happy? Or do you figure you'll only be happy when you finally graduate, get that new job or that raise you've been waiting for? But why put off happiness for tomorrow when you can have it today? In his talk "Lessons Learned in the Journey of Life" (Ensign, Dec 2000, 7.) Elder Joseph B. Wirthlin,of the Quorum of the Twelve Apostles of The Church of Jesus Christ of Latter Day Saints (or Mormon Church as it is commonly called), said:
"Make up your mind to be happy—even when you don't have money, even when you don't have a clear complexion, even when you don't have the Nobel Prize. Some of the happiest people I know have none of these things the world insists are necessary for satisfaction and joy. Why are they happy? I suppose it is because they don't listen very well. Or they listen too well—to the things their hearts tell them. They glory in the beauty of the earth. They glory in the rivers and the canyons and the call of the meadowlark. They glory in the love of their families, the stumbling steps of a toddler, the wise and tender smile of the elderly."
Happiness is what you create it to be, it's not a commodity that can be found, mined, earned or bought. It is something you create within yourself. It is a state of mind. Elder Wirthlin suggests three additional ways we can obtain happiness; through faith in God, setting righteous goals and then working hard to obtain those goals. Your Father in Heaven, is a loving God who knows you and knows your needs. Have faith that He is watching over you and that He cares what happens to you.
The Savior asked, "Are not two sparrows sold for a farthing? and one of them shall not fall on the ground without your Father. "But the very hairs of your head are all numbered. "Fear ye not therefore, ye are of more value than many sparrows" (Matt. 10:29-31.)
Next, focus your efforts on achieving heavenly riches. The Savior told a parable of a man who's life mission was to gain as many riches and possessions as he was able. He even had to build storage barns in which to house all of his many possessions. His plan was to store up all he could, and then he would have a good time living off his acquired wealth. But just as he had finished the last of his buildings "God said unto him, Thou fool, this night thy soul shall be required of thee: then whose shall those things be, which thou hast provided?" (Luke 12:20.) The Book of Mormon prophet Jacob taught his people to …
"Think of your brethren like unto yourselves, and be familiar with all and free with your substance, that they may be rich like unto you. "But before ye seek for riches, seek ye for the kingdom of God. "And after ye have obtained a hope in Christ ye shall obtain riches, if ye seek them; and ye will seek them for the intent to do good—to clothe the naked, and to feed the hungry, and to liberate the captive, and administer relief to the sick and the afflicted" (Jacob 2:17-19.)
Making a good living is an admirable goal, but in addition to enjoying it for yourself, make it a goal to share it with those less fortunate than you. Third, once you have established righteous goals, work with all your might to accomplish them. In the words of Elder David O. McKay (1873–1970), when he was in the Quorum of the Twelve Apostles: "Let us … realize that the privilege to work is a gift, that power to work is a blessing, that love to work is success" (in Conference Report, Oct. 1909, 94; emphasis in original). That is a creed worth taking to heart and patterning our behavior after. How often do we think work is a curse or a hindrance to happiness? When in fact worthy work, is a privilege, a gift, and an opportunity for us to create happiness. Again, happiness is what you make it. If you never expect to find it along your way, you probably won't. But if you'll open your eyes you'll likely discover happiness is all around you. It is in the love of a Heavenly Father Who is watching out for you and knows your name, even your hopes and dreams. It is in the righteous goals you set for yourself that will provide you opportunities to serve and bless another. And it's in the hard work you perform, knowing that you have given your all. President Gordon B. Hinckley said: "The major work of the world is not done by geniuses. It is done by ordinary people, with balance in their lives, who have learned to work in an extraordinary manner." ("Our Fading Civility," BYU commencement address, 25 Apr. 1996, 15) If you find this balance for yourself, you too can do extraordinary things and reap extraordinary happiness.