One day a few years ago I was returning home from the temple with a prayer in my heart. I was pleading with my Heavenly Father to release me from the pain I was suffering. My husband and I had some months before undergone a terrible tragedy and I was so deep in mourning that I was finding it difficult to face each new day. I had gone to the temple on my own that day seeking solace, seeking peace. But it did not come. I thought I had done everything I could to receive that peace I knew my Father in Heaven had to give me; I had fasted, I had prayed, I had participated in the temple ordinances with a prayer in my heart. When I stepped into the celestial room, my heart was flung open by the sweetness of the Spirit in that room … but still … my heart was heavy and I was still so sad.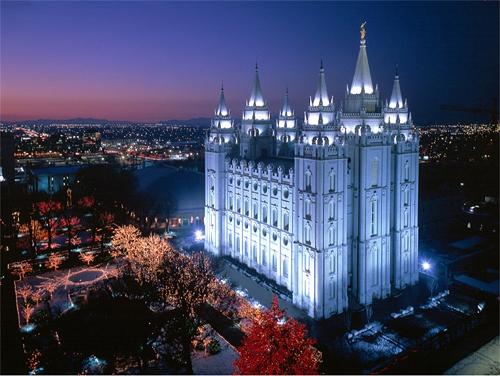 I stayed in the celestial room for a long, long time until the tears had wrung me dry. I left feeling my Father's love, yes, but not His peace. What more could I do? I was desolate.
As I sat at a red light a few streets down from the temple, fresh tears making tracks down my face, I spoke to my Father again.
"Why can't I feel peace? I need it."
And my Father answered. I felt Him tell me that He had sent me here to be happy. That was His gift to me … Happiness.
I pondered that. How could this be? I pulled over to the side of the road and thought about the gift of happiness. I hadn't gone to the temple seeking happiness, only peace. Happiness, in the light of what we had suffered, seemed out of context, way too much to expect. Yet, happiness was distinctly what I felt my Father wanted me to have. Further personal revelation revealed to me that I had the power to be happy, that I already had everything I needed to be happy. I only needed to choose it.
Sitting behind the wheel of my car, I gave it a try. me to be happy, meaning that He did not want me to continue punishing myself with the pain, like fresh lashings administered daily. Instead, I opened my heart and bid the pain fly while welcoming in a long lost friend … Happiness.
Our Heavenly Father sent us to this earth to find happiness. "[M]en are, that they might have joy" is not an idle statement. Father did not say "If everything is going just great in your life, you'll have joy." Rather, in 2 Nephi 2:25, He said "Adam fell that men might be; and men are, that they might have joy." First comes the trial, the fall, then comes the reward, joy.
Happiness is a verb. You must seek it. Even to receive it, you must first make room for it, open your heart to it. Like a gift that requires you to unwrap it, happiness is waiting for you.
Release the pain and receive the gift your Father in Heaven has sent you. Happiness is yours for the taking.