Mormons, or members of the Church of Jesus Christ of Latter Day Saints, tend to be happy people. I can't quote you any statistics, but just from what I see, I think it is true that Mormons are a happy people. I think there are probably lots of reasons why Mormons tend to be happy, from the encouragement to develop talents to the strong social network many Mormons enjoy. But the real reason why many Mormons are happy is because they have a strong belief in God and a desire to faithfully follow His commandants.
Many people are of the point of view that one cannot, but true happiness is the pleasure of living life with satisfaction or contentment. And I think the best way to find daily contentment is in obedience to a loving Father in Heaven's commands.
Mormons believe that God is more than just Deity. He is the Father of our spirits. Jesus Christ, under the direction of Heavenly Father, was the Creator of this earth. It was only when it came to the most important of Heavenly Father's creations, mankind, that He stepped in and took over. Because He is the Father of our spirits, He has a decided interest in our lives, in everything about us. Most of all, He desires us to be happy.
In the Book of Mormon, another testament of Jesus Christ, we read "[M]en are, that they might have joy." (2 Ne 2:25) That is why God created us, so that we could have joy. His commandments are not meant to be a hindrance on our ability to have fun, but rather they are the blueprint whereby true happiness may be obtained.
Elder Claudio R. M. Costa is a leader in the Church of Jesus Christ of Latter Day Saints. In his talk "Fun and Happiness," (Liahona, Nov 2002, 92–94) he wrote:
"We are happy as we pray every morning and every night, when we can feel that the Lord hears us and is always willing to bless, forgive, and help us. We are happy as we feel the promptings of the Holy Ghost in our lives—as we feel the Spirit when we have to make important life decisions. We are happy as we go home after a stressful and tiresome day at work to the arms of our families, as they express love and appreciation for us. We are happy to talk to our children, to enjoy the family, to get together on family night. In short, we can feel happiness every day in our lives through little things we do, and we are fully happy as we keep the commandments of a loving God who cares about us."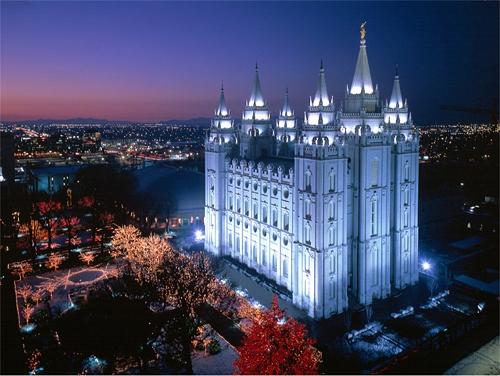 I am not happy every moment of every day, living in a blissful paradise, but I know where true happiness can be found … by returning my thoughts to God and tuning my actions to suit His council. Like Elder Costa says, when I pray I receive comfort and strength that helps me to deal with my challenges. When I receive a prompting, or a feeling deep within my heart that feels like it is from God, and when I act on that prompting, I feel happy knowing I can be an instrument in God's hands. When life does get me down, I have a loving family that is a constant source of comfort and joy to me. Just like Elder Costa says, it truly is the little things we do that bring us the greatest happiness.
Maybe that's why Mormons are happy, because we are taught to live our religion daily and through the little observances of our faith, we can find continued and sustained happiness. If you're not a Mormon, but want to feel that daily infusion of happiness, I encourage you to pray more often, strive to be obedient to God's commands and open your heart to the richness of blessings He desires to shower upon you. Then you, too, could be happy, truly happy.