Having a happy home, one where we and our children feel safe and secure, is probably our most noble desire. I did not grow up in one, though I have happy memories that stand out in their purity and sweetness against a dark backdrop. I can't change the past, however, I only have power over the present and, to some degree, the future. I can strive, you can strive, to give my husband and my children such a happy home that they might one day say "Home, home, sweet, sweet home, Be it ever so humble, there's no place like home." (John Howard Payne, "'Mid Pleasures and Palaces," Hymns (1948), no. 185.)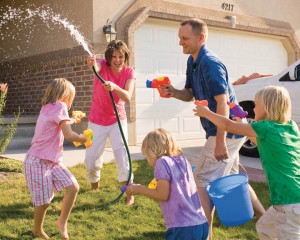 In 1995 the First Presidency of The Church of Jesus Christ and Latter Day Saints and the Quorum of the Twelve Apostles issued a proclamation to the world concerning the family. This proclamation states, in part:
" Successful marriages and families are established and maintained on principles of faith, prayer, repentance, forgiveness, respect, love, compassion, work, and wholesome recreational activities." (Ensign, Nov. 1995, 102.)
Happy homes come in all different varieties. Some are large with father, mother, brothers, and sisters living together in love. Others consist of a single parent with one or two children, while other homes have house a family of one. There are, however, certain attributes which happy homes possess, whatever the number or description of its family members. President Thomas S. Monson, a member in The Church of Jesus Christ of Latter Days Saints (commonly called the Mormon Church) calls these the "Hallmarks of a Happy Home." (Thomas S. Monson, Ensign, Oct 2001, 2–8) They consist of:
A pattern of prayer.
A library of learning.
A legacy of love.
A treasury of testimony.
President Monson says "Family prayer is the greatest deterrent to sin, and hence the most beneficent provider of joy and happiness. The old saying is yet true: "The family that prays together stays together.""
I never prayed with my own mother until she lay on her death bed. At that time we shared such sweet closeness, I felt I had never before felt such love for her or from her. It was a feeling I hope never to forget. I want my own children to feel that love from me, but not only when they are losing me; I hope they can feel that love from me every day of their lives as we kneel in faithful prayer together. I love praying with my husband and hearing him express to God, our Heavenly Father, his love and gratitude for me. My husband is a man of few words so oftentimes, this is the only chance I get to hear how wonderful I am!
At first when I read President Monson's suggestion that we establish a 'library of learning' I thought he was referring to the Lord's counsel to "Seek ye out of the best books words of wisdom; seek learning, even by study and also by faith." (D&C 88:118) Rather, he was referring to the general state of order and intelligence that a good and happy home possesses. The Lord also taught "Behold, mine house is a house of order … and not a house of confusion." (D&C 132:8)
Provide for your children a legacy of love by never fearing to show your love for one another. Speak kind words, loving words, do sweet things for one another, think before acting out in anger or raising your voice. Your children will not remember whether or not you lived in the biggest house on the block or the tiniest apartment in the city, but they will remember the moments you held them to you and told you loved them.
A fourth hallmark of a happy home is a treasury of testimony.
"The first and foremost opportunity for teaching in the Church lies in the home," observed President David O. McKay (Priesthood Home Teaching Handbook, rev. ed. (1967), ii.) "A true Mormon [or Christian] home is one in which if Christ should chance to enter, he would be pleased to linger and to rest."(In Conference Report, Oct. 1947, 120; or Gospel Ideals (1953), 169.)
Cultivate a love for the Savior, a reverence for His name and genuine respect for one another and you will provide a fertile heart in which a testimony can grow. President Monson said:
"Let us open wide the windows of our hearts, that each family member may feel welcome and "at home." Let us open also the doors of our very souls, that the dear Christ may enter. Remember His promise: "Behold, I stand at the door, and knock: if any man hear my voice, and open the door, I will come in to him." (Rev. 3:20)"
A happy home should be our most prized possession for it is the thing that will have the most lasting value for our children and for generations to come.