I knew going to Wal-Mart last night was not the smartest thing to do, but I thought "better tonight than tomorrow!" so off we went. Yes, my children in tow as well. Crazy, I know. I didn't have much to get, just a few small last minute items and my holiday preparations would be complete. What struck me though, was all the unhappy people I encountered on our outing. People were hustling about, encumbered about by their worries and stresses that it was just too much for them to lift their eyes and the corners of their mouths to greet others with a smile and a kind word. It made me sad to think how so many of us lose the true meaning of this season in our efforts to prepare the perfect holiday either through the gifts we give, the food we make or the decorations we put up.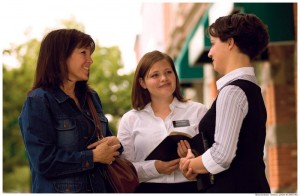 I almost never live up to my expectations of myself and it oftentimes gets me down. I'm an 'imperfect perfectionist', it's true. But there is help for me, for you too if you fall under this category, and a way for us to find happiness even when things are not perfect.
In his talk entitled "Live in Thanksgiving Daily", Joseph B. Wirthlin a member of the Quorum of the Twelve Apostles in The Church of Jesus Christ of Latter Days Saints (or Mormon Church), said "Gratitude is a mark of a noble soul and a refined character. We like to be around those who are grateful. They tend to brighten all around them. They make others feel better about themselves. They tend to be more humble, more joyful, more likable."
I know one or two people like that, do you? They are kind to people around them and seem to always be happy even though I know things in their life are not perfect. The key to their happiness? A grateful heart.
Did you know that God, our Heavenly Father, has commanded us to be happy? In the Doctrine of Covenants, which Mormons believe is the word of God received in these latter days, the Lord commands, "Thou shalt thank the Lord thy God in all things" (D&C 59:7.) Even further, He has admonished that "in nothing doth man offend God, or against none is his wrath kindled, save those who confess not his hand in all things, and obey not his commandments" (D&C 59:21.)
An early prophet of the Church, President Joseph F. Smith, proclaimed:
" Pride destroys our gratitude and sets up selfishness in its place. How much happier we are in the presence of a grateful and loving soul, and how careful we should be to cultivate, through the medium of a prayerful life, a thankful attitude toward God and man!" (Gospel Doctrine, 5th ed. [1939], 263).
It is not difficult to take this counsel to heart and to become a thankful person. It only requires that we open our eyes to all the blessings that surround us instead of only to the challenges. Robert Louis Stevenson, wrote, "The man who forgets to be thankful has fallen asleep in life" ("Quotationary", electronic quotation dictionary). Are you asleep in life? Do you see the wonders in the world around you, too abundant to count? Can you see the wonders in your own life?
Elder Wirthlin said, "Because we see things so often, we see them less and less."
When you hold bitter thoughts or feelings in your heart, you are constantly bathing your spirit in dirty water. Make use of the atonement daily, remember with gratitude the sacrifice made for you by your Savior, Jesus Christ, and keep your heart clean and free from anger and resentment.
Elder Wirthlin counsels us further to:
"[p]ray with all your heart. Consider the love your Heavenly Father has for all His children. Open your heart to His cleansing word. Feast on the words of holy writ. Cherish the messages of modern-day prophets and apostles. Forgive others who have offended you. Don't waste another moment feeling self-pity. Every day drain from your heart the feelings of resentment, rage, and defeat that do nothing but discourage and destroy. Fill your heart with those things that ennoble, encourage, and inspire."
We all have our reasons for feeling downhearted, resentful, angry and bitter. But our Heavenly Father loves us and and offers blessings to us daily. If we could just open our eyes to see, we would find there were plenty reasons to be cheerful.
In the Book of Mormon, Another Testament of Jesus Christ, Nephi had more reason than most to be resentful. His brothers hated him and set upon him regularly to beat his spirit down. His brothers bound him, nearly murdered him and yet, Nephi did not give in to the bitter feelings that must have threatened to overcome him. When it came time for Nephi to record his experiences and feelings in the book which later became a part of the Book of Mormon, Nephi wrote:
"Behold, my soul delighteth in the things of the Lord; and my heart pondereth continually upon the things which I have seen and heard" (2 Ne. 4:16.)
Though his path had been difficult and his heart groaned because of the mistakes he had made, the wrongs that had been done to him, Nephi refused to let himself dwell in negativity. Instead, he told himself:
"Rejoice, O my heart, and give place no more for the enemy of my soul.
"Do not anger again because of mine enemies. Do not slacken my strength because of mine afflictions.
"Rejoice, O my heart, and cry unto the Lord, and say: O Lord, I will praise thee forever; yea, my soul will rejoice in thee" (2 Ne. 4:28-30.)
Make the choice, as Nephi did, as my friends do, to rejoice in the good that abounds around you. Open your eyes, and see.
Mormon beliefs teach us that we are all children of a Heavenly Father. A sure way to lift your heart out of despair is to be a source of goodness for your brothers and sisters, your friends and neighbors, the strangers you meet. Your service can be as simple as telling someone you are thankful for them, that you love them. Expressing gratitude is the first step toward seeing more and more things for which to be thankful and in doing so, you will live in thanksgiving daily and be happy.
Elder Wirthlin said:
"As we strive to open our eyes, hearts, and arms, our step will become a little lighter, our smile will become a little brighter, and the darkness that sometimes broods over our lives will become a little lighter. Don't be discouraged if you haven't been an especially grateful person. Rejoice and think of what an impression you will make on those who thought they knew you. Think of how delightfully surprised they will be."
I want to be like my friends. I want to be that person who is always happy, even when life is what it is always is … a challenge and a trial. Every day is a new opportunity to begin again, to be grateful, to be happy.
In conclusion I want to share with you what President Gordon B. Hinckley, leader of the LDS Church, has encouraged us to do. I know that if you and I take these words to heart, and strive to live in thanksgiving daily, we will have joy:
"My plea is that we stop seeking out the storms and enjoy more fully the sunlight. I am suggesting that as we go through life, we 'accentuate the positive.' I am asking that we look a little deeper for the good, that we still our voices of insult and sarcasm, that we more generously compliment and endorse virtue and effort" (Standing for Something [2000], 101).