Most people have found Mormon missionaries standing at their door from time to time. Have you ever wondered what would happen if you invited them in?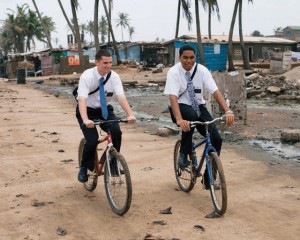 Their responsibility is to deliver a message to those who are interested. The message may vary, based on what they want to teach or what they feel inspired to discuss with you. For instance, they may have a message about how you can strengthen your families through a Mormon program called Family Home Evening. They may have a more doctrinal message for you. Whatever the message, it is brief and they will stay only as long as they're welcome.
Generally, the first visit, particularly if they've arrived unannounced, is very brief and then they ask if they can return. Your answer is respected. When I was going door to door as a missionary, we kept records of where we went and were not allowed to return for one year unless invited. That way we didn't become pests, but still gave people the opportunity to change their minds, and for newly arrived neighborhood members to meet us.
If you're interested, but don't have time for them just then, or perhaps want to wait until your spouse is home, ask if they can return. They'll make an appointment to see you and even let you know how long they'll stay if you'd like. Their purpose is to teach, not argue, so you should invite them back only if you're sincerely interested in learning about the Mormons. You don't have to plan to convert, but you should be a sincere seeker of truth, and not someone plotting a battle of wits. God's servants are not supposed to argue.
The young people knocking on your door are volunteers. They have usually left their home, school, jobs, and families for eighteen months to two years because they feel strongly about the gospel message they're sharing. They live under strict rules and have a great deal of structure, which helps them develop self-discipline and maturity. They come into contact with many people, which gives them an understanding of a diverse world different from their own hometown. They spend every waking moment with a companion of the same gender, and learning to live and work with another person helps to prepare them for marriage. They are regularly rotated, sent to a new area of the community and given a new companion, and as a result, learn to be adaptable. These are all skills that serve them well as adults during the rest of their lives.
You'll find many of them are homesick and are happy to find themselves in a living room with a real family. You are under no obligation to feed them, although you can, but they will enjoy having your children in the room, participating in the lesson. The missionaries are prepared to share their message in a way even a child can understand.
If at some time, you change your mind about receiving the lessons they teach, you need only tell them. Most people, however, continue through the six lessons and visit the church to better understand a growing religion. They soon realize most of what they've heard about Mormons really isn't true, and even if they choose not to be baptized, they come away with a better understanding of the religion they've long heard about.
About Terrie Lynn Bittner
The late Terrie Lynn Bittner—beloved wife, mother, grandmother, and friend—was the author of two homeschooling books and numerous articles, including several that appeared in Latter-day Saint magazines. She became a member of the Church at the age of 17 and began sharing her faith online in 1992.