Today I read yet another article about how today's teens are all selfish, demanding, and entitled. People have made that claim since the beginning of time. It was made about my generation, my children's generation, and will probably be made about my granddaughter's generation.
The bad teens get the attention. The media loves to cover teens doing wrong, but are less enthusiastic about reporting on the majority of teens who live quiet, well-behaved, ordinary lives. Over the years, I've written a lot of articles about Mormon teens and I've had an opportunity to know all teens are not bad or selfish. There are many teens of all faiths living just such Christ-like lives. Following are some stories I've covered over the years, with links so you can read more. Let's remember these kids when we're tempted to stereotype all teenagers into the same bad heap.
Paris Thomas: Mormon Teen Overcoming Poverty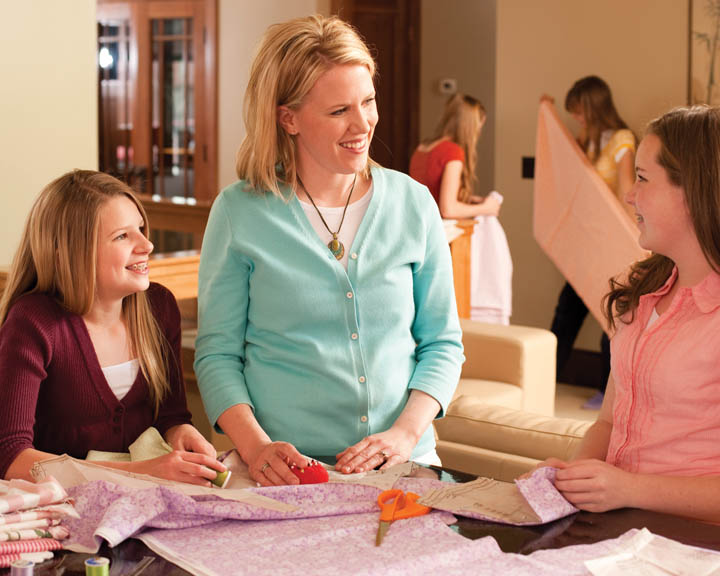 Paris' father went to jail and his mother struggled desperately to care for her family. They lived in a car for a while and his two older brothers got into trouble and died. Paris dropped out of school. To this point, he might fit the usual stories, except that something changed for Paris. He became a Mormon, as did his mother. Mormons emphasize education, so Paris went back to school and learned how to stay out of trouble. He is determined his mother will not lose another child. He's doing well and, unlike the perceived stereotypes, he does not blame his poverty, his father's arrest, or anything else for his past life. He is better than his circumstances and he's determined to make it, using what his new church has taught him—that he is a child of God with unlimited potential to make his life better.
Spencer: Friendship Over Championship
Spencer's friend is Dayton, a teen with cerebral palsy. Spencer wants to make sure Dayton has all the typical teen experiences and even some that are not so typical. He is a triathlon racer. One day he decided Dayton needed to the opportunity to participate in a triathlon. Dayton agreed by blinking—the only way he can communicate. Dayton can't walk, sit alone, or speak, so Spencer went to work figuring out how to do each part of the race. Spencer and his friends built a bike with a cart that Dayton could ride in. That covered the bicycle portion. He would swim pulling an inflatable raft. He would run pushing the wheelchair.
Obviously, Spencer couldn't win the race with the extra challenges of pulling a friend along, but he didn't care. Although the two finished first in the relay, they were 82nd overall. For Spencer, though, the purpose wasn't another trophy—it was giving a rare opportunity to a friend. There is nothing selfish in Spencer's friendship with Dayton.
Brandon Jackson: Mormon Teen Serving Orphans
Brandon Jackson participates with a non-profit that serves orphans in the Honduras. He first learned of the program in eighth grade, when the founder spoke at his school. He tried to push away a prompting to help out—he thought he was too young to make a difference. Again, the prompting came and he not only signed up, he encouraged the others to join in. He raises several thousand dollars a year for the program and also travels to the Honduras on vacations to work, helping orphans in five schools. While most teens are spending their vacations playing, he is taking care of orphans.
Watch Brandon's story
Honorary Mormon Cheerleader
Brittney has muscular dystrophy and has about a year to live. Her one unfilled dream was to be a cheerleader. When one of the team members learned of this, she presented the idea to the squad, who enthusiastically agreed. However, the school district refused the request due to liability concerns. The girls didn't give up. They kept fighting until the adults gave in. Today, Brittney has her own uniform and stands at the end of the row of cheerleaders, doing the hand motions, twirling in her chair, and being fully a part of the squad as an honorary cheerleader (because she wasn't required to try out). These teens are in Utah, so all may not be Mormon—but all are unselfish people thrilled to make someone else's dream come true.
Watch Brittney's story
These are just a few stories I've found over the years of teens who are not living lives of entitlement or selfishness. There are teens like these all over the world, quietly doing acts of service that never get made into videos or covered in the news. We see what we set out to see—let's see the good.
About Terrie Lynn Bittner
The late Terrie Lynn Bittner—beloved wife, mother, grandmother, and friend—was the author of two homeschooling books and numerous articles, including several that appeared in Latter-day Saint magazines. She became a member of the Church at the age of 17 and began sharing her faith online in 1992.