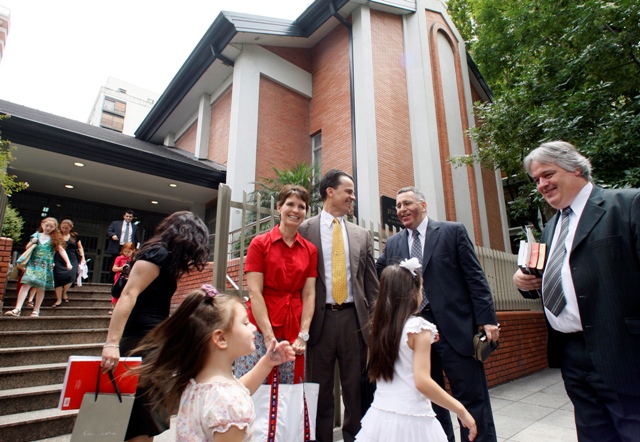 Life for Mormon teenagers has been changing lately. The Church of Jesus Christ of Latter-day Saints, whose members are often nicknamed Mormons, has always asked more of its teens than most churches do. Some researchers have credited the high level of participation, responsibility, and leadership given to these teens for the fact that they are less likely than other teens to leave their faith. Researchers have also noted they are among the few teens who have a faith vocabulary—the ability to communicate their beliefs to others in intelligent, well-thought out ways. They are more likely than other teens to voluntarily live their faith. Although the bar has always been high, it is even higher today.
Even in the early days of the Church, Mormon teens were expected to be mature, responsible, and involved. The Scouting-type program for teen girls in 1915 included requirements such as these:
Care successfully for a hive of bees for one season and know their habits.
Cover 25 miles on snowshoes on any six days.
During two weeks, keep the house free from flies, or destroy at least 25 flies daily.
Without help or advice, care for and harness a team at least five times [and] drive 50 miles during one season.
Clear sagebrush off of one-half acre of land.
During the previous pioneer days, teens had important responsibilities in helping their families with the trials of being constantly in danger and on the move. Young people often behaved in heroic ways in defense of their church.
In modern times, teens participate in ways nearly unheard of in most churches. Because Mormons have a lay church, the bishop (lay pastor) does not give the sermon each week. Instead, two to three church members speak on an assigned topic, giving mini-sermons. Teenagers, both boys and girls who are at least twelve, may be asked to give one of these sermons. They speak for about five minutes (but have been giving 2 and a half minute talks in the children's program since age three). They also run their own youth programs, with adults providing shadow leadership and leadership training.
In the past few months, two changes to church programs have increased their level of responsibility. The first was a lowering of the missionary ages. Mormon men had been able to serve missions beginning at age nineteen and women at twenty-one. The ages have now been lowered so men can leave at eighteen if they've graduated from high school and women at nineteen. While this has led to a dramatic increase in missionary applications, it also means they need to be far better prepared than they had been at a much earlier age.
To help facilitate this, the Church introduced a new curriculum for teenagers that puts more responsibility on them to for their spiritual educations. Their teachers are now facilitators and mentors instead of teachers. They don't lecture. They introduce the topic and then send the teens searching for the answers in scriptures, in talks by church leaders, and in a missionary preparation guide. They work in small groups and then they teach their peers what they discovered. They ask questions about things they don't understand and their peers answer them. They decide if the topic needs an extra week of study—not the teacher. They're assigned to go home and have some personal experiences with the topic and then to report back on those experiences. In other words, they are teaching themselves and taking responsibility. They are learning how to learn. When confronted with the wealth of misinformation on their faith found on the Internet, they will know how to find their own answers through study and prayer, instead of listening to the propaganda of others.
Parents are being encouraged to study Preach My Gospel, a missionary training manual, at home with their children. Their children not only learn how to share their beliefs with others, but they also study topics in depth with their families and discuss them in a loving and safe environment.
As teens are being expected to emerge from high school with well-honed leadership skills and strong testimonies, it can only have a powerful impact on their future lives as adults, both in the church and in the community.
About Terrie Lynn Bittner
The late Terrie Lynn Bittner—beloved wife, mother, grandmother, and friend—was the author of two homeschooling books and numerous articles, including several that appeared in Latter-day Saint magazines. She became a member of the Church at the age of 17 and began sharing her faith online in 1992.