When times are tight, it can be hard to justify taking a vacation. Giving the vacation a practical purpose, however, can make it seem less of a splurge. You'll get away from home, but you'll be working hard on an important task. A genealogical vacation can be the answer to this challenge.
A genealogical vacation involves spending time in a place where your ancestors lived. It allows you to see for yourself where they lived, placing them into context. Even though things are changed, a genealogy buff with a good imagination can remove the houses, telephone poles, and cars and get a glimpse into the past.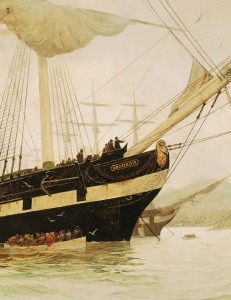 Often, the local area will have resources that are hard to find elsewhere. There will be books of local history, people who specialize in the local past, and cemeteries that might hold the clues to your ancestors.
Preparation is the key to a successful genealogy vacation. The first step is to identify where you want to go. Do a refined search, if your program has that capability, to find out where you have large numbers of ancestors. From this list, select places you can reasonably go for the length of time you have. You want to have plenty of time to get there and explore, so don't go far if your time is short.
Next, research the town to find out what resources are available to you. The town I'll be visiting this summer was settled by my ancestors. It's very small (2.1 square miles) and is still pretty much filled with distant relatives. I don't know anyone there, but they're all family. My research showed me they have a large genealogical library devoted to local genealogy for this reason, a restored historical village with the actual cabins my ancestors built, and many old cemeteries that are gradually being read and marked. Knowing all of this led me to schedule a full five days in the town, so I can spend plenty of time in the library while also leaving time to explore the town.
If I were visiting a town that was less focused, I would need to do far more research. When I moved to New Jersey, I lived near my ancestors, but it took a bit of time to track down the cemeteries and homes, as well as the sources for the information I wanted. Fortunately, I had three years to do this before I left. If I were headed there on vacation I would first have searched out research groups and found out what they knew. I would have tried to have addresses and sources discovered and written out before I ever left home. I'd even want to have the names of contacts who know a lot about the people I'm researching. Don't forget the public library. Many libraries have genealogical or local history sections. Search out the nearest Church of Jesus Christ of Latter-day Saints and find out when their family history center is open.
Once you've identified the people and places you want to explore, begin reading about the history of the town. Specifically, focus on the time period your family was there. Thanks to the Internet this is much easier than it once was. What you're looking for is context. You need to be able to place these people into the context of their time period. What was happening while they lived there? Was there a war going on? How did the war affect them? Which side were they on? Was everyone in the family on the same side? Did anyone fight in the war?
Even if no major historical events were happening, something was happening. Find out how they lived, what they ate, and what might have been changing. Were there new inventions coming into being? Were women starting to leave the home? (You may be surprised to discover there were times even very early in history when women took over a lot of business, particularly during wars.)
What stage of life was each ancestor in? That will affect how they viewed their circumstances. A young mother will see everything through different eyes than a mother whose child is about to go out into the world. A young person will be excited by new inventions or big political changes, but an older person may be nervous about them.
Who was the president of the United States, or the head of the country they were in? This will certainly affect how they viewed their world.
Before leaving home, compile your genealogy and research into a notebook. Be certain you have everything you need. Even if you keep your genealogy on your computer, print off at least the relevant sections. There are times when you'll want to flip through charts instead of tackling a computer, and charts can make it easier to work with other people in a research library. You can carry a pedigree chart around a library or cemetery much more easily than you can carry your laptop computer.
If possible, contact someone in the area before you go. I've just emailed the historical society of the town I'm going to. I said I wanted to be sure the library will be open that week, but also gave my connection to the town-just a few names on my history and mention of a primary goal, which is to locate my grandfather's childhood home. Since I'm a bit shy, I think I will feel more comfortable being expected.
Next week, I'll write about how to approach your exploration once you've arrived at your destination. In the meantime, have fun planning your trip.
About Terrie Lynn Bittner
The late Terrie Lynn Bittner—beloved wife, mother, grandmother, and friend—was the author of two homeschooling books and numerous articles, including several that appeared in Latter-day Saint magazines. She became a member of the Church at the age of 17 and began sharing her faith online in 1992.