The past week I worked to sort out the life of a man who was associated with four women. Because these relationships resulted in children, I wanted to be certain I had the proper children assigned to the correct parents. Internet searches complicated the matters, since different researchers gave the children to different parents, and some of the women had other spouses over time, and children from those relationships as well. If you're facing a similar problem, there are a number of steps you can take to organize the families correctly.
Begin by listing all the spouses for each person you can find. You need the spouses who are not your direct line as well. You also need the spouses of the non-direct spouses. For instance: Man A had children with Woman B, Woman C, and Woman D. You're not sure yet which ones he might have actually married. Woman C is your direct ancestor. However, Woman C had an additional husband, and Woman D had two additional husbands. You need all the husbands and wives involved in this story and all the children resulting from each relationship, even though technically, many of them are not related to you in any way. Otherwise you run the risk of missing a child or assigning him to the wrong parent.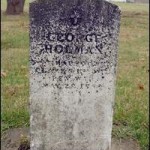 Next begin a timeline for the family. Organize every event you have even an approximate year for in order—births of all people involved, moves, deaths, marriages. This will allow you to check for impossibilities, such as a child born long after the mother dies. It will also help you guess which child belongs to which mother.
Begin checking the census records for each person in your family. With any luck, you'll find children in the homes. The presence of a child doesn't mean he's assigned to the correct mother, since the census normally only asks how the child is related to the father, but it can tell you, for instance, if the child is the wife's child from another marriage. In other words, you'll be able to assign the child to one of the parents.
Some census records ask the mother how many children she's given birth to and how many are living. This number is very important. In one census record, there were six children in the home, all belonging to the father. However, the mother had only had four children, all living. Some researchers had neglected to check this, and had assigned all six children to her. Because we had a marriage date for this particular couple, we knew the two oldest had a different mother and while we couldn't prove who she was yet, we could eliminate this particular wife as being their mother. By following each child through the census, you may be able to figure out who the parent is. Remember to check the adult years as well. Sometimes when a mother has been widowed or divorced, she lives with one of her children.
Search for an obituary if one is available. These nearly always list the children in the family, although girls are sometimes identified only by their husbands' names in earlier listings. They also often reveal the last spouse of the deceased person.
Noting the burial place can help as well. A visit to the grave of one of the women I was tracking showed her tombstone gave her the last name of the man I was researching,  demonstrating a marriage had most likely occurred. More importantly, he was buried beside her, and he had died first. This told us this was likely the final marriage for each of them. You may also find children buried beside a mother if they died young.
When searching for marriage records, be sure to check surrounding counties, since they may have traveled to find a minister of their faith, or may have married in the home town of one or the other. The lack of a record doesn't prove a marriage didn't occur, but it can leave you with a suspicion of such.
Once you have all this information, organize it and study it. What does it all mean to you? Try to assign the children to parents based on the dates you have available to you. You may wind up doing some guessing, but you are more likely to have guessed accurately after doing so much work.
In my case, I was able to definitely assign all but two of the children—the two I was specifically trying to place. However, I eliminated all other children and circumstantial evidence seems to place the children where I thought they belonged. For now, because the crucial census record was destroyed by fire and no birth records have been uncovered, I can presume the children belong to the parents I've assigned them to. I'll continue to search, but nothing conflicted with the assumption I've made.
Sometimes circumstantial evidence and tradition end up being all the proof you ever get, but your research will reassure you there haven't been any unnecessary mistakes.
About Terrie Lynn Bittner
The late Terrie Lynn Bittner—beloved wife, mother, grandmother, and friend—was the author of two homeschooling books and numerous articles, including several that appeared in Latter-day Saint magazines. She became a member of the Church at the age of 17 and began sharing her faith online in 1992.