Spring is just around the corner and that means two things for me. Gardening, which I love, and spring cleaning which I love even more! Hi, my name is Krystal and I am a cleanaholic! I love, love to clean. Blame it on my Dad, whom we have nicknamed the next Martha Stewart. He's what you might call a little OCD, and I have inherited that from him! There is just something about purging and getting rid of all the stuff you don't use anymore, and starting with a fresh clean house for the summer! My husband doesn't like spring cleaning; he hardly finds it as fun as I do, and I literally have to drag his feet or bribe him to help. I don't blame him. It's a lot of work, but it's something that needs to be done!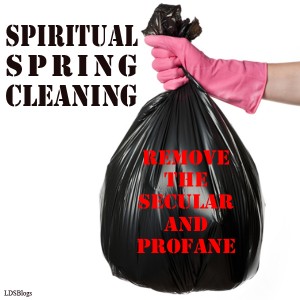 There are so many awesome ideas on Pinterest on how to clean and organize your home! I love it! I have switched over to all green cleaners too and it makes me feel good especially with my daughter, to get rid of the toxins and yucky chemicals.
At church, I am attending a Gospel Principles Sunday school class. Gospel Principles is a class that teaches the basic doctrine and teachings of The Church of Jesus Christ of Latter-Day Saints (LDS church) in a more simple way. This past Sunday our lesson was about fasting. We talked about what fasting is, and how it applies in our life. In the LDS church, the members are encouraged to fast, or go without 2 consecutive meals at least once a month when needed. When we fast, we usually do so with  a purpose in mind. This can range from fasting for a friend in need, better health, answers to prayers..anything! The key is to fast with prayer. If we don't fast with prayer and real intent, we are just going hungry, so prayer is essential! As we talked about this, I thought of how not only are we cleansing our bodies by going without 2 meals, but our spirits are being cleansed as well.
It's no secret being a wife and mother has its challenges, so I have found myself fasting for that purpose–to be a better mother. During this fast, I pray to my Heavenly Father to help give me guidance, to help me be more patient, and to be able to recognize the blessings I receive on a daily basis. I tend to get down on myself a lot, and I realize that like the green cleaners I use to get rid of the toxins in my home when I clean, I need to purge the negative thoughts from my head because that is Satan trying to take over my spiritual home with his poison. After my fasting period is over, I have been able to face the daily things so much better, and have felt the Lord's hand in my life.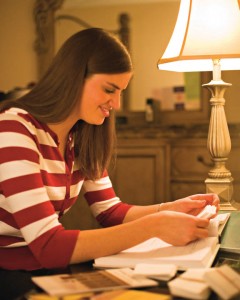 As I reflected on this experience, I realized how these gospel principles I learn every Sunday can be used as a resource for spring cleaning…but spring cleaning for the soul.
Purge, Purge, Purge! When I clean, I like to go around to each room in my home, I have 2 bags. One for trash, and one to donate. Think of all those negative thoughts that take over your mind, and throw them out!! You don't need them; they are taking up room and are just plain trash! Surround yourself by positive influences that will lift you up instead of bring you down. The lessons you learn from a trial–donate them! So many of us go through the same experiences, and it's easy to feel like we are the only ones,  but if we donate our experiences with others, we can really be useful and help someone else in a time of need!
Organize yourself. Once school is out a lot of you have kids who are home for the whole summer, and having a schedule of some kind keeps you sane! Well, make that schedule for the spiritual things also. Make a list of things you'd like to incorporate in your family life, whether that be family prayer, scripture study, or family home evening, and work it in your schedule. I plan to start doing a scripture study with my daughter in the morning. We usually eat breakfast together and just kinda talk or listen to music, but I want to take that opportunity to teach her a little bit about the gospel with a story, or a fun morning activity.
Clean! How could I forget the most obvious thing! Actually clean! We scrub baseboards, wash windows, and clean carpets!

Clean your soul. Repent for things you are doing that are dirtying your minds and your spirits. Your Heavenly Father wants more than anything for you to be closer to Him, and is waiting to forgive you. Get rid of the dirt and become clean again.
As you get ready for spring, getting rid of junk is a great start, but don't neglect you! Take the challenge with me and lets do some home spring cleaning, and some soul spring cleaning. I promise you will receive so many blessings because of it. I have a testimony when we clean both spiritually and physically it invites the spirit into our home. You've heard of the saying "cleanliness is next to godliness?" Well, I truly believe in this. When my home is organized and free from chaos, and we are doing the things we should be doing as a family, such as scripture study, and family prayer, our house becomes a house of order. It becomes a home where the Spirit can dwell and we, as a family, are much happier. Try it out this spring, and let me know how it goes!
About Krystal Wilkerson
Krystal is a latter-day mom and Holy Homemaker to 3 beautiful kiddos who is striving to find joy in the everyday trenches of motherhood and life! Her passion is sharing her experience of decluttering with a purpose to help others create a Holy Home where the messes subside and the Spirit resides. She is a lover of books, nature, music, food, the gospel, and all things Texas! Follow her at her website, Latter-day Mom!
Twitter •