Our first house was an older home, with the kind of old-fashioned windows that lift and lower on a pulley. Some of the pulleys were broken and the windows could only stay up with a hefty wooden dowel. The prior owners of the house had put in storm windows on the outside to protect against the elements. They made each window solid and practical. But they were a nightmare to clean.
To do the task properly, I had to first remove all the storm windows and wash them separately. The ones on the pulley didn't do any fancy tilting for easy cleaning, so I had to use a step ladder to reach the tops of the inside panes, and a 12-foot ladder for the outside. There were 8 sides of glass that needed cleaning for each window, with 14 windows in the house. That's 112 sides of glass, plus going up and down the ladders all day, and, of course, removing and returning the storm windows when they were clean. My body ached just thinking about it. Yes, I dreaded the chore.
For the first few years, I didn't clean the windows very well. Maybe a few squirts of spray-cleaner on the inside panes in the kitchen, or some spot cleaning where the dogs' snouts pressed against the ones in the living room. But I couldn't stand the idea of doing the job properly. And they didn't seem that dirty, anyway. After all, I could still see through them. So I put off the job year after year.
Then, something marvelous happened. General Conference talks became available to listen to online. General Conference is a twice-yearly event for The Church of Jesus Christ of Latter-day Saints where the prophet, apostles, and other Church authorities speak to the people. The talks are broadcast live, and then they appear in print after the conference is over. During the age of the internet, the Church got right on board and began to post them online after conference. We'd still wait for the printed version to read and to make notes in, but to listen again online was truly a new and awesome experience.
Coincidentally, the year when this amazing online phenomenon took place was the year I noticed how dirty my windows had become. I could still see through them, but there was a slight haze of gray obstructing my view. But an idea came to me: I could take advantage of listening to the talks again while I cleaned the windows. I balanced the duration of each cleaning session with an hour or two of talks, making sure I could hear conference from whichever spot I stood—outside or inside—while cleaning.
I was shocked at how filthy the windows had gotten. Still, I pressed on, relying on the words of the prophet and other speakers to strengthen my resolve. While I worked, I felt as if I had my own mini-conference going on. It made the time go by so quickly.
It took me several days to finish the entire house. When I was done, I stood in the middle of my home with the shades and blinds drawn open. The sun streamed in and I saw something I never saw before. The outside world looked so clean that it was as if I was looking through no glass at all. The neighbor's yard was beautiful, my own grass was coming in a velvety green, and the sidewalks were bright. Everything looked new. But the only things that were new were my windows—my clean windows—and my outlook on the task I managed to complete.
We Get Comfortable in Sin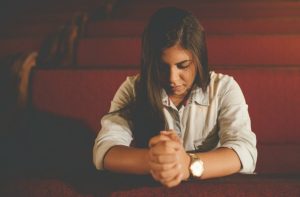 Sometimes in life, we have habits that may not be the best for us. We may struggle with family relationships, addictive vices that take away precious time and resources, or we may even have a weakness for certain distractions that pull us away from doing better things with our time. Everyone faces a situation like this once in a while. We recognize how it may not be the best thing for us, but we're not up to the challenge of turning away. And just like my dirty windows, the problem can get worse over time.
We Become Short-Sighted About Heaven and the Future
Over the years, I truly thought my windows were clean enough. I couldn't see how dirty they had become. I remember looking outside at times and not really appreciating the view, yet not realizing it was due to the condition of the windows. My neighborhood was beautiful, but I couldn't see it that way anymore. When we are distracted with our own personal temptations or sins, our view on eternity is blocked. We may even doubt the promises of our Savior and our worth to him. We wonder if we can ever see clearly again.
We Feel Daunted by the Task
It's usually when we are "in too deep" that we are forced to face our problems, but therein lies the perplexity. We feel we can't tackle them. But the alternative—living under the pressure of sin or being a slave to our temptations—is worse. Luckily, this often leads us to our knees. When there seems as if no one else will listen, it is on our knees that we find strength to stand tall.
We Realize We Can't Do It Alone
"Hear my prayer, O Lord, give ear to my supplications; in thy faithfulness answer me, and in thy righteousness." (Psalms 143:1)
There are some things we simply cannot do alone. Overcoming our own personal vices is one of them. We've seen it so many times in the scriptures, where men and women of God have gone to their knees for guidance. Christ himself taught us this pattern when he gave his great intercessory prayer in John 17. It is a pattern that has been laid out since the beginning of time. And fortunately for us, it is an eternal pattern—one that discriminates against no one, no matter how harsh the grip of the vice, no matter how often it bears down on us.
We Allow the Savior to Walk Beside Us
"O send out thy light and thy truth: let them lead me; let them bring me unto thy holy hill, and to thy tabernacles." (Psalm 43:3)
For me, listening to the words of modern day prophets—words that echo the love and forgiveness my Savior, Jesus Christ, has to offer—gave me the courage to face the challenge I was not willing to face before. True, having dirty windows is not a crime against man or nature. They won't keep me out of heaven. But they were a real stumbling block in my life, something I was not willing to face alone. And I didn't have to, thanks to modern technology. But even more importantly, I was able to see the symbolism in this week-long event to help clean the vices of my own life, so that I can have a spiritually clean heart again.
The Task Becomes Light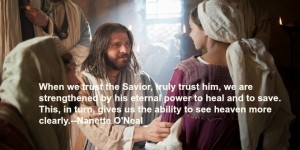 Our Savior has counseled us: 
"Come unto me, all ye that labour and are heavy laden and I will give you rest. Take my yoke upon you, and learn of me; for I am meek and lowly in heart: and ye shall find rest unto your souls. For my yoke is easy and my burden is light." (Matthew 11:28-30)
It seems impossible that the task of taking upon ourselves another yoke—even that of the Savior's—could make our own task light, but it does. I know for me, as I listened to the counsel of the general authorities, my mind was distracted from the duty at hand and my soul was strengthened. In time, the windows were sparkling and I was edified for my efforts.
I know this to be true in spiritual matters as well. When we trust the Savior, truly trust Him, we are strengthened by His eternal power to heal and to save. This in turn gives us the ability to see heaven more clearly and to know that His promised glory is something we are worthy to obtain—simply because He loves us enough to help us every step of the way.
A Renewal of Spiritual Eyes
"For after much tribulation come the blessings. Wherefore the day cometh that ye shall be crowned with much glory…" (D&C 58:4)
When we open our hearts to the Lord, when we allow Him to walk with us and restore us as we work through our trials, our eyes are made pure again. We see clearly, just as we did before we allowed sin and temptation to corrupt our spirit. We see further, even past life's little barriers, for we see as God sees. What I love most about this gift is that it is for all to receive whenever and as often as needed.
In our new house, the windows are much easier to clean. It doesn't take nearly as long. But I started a tradition back in the old house, one that I try to maintain twice a year—cleaning windows with the General Authorities. Each time I do, I enjoy the talks of conference again while I work. And each time, my spirit is cleansed more than the windows ever could be.
This post was originally published in 2014. Minor changes have been made.
About Nanette ONeal
Nanette O'Neal loves the gospel and is very happy to share her testimony on LDS Blogs. She is a convert to the church and still feels the spirit burn strong within her heart. She graduated from Mason Gross School of the Arts with a degree in music education and has taught children and adults in the private and public sphere for over twenty years. Nanette continues to study the gospel and the art of writing. She writes weekly inspirational articles on her blog and is currently working on an LDS fantasy novel series, A Doorway Back to Forever. You can find her at NanetteONeal.blogspot.com. Nanette has a wonderful husband, talented son, and three beautiful dogs.