Oh, to be young and planning a wedding! It is June, and there are a lot of young brides and soon-to-be brides out there. This article is written with them in mind, but really applies to all of us.
 I remember how excited I was to be 21 years old and planning our wedding. I was to be married two days after my 22nd birthday and seven days before Christmas. It was a busy and exciting time! I was in the habit of making all my Christmas presents, as well as the wrapping paper, and now I had two families instead of one. My soon-to-be husband thought I was crazy, I'm sure, but we were up late many nights putting the finishing touches on Christmas. In addition, handmade wedding announcements were mailed with our handmade Christmas cards.
Yes, it was a bit over the top. I still don't understand why I put us through that much stress. I was not one of those young women who dreamed of the perfect wedding since childhood. That just wasn't me. The only thing I ever remember thinking about was being married outside our family cabin under a big pine tree wearing a Kelly green dress. I actually found a green dress that would have been perfect, but I was too cheap to spend $70 for it (1976), so I wore a pink dress that was already in my closet from a dance I went to a couple of years prior. We were married outside at the cabin, although it was December, and the temperature was 17 degrees Fahrenheit. If nothing else, it makes for a good story.
It has been 37 1/2 years since that cold December day. I look back and shake my head. What was I thinking?! All the preparation in the world would not have made that day any different from what it turned out to be—simply, the day we got married. On our 17th anniversary, we were "sealed for time and all eternity" in the LDS Oakland Temple. Seventeen years of wisdom made a difference. We just prepared spiritually, and let the rest fall into place. No stress, no pain—just our family making right what I should have done in the first place. We actually eloped. I don't know how we managed to keep it a secret, but even our children seemed to want a special day just for us. We had just a couple of very close friends with us who were sworn to secrecy.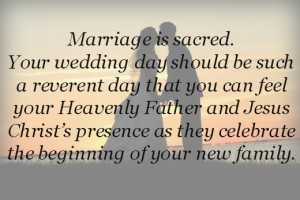 I'm not suggesting that couples elope and sneak away from family and friends to get married. Quite to the contrary, it is wonderful when families can gather for a special day and celebrate such a happy occasion.   What I am suggesting, is that brides become realistic about what the wedding day is all about. No matter how many flowers, how many yards of tulle, or how expensive the dress, you'll still be married the day after. It is a matter of whether you'll be exhausted and crying at the end of the day, or happy and ready to start your new life.
Weddings are a celebration of family. You and your soon-to-be spouse are leaving the nest and building your own. It should be a sacred day. It is a time to quietly ponder the wonder of it all. It should be such a reverent day that you can feel your Heavenly Father and Jesus Christ's presence as they celebrate the beginning of your new family. All the money in the world won't buy the Cinderella wedding. Cinderella is a fairytale. Marriage is real. Don't aspire to the fairytale while the real thing is within your grasp.
Marriage is more than the wedding—oh, so much more! The money spent on the wedding should be a reverent amount; not a splashy, flashy amount. Too many young couples are drowning in debt after big fancy weddings. Too many parents struggle financially to help Cinderella go to the ball. Thirty-seven years from now (I can't speak for any longer than that), what will matter to you is the person you married and your children—not the ball gown, flowers, and tulle.
Marriage is a sacred institution and should be regarded as such. The wedding should reflect the sacred nature of the union. The bride and groom should both be relaxed and focused on each other as they begin their life together. So often that isn't the case.
In retrospect, if I were re-planning my wedding, I would have typed a note to photocopy and put inside our (store bought) Christmas cards letting people know we were married instead of handmade wedding announcements and handmade Christmas cards. I would have told our families that I didn't have time to make or buy Christmas presents that year, but that we were sure they would understand since we were getting married. We would not have had a wedding reception at all, but met our family and closest friends at an inexpensive restaurant for lunch (buy your own) before heading off for the honeymoon. Brides sometimes get talked into making things more complicated and expensive than they have to be because they don't want to hurt anyone's feelings. Remember that those who really love you will understand your commitment to make the day simple, reverent, and sacred. Those who don't understand will get over it long before your bank book will get over the debt from not standing your ground.
Keeping your wedding simple and sacred will make cherished memories. Take the money you save from avoiding the fairytale and set it aside for real life—a home, children, and all the crises both can create. You'll be so glad you did!
About Tudie Rose
Tudie Rose is a mother of four and grandmother of ten in Sacramento, California. You can find her on Twitter as @TudieRose. She blogs as Tudie Rose at http://potrackrose.wordpress.com. She has written articles for Familius. You will find a Tudie Rose essay in Lessons from My Parents, Michele Robbins, Familius 2013, at http://www.familius.com/lessons-from-my-parents#.UYPhA6K.
Twitter •