Members of The Church of Jesus Christ of Latter-day Saints build temples. Gorgeous, impressive structures that stop traffic and inspire awe just by looking at them. When I was a kid, I remember my parents going to the temple often. They made it a festive occasion by bringing us home treats whenever they went.
We called these treats "temple cookies." They were huge cookies, at least 8 inches in diameter. They weren't anything special as far as cookies go, except for the size. But I loved how my parents thought of us enough to bring us back something we would enjoy so much. I am sure our love for those treats helped encourage my parents to make more frequent visits. Being a parent now, I see the brilliance of that move.
Temples are peaceful
Have you ever been to a Latter-day Saint temple? It is so quiet. Just walking on the grounds gives me a deep feeling of peace. The lawn, trees, and flowers are beautifully manicured. The grounds are immaculately clean and the building is maintained to such a level that it's never allowed to get dirty.
There is a visitors' center where you are welcomed by smiling missionaries. There is usually a spiritual thought of some kind. They answer your questions and let you sit in the quiet peace that permeates everything within the temple grounds. The feeling at the temple always puts the rest of my world into perspective.
I recently had a friend ask me why temples matter. The internet is full of the doctrinal reasons why Latter-day Saint temples exist and why they matter for the salvation of souls. But I want to give you my reasons why it matters to me.
God is There
The Spirit on the temple grounds is nothing compared to the power of the Spirit of God inside the building. At times, it has taken my breath away! The temple is the house of God, and He literally walks its halls. The love and light, the peace and assurance, the acceptance and joy that fill the temple are a testimony to me that He is there daily. It is a place unlike any other. The veil between heaven and earth is very thin in the temple.
I have often felt the presence of my ancestors and other spiritual beings who have passed on to the next life. The temple takes my fear of death away because it expands my vision of eternity. I know any separation will only be temporary. Such a beautiful promise makes it worth every sacrifice to be worthy to spend time in God's house. I find strength and comfort in the temple.
My First Visit
When I was six weeks old, I got to take my first visit to the Washington D.C. Temple. My parents got married soon after my mom got baptized, but you must be a member of the Church for a year before receiving your endowment. So when their year anniversary arrived, they went to the temple to be sealed and make their family eternal.
By then, I had joined the party, so I got to be at my parents' sealing. I obviously don't remember it, but I do know the feeling of security and love that I feel every time I hear them tell me the story. I love that temples help families be united forever.
The next time I attended the temple, I was 12 years old. I got to go do proxy baptisms for the dead. Sounds creepy, but I promise there are no dead bodies in the temple! I got to stand in for someone who had passed on and be baptized in their place. It was such a cool experience to step into the baptismal font, which is built on the backs of twelve oxen that represent the twelve tribes of Israel.
Temples Are a Place of Service
Knowing I was doing something for someone who had passed on and could no longer do it for themselves was amazing. I felt a connection to those women. (Being a girl, the work I do in the temple is for women. A man would do work only for men.) I love how the temple gives me a chance to serve my ancestors and give them a chance to have ordinances they never got while on earth. The temple is a place of service.
I'll never forget the day I got to go to the temple to receive my own endowments. I was twenty-one and I thought I knew everything. But as I sat there and heard the words of the endowment ceremony, I realized my understanding of things was tiny! I learned that we are infinitely more important to God than I had ever imagined.
Some religions distance man from deity, feeling that man is unworthy of a close relationship with God. But I learned that we are literally God's children, that He cares about our success more than we could imagine, that He is working for our good in a way I never understood before. I love the temple because I've learned so much there. The temple is a house of learning.
Wedding Day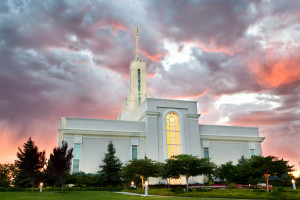 The day I was sealed to my sweetheart, I felt the power behind God's love. I remember kneeling across the alter in a sealing room, surrounded by family and friends. The sealer gave us some marital advice, joked with us, and put everyone at ease. Then he began pronouncing blessings on us from God. I felt the power in his words. A warmth and a spirit that was almost tangible seemed to descend on me and my brand new husband. It surrounded us like a dome directly from heaven.
I felt the protection, strength, and support that God was giving us in our new adventure as a family. I am so very grateful that we got married in the temple. I can't imagine how our marriage would have survived all the challenges we have faced without that protective strength. I wish every marriage could be done in the temple — it really is God's house and He is there. The temple strengthens families.
The things in the temple are kept sacred, so you won't find the details of what happens there anywhere else. But the amazing thing, the beautiful thing, is that all the details of the temple ceremonies are already things that are part of the gospel. What I mean is that none of the things in the temple are going to be things you haven't heard before.
Come See the Temples For Yourself!
The power of God's Spirit in that holy place opens your mind and brings the pure truth of the gospel to the forefront. It's amazing in its simplicity and beautiful because it reaffirms God's love. He hasn't hidden anything from us. He wants us to be truly happy and to succeed, and He has told us how to do it! And He keeps telling us until one day the light turns on and we truly get it.
There you have it: the reasons the temple matters to me. The temple is a place of strength and comfort through all life's trials. It is a place where families are united together forever. The temple is a place of service and a house of learning. The temple strengthens individuals and families. And the temple reaffirms the simple truths of the gospel of Jesus Christ.
Remembering all the wonderful experiences I've had with the Spirit in the temple naturally leads me to want to encourage everyone to go there. You won't regret it. There is nothing like it anywhere else. You get to perform a service for those who have passed on. You get to make a difference in their eternity while learning things that will make a difference in yours.
It is worth every sacrifice you must make to get there. Nothing can bring you as much joy and peace as being worthy to attend the temple and getting to spend regular time in God's house. I can't say anything more than that! Go to the temple. You won't regret it. The peace and beauty will heal and strengthen your soul.
About Patty Sampson
Patty thrives on all things creative. You'll often find her in the garden pretending she is a suburban farmer. She loves meeting new people, and is devoted to her friends and family. In her heart she is a Midwesterner even though life has moved her all over the country. She believes in "blooming where you're planted" and has found purpose in every place she has been. She has a deep and abiding love for the Savior and the Gospel of Jesus Christ. And she loves editing LDS Blogs because it is a constant spiritual uplift. Not many people can say their job builds their witness of the Savior.
Twitter •