From the time I was a little girl, I always dreamed what it would be like to fall in love and get married. Often my mind was filled with a picture of Prince Charming riding in on a white horse, or at least driving a white pick-up truck to my front door. I envisioned how happy I would feel to bring him to see my family, and how joyful it would be to spend eternity with my best friend. Somehow in my vision everything just happened and fell perfectly in place. At 27-years-old it seems like the Lord has woken me up from my dazed and blissful day dream. I think I'm starting to see that love is a choice- an eternal choice.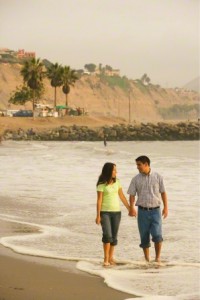 The other day I was on a date with a guy and he began to talk about marriage and the future. It became extremely clear to me that if I wanted to make this choice, I could finally leave the single life and get married. It's hard when someone really cares about you and begins to talk of grand trips you could take together and an adventurous life you could live- hard not to cave in. It's hard when someone looks in your eyes and tells you how great you are and how lucky they are to have you, hard to say no. When they classify you as an evidence of God's love for them when they feel they don't deserve you, it breaks your heart when you turn away. However, it's easier to get out when you can imagine your Heavenly Father with His loving arms outstretched telling you that He has a different plan for you. It's as though He is reminding you of a promise you made a long time ago.
It might be that I made that promise before I even came to earth, but a while ago, I reaffirmed that promise to myself and Heavenly Father. The promise that no matter how hard it was to be single I wouldn't ever settle for a person or circumstance that would lead me to fall short of my potential, or them of theirs! Nothing is more disheartening then to feel that you could do better, or someone could do better than you. It's a choice of course, but you have the right to choose the best option for everyone involved.
Was it hard to walk away from amazing potential standing in front of me? Absolutely- so hard in fact that it took me two different times before I could finally walk fully away. But, it was possible. I've seen plenty of bad marriages in my lifetime. I've seen plenty of people choose to love someone who doesn't help them reach their full potential. I've seen heartache and sorrow over choices made. Never would I ever want to follow that path. Never would I want to experience the pain I've seen other's feel.
So yes, I walked away. Some may call me crazy. At my age and circumstance in life, any chance to get out of the single life should be snatched up right? Wrong. You can't just marry the first guy who falls for you. Or in my case even the third. (Unless it is the right guy) God knows what is best for you- and for me. He knows what we need to sacrifice and change to become who needs us to be and to get where we are going. While it takes courage to say yes in dating, often it also takes courage to say no.
My challenge this week is to choose to say no to one thing that you know isn't the best choice for you. It may be hard and painful, but I have seen evidences that it is worth it! God is in control of your lives, and He does know what is best!
About Ashley Dewey
Ashley Dewey is extremely talented at being single. Hobbies include awkward conversations with members of the opposite sex, repelling third dates, talking to boys about their girl problems and to girls about their boy problems. In her spare time she also has a very fulfilling school life, work life, and social life. Besides being a professional single, Ashley is also a BYU graduate with a degree in linguistics (Aka word nerd). She enjoys studying other languages, particularly American Sign Language, and finds most all of them fascinating. She is currently pursuing a masters degree in Teaching English as a Second Language. Ashley works most of the time and has often been accused of being a workaholic. Currently she works full time as a merchandiser and supervisor in a retail store, and part time doing social media work. On her day off she works (really it doesn't feel like work) in the Provo LDS temple. The only kind of work she finds difficulty focusing on is house work. Her favorite activities in her free time are reading, writing, creating social experiments, and spending time with great friends and family. Specific activities with those family and friends include: going to concerts, plays, dance recitals, BYU basketball and football games, and watching sports on television.
Twitter •