What if you could experience childlike joy every day for the rest of your life? My Down syndrome son can. There is no yesterday or tomorrow for him. He has a minimal concept of time, like "3 sun-go-downs" he can mark off on a calendar, but his world pretty much all takes place "today". That makes for happiness that can't be diminished. Every time we talk about Christmas, or his siblings coming home for any occasion, he is every bit as thrilled as the first time. It's a grand way to experience life. The obvious challenge with that world view, though, is that he doesn't understand about waiting for results. If you bring up Christmas . . . it better be happening!
We love decorations and putting up the stockings, but he has to put them out around the room every single night after we do. Every night I remind him, "It's not tonight." "Grrrrr" – and he sets them out anyway, and I put them back after he goes to bed, for weeks. This week we talked about it on the way to school:
"Mommy, stockings? I do it!"
I acted surprised: "And you know where you want to put them!?"
"Couch, chairs . . ."
"And Santa will put presents inside?"
"And stuff."
"Yeah, and other stuff."
"Surprise!" he said with all his heart, "For yoooouuuu!!"
I couldn't help but smile with the same anticipation he feels because of course it does sound very exciting when you put it that way.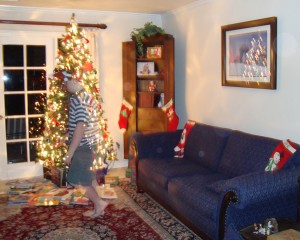 Another Christmas tradition we've had to adapt due to Down syndrome has to do with impulse control: not existent. If you put out a present . . . he feels like it's time to open it. We have found it impossible to put anything under the tree until Christmas Eve, after he goes to bed. It actually saves a lot of wrapping time and paper – we have decorative nesting Christmas boxes up on a shelf 364 nights a year and once the house is quiet on Christmas Eve my husband and I pull all the gifts out of their hiding places and pop, pop, pop, into those boxes and we're done! The next day we stack them back up and "poof" the house is clean. It's pretty sweet.
The forlorn look of the empty floor by the tree gave us pause though, so we started a tradition of getting a new Christmas book every year and we put those under our tree. I like the look of it. I completely forget that it is different than other people's houses. I also enjoy reading what we wrote in each of the books about what we were doing that year and who visited us for Christmas. We note the children's ages and major accomplishments for the year. My, how the world keeps spinning. One year doesn't seem that different from the next but it only takes looking at a few books to see big changes.
The childlike enthusiasm that people try to find at Christmastime every year is at our house all the time. We like to think it's keeping us young. Our nativity sets get arranged and rearranged by our son's awkward hands many times over the holiday, but every time they end up with the focus of all the characters on the baby Jesus. Every time I see a new arrangement it reminds me that I should do the same. In a way my boy is like the Savior: with him there is constant hope and anticipation that things are just as bright as they can be.
Though we had been told that our Down syndrome son wasn't healthy enough to live to be born, on the day 19 years ago this week when he was born I had the undeniable and unmistakable sense that his attitude was "Stop the world, I'm gonna get on . . . It's my day and I'm comin' out!" And so it was. He was born, and he lived. To tell the truth our world did stop in some ways, but since there are varied and diverse ways to go through life we just accepted that this was now ours. If you look at life the way he does, every day is just as exciting as you choose to see it. And I have since learned that with Joey at my side there is always happiness, and there certainly are surprises, for meeeee!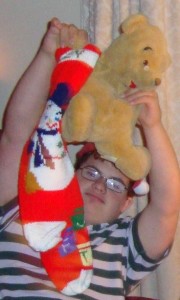 HAVE A VERY MERRY CHRISTMAS!!!
About Jane Thurston

Twitter •