Some twenty years ago, a gutsy gentleman at church liked to mix things up during Sunday School by asking questions that made you think outside of the spiritual box. Because of his age, wisdom, and wittiness, he sparked lively debates from time to time. I was a new member and welcomed the challenging ideas.
One such idea of his stuck with me: he called it the "as if" principle. He described it as such: live your life as if you have what you are lacking, as if you possess all that you require to make things happen in life—even if you don't. Soon the habit becomes part of you, and you've obtained the goal you never thought you could reach. It made some people push the envelope of their comfort zone. It challenged their way of thinking. It called them to action. For me, it opened up a new perspective, one that unleashed potential I never knew I had.
"I can do all things through Christ which strengthens me" (Philippians 4:13).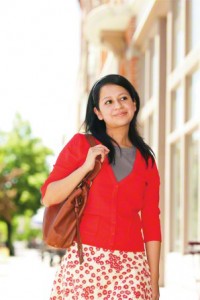 It takes a certain amount of faith to leap forward into the unknown, especially if you harbor doubts about your potential. Having a positive attitude can be the push-off point in such a leap, leaving lasting spiritual effects on your psyche. Positive thinking is a choice we make daily, walking with the Lord step by step. When we employ His help, we have the power to make miracles happen. President Thomas S. Monson, the 16th prophet of The Church of Jesus Christ of Latter-day Saints, once said, "We can choose to have a positive attitude. We can't direct the wind, but we can adjust the sails. In other words, we can choose to be happy and positive, regardless of what comes our way."
I put the "as if" principle to use during a dark time in my life. Back in my teaching days, I had a private battle going on with infertility. There were times when my attitude was so negative, my outlook so distraught, I was sure it brought my students down as well. Finally, I took on the "as if" principle and decided I was going to act as if my life was full, even without a baby of my own. I asked myself how a person would go about her day if she felt her life was rich with purpose. She would be grateful for her blessings, she would be kind to others, and she would see the good in the world around her. I could do that at least for a day, and then for another day, and then again.
It took time… Lots of time. There were days when I slipped out of my "as if" thinking, feeling sorry for myself and deciding I could never obtain happiness. I recognized the destructive nature of the negative thoughts and channeled my prayers back toward the positive. I remembered how my Savior saw me—as a worthy daughter of God. If He could see that, then I could imagine it too. That was enough to try again for one more day.
The more I stayed on track, the more I was able to find new meaning in my life as a wife, a teacher, a mother to my step-son, and through community and church service work. I grew closer to my husband and my Savior because of that trial. It got to the point where students began to ask me why I was always smiling. My response was, "Well, I tried being miserable once, but that was no fun." In truth, living as if my life was full showed me how full my life really was.
Live as if you have what it takes to make things happen; then watch the miracle unfold. Our previous prophet, Thomas S. Monson, in his early days of Church service, had been appointed as the mission president in a region of eastern Canada. He related an experience of how the positive attitude of a local leader of a small LDS congregation changed the membership landscape in the entire area.
This branch president (one of the names used for local leadership in the Latter-day Saint faith) came to President Monson with a dream and a request. He wanted a new chapel built for his tiny group (a dream that was not possible monetarily at the time), given the small number of members in the area. President Monson listened with skepticism, but the branch president was persistent. When President Monson said there weren't enough members to justify a new chapel, the branch president laid out his request. He asked to have six new missionaries assigned to help find new members. When he got his new missionaries, he knelt with them in prayer, saying, "This is the greatest day in the city of St. Thomas. This is the day when the gospel shall really begin to be preached with effectiveness in this city. This is the day when we begin to build our new chapel."
In President Monson's words, this is how the experience continued:
"The missionaries asked, 'Whom are we going to teach? We have no investigators.' The branch president said, 'Hand me the telephone directory,' and he turned to the back of the directory where men of all professions were listed. He said, 'If we are going to build a new chapel, we need an architect who is a Mormon. And since we don't have an architect who is a member of this branch, we must convert one.' Then he went down the list and said, 'Who shall be the first Mormon architect in St. Thomas?' And he identified a name. Then he continued with a contractor or builder, and a plumber, and an electrician, and a doctor, and a lawyer. Then he personally went to each and invited him into his home so that the missionaries might present the message and he and his family could bear testimony after the missionaries had given their message."
President Monson continued by saying, "I am God's witness that in the three years that I served in eastern Canada, I saw that branch grow from two families to a branch of almost three hundred members. They constructed their beautiful chapel. I attended the meeting where that building held perhaps four hundred persons. What was the secret? It was the attitude 'we can achieve our goal'" (in Conference Report, Amsterdam Area Conference, Aug. 1976, 8–9).
This branch president was clearly a man driven by the "as if" principle. He had a vision of building a new chapel—a vision that could not have been realized until the membership in his area increased. He then went about making that vision happen by living as if it was an attainable goal. He relied on the help of the Lord, the work of the missionaries, and his own faith as well as the faith of the members in his area. He acted as if his request for a new chapel was indeed feasible and therefore, he was able to see to its fruition. His faith fulfilled the principle.
Live as if life is worth living, even if you may be discouraged at times. Remember, the Lord sees your individual worth even when you doubt it. With a positive attitude as your leap of faith, you will soon see opportunities to improve and grow. You can become the successful person you set out to be, even if you begin only by thinking as if you are that person. You will find how much your life truly is worth living.
President Spencer W. Kimball, the 12th prophet of The Church of Jesus Christ of Latter-day Saints, said, "Regardless of your present age, you are building your life; … it can be full of joy and happiness… It all depends upon you and your attitudes, for your altitude, or the height you climb, is dependent upon your attitude or your response to situations" (in Conference Report, Oct. 1974, 112–13; or Ensign, Nov. 1974, 80).
This post was originally published in February 2015. Minor changes have been made.
About Nanette ONeal
Nanette O'Neal loves the gospel and is very happy to share her testimony on LDS Blogs. She is a convert to the church and still feels the spirit burn strong within her heart. She graduated from Mason Gross School of the Arts with a degree in music education and has taught children and adults in the private and public sphere for over twenty years. Nanette continues to study the gospel and the art of writing. She writes weekly inspirational articles on her blog and is currently working on an LDS fantasy novel series, A Doorway Back to Forever. You can find her at NanetteONeal.blogspot.com. Nanette has a wonderful husband, talented son, and three beautiful dogs.