It's valentine season, and love is in the air! Just last week 9 of my friends became engaged. As a single adult this time can be very tender for many folks whose lives haven't turned out exactly as they would have planned. However, I think that's because they don't want to acknowledge that they are also in love. Admittedly, it was only recently that I was able to declare it myself.
Because falling in love is such a new experience for me I find it difficult to express in words. In all honesty I feel as Lynn G. Robbins who said, "To comprehend it, love has to be experienced." Gordon B. Hinckley further describes, " It will occupy all of your thoughts and be the stuff of which your dreams are made." Both of these things have been true in my case. It's one of the most thrilling adventures.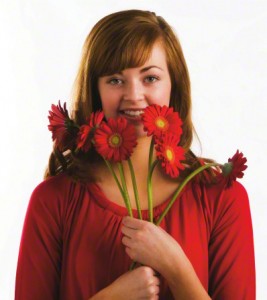 But wait, I just said that I think everyone is in love. I guess I should clarify, I think that everyone can choose to be in love. It's a choice. I don't really believe anyone can fall in love by accident. It takes work, and effort, and honestly it takes time. However, I feel that everyone can fall in love and not just at Valentine's Day.
The other day it just hit me. I was walking around almost always with a smile on my face. I was feeling more hope than I had in as long as I could remember. The sun was in the sky, and I felt like it was in my soul. The most mundane tasks now seemed easier. This is how I knew I was in love.
At moments along the way my happiness really freaked me out to be quite honest. I would suddenly expect bad things to happen to change my mood. I would even start looking for the negative just so that I would be prepared to face it. It was almost as though I expected to fall out of love at any moment. It was that vulnerability that someone could shatter my happy heart. When I decided to embrace the new love I felt and just let it be, everything changed. Everything felt possible.
Mine is not a traditional love story. It may surprise you that I am single, and still in love. That's right, I am in love, full on bliss filled, delusional, happy, love. How is that possible? Oh I really think it must be the Lord's doing, but recently I have found myself fully in love with my life.
I love the things I spend my time doing. I love my job because it allows me to interact with other people and help them in small ways. I love serving in the temple because it brings greater peace and joy to my heart than anything else. I love blogging because it helps me express my emotions. I love spending time with friends and listening to them and learning from them. I love watching everyone fall in romantic love. I love watching things work out for other people. I love watching them work out for me.
It may sound odd, but I think this new love of life comes from understanding a great purpose to the things that happen each day. Somehow I am learning that it isn't about what we do, but about what we are becoming, and helping others to become. Yes, I believe everyone has the potential to fall in love with life. You don't have to love everything that happens, but you can love who and what the Lord is allowing you to become.
My invitation to you is that you stop and take an inventory of how far into love you feel with your life. If you love it, find a way to love it even just a little bit more. If you hate it, find a way to change it. Life is too short, so why not fall in love with it?
About Ashley Dewey
Ashley Dewey is extremely talented at being single. Hobbies include awkward conversations with members of the opposite sex, repelling third dates, talking to boys about their girl problems and to girls about their boy problems. In her spare time she also has a very fulfilling school life, work life, and social life. Besides being a professional single, Ashley is also a BYU graduate with a degree in linguistics (Aka word nerd). She enjoys studying other languages, particularly American Sign Language, and finds most all of them fascinating. She is currently pursuing a masters degree in Teaching English as a Second Language. Ashley works most of the time and has often been accused of being a workaholic. Currently she works full time as a merchandiser and supervisor in a retail store, and part time doing social media work. On her day off she works (really it doesn't feel like work) in the Provo LDS temple. The only kind of work she finds difficulty focusing on is house work. Her favorite activities in her free time are reading, writing, creating social experiments, and spending time with great friends and family. Specific activities with those family and friends include: going to concerts, plays, dance recitals, BYU basketball and football games, and watching sports on television.
Twitter •