It's that time of year – – the end of the school year time of year.  For us it's the end of our public school special education experience.  Last week was the very last end-of-year choir concert for us.  Joey had a great time.  Choir and ceramics will be some of the hardest things to let go.  There are other programs in the future for my Down syndrome son but they will be more like "life skills" and "work training" sorts of things including how to ride a bus or vacuuming.  Someday I'll know enough about those to have something to say about them but today as I am looking forward I am forced to see that the glory days of awards assemblies and performing on the big stage are gone.  No complaining . . . these years have been good to us for the most part.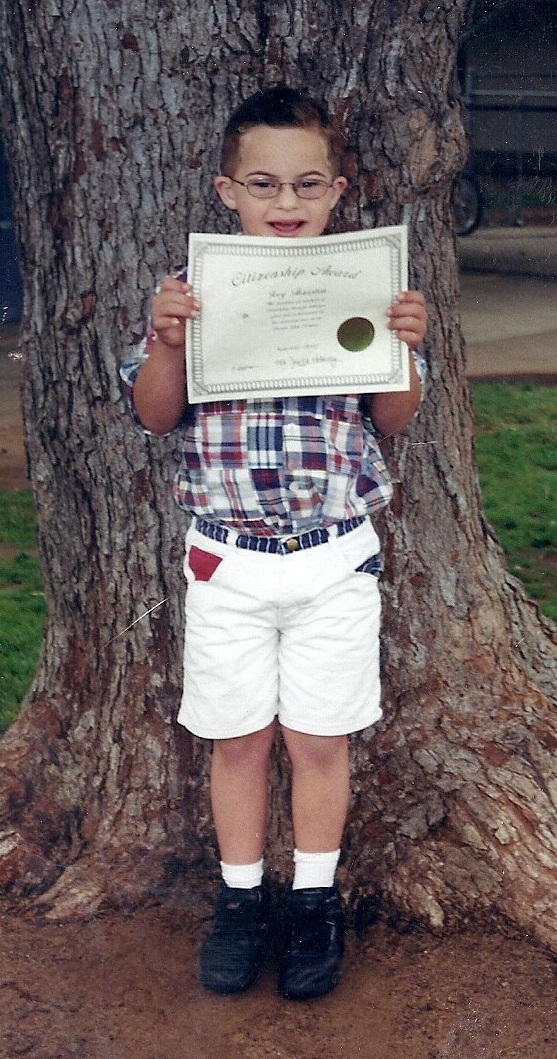 Our experience with the public schools in relation to special education is the same as it was with general education programs – – varied.  There are teachers who you just can't believe have such a connection with your child and others who probably wouldn't remember his name the next year.  Overall I believe that special education teachers must be special people themselves.  One has to admire them for being able to repeat the same thing over, and over, and over again, waiting for some little progress.  I think the hygiene alone in special ed would drive me away from it!  But these teachers, excepting only a few that I have known, are accepting of diapers, runny noses, huge wet sneezes, passing germs through touch, drooling, belching . . . lots of things.
Different teachers can see things very differently
My son has been very different at school than he is at home, for example he doesn't talk much at school which is wild because he is a chatter box at home.  We don't know why he does that but I often wonder if he gets as much credit for having brain power at school as he should.  If nothing is coming out of his mouth, perhaps they think nothing is going on in his head.  That would be a very wrong perception.
We had, what we had long felt was a dispassionate, teacher blandly reporting to us once that "Joey doesn't have 3 word sentences, but we are working on it."  Well, immediately on the way out of her classroom Joey says "Daddy, wait for me!"  My husband and I just looked at each other . . . okay, the teacher can't know if he doesn't show her, but the program could be less stimulation than he needs if the expectation isn't there.
One favorite PE teacher called our son "That jerk!" when he finally heard him talking to us after working with him 3 full years without a sound.  I loved that!  It showed me that this teacher thought of my son as a normal kid – – he was jerking him around by not talking to him when he was perfectly capable of doing so.  Coach took it back right away because I guess he could get in trouble for saying something like that but I thought it was refreshing to respond so normally.  As we talked about it he said he thought it took a certain amount of intelligence to choose someone to not speak to and then keep it up for years at a time.  He saw it as part of Joey's personality and not as something we'd have to diagnose and set a goal about . . . it became a game between them, part of their unique connection.  Joey loved this teacher:  and never spoke to him for an additional 4 years after that.
There are other people behind the scenes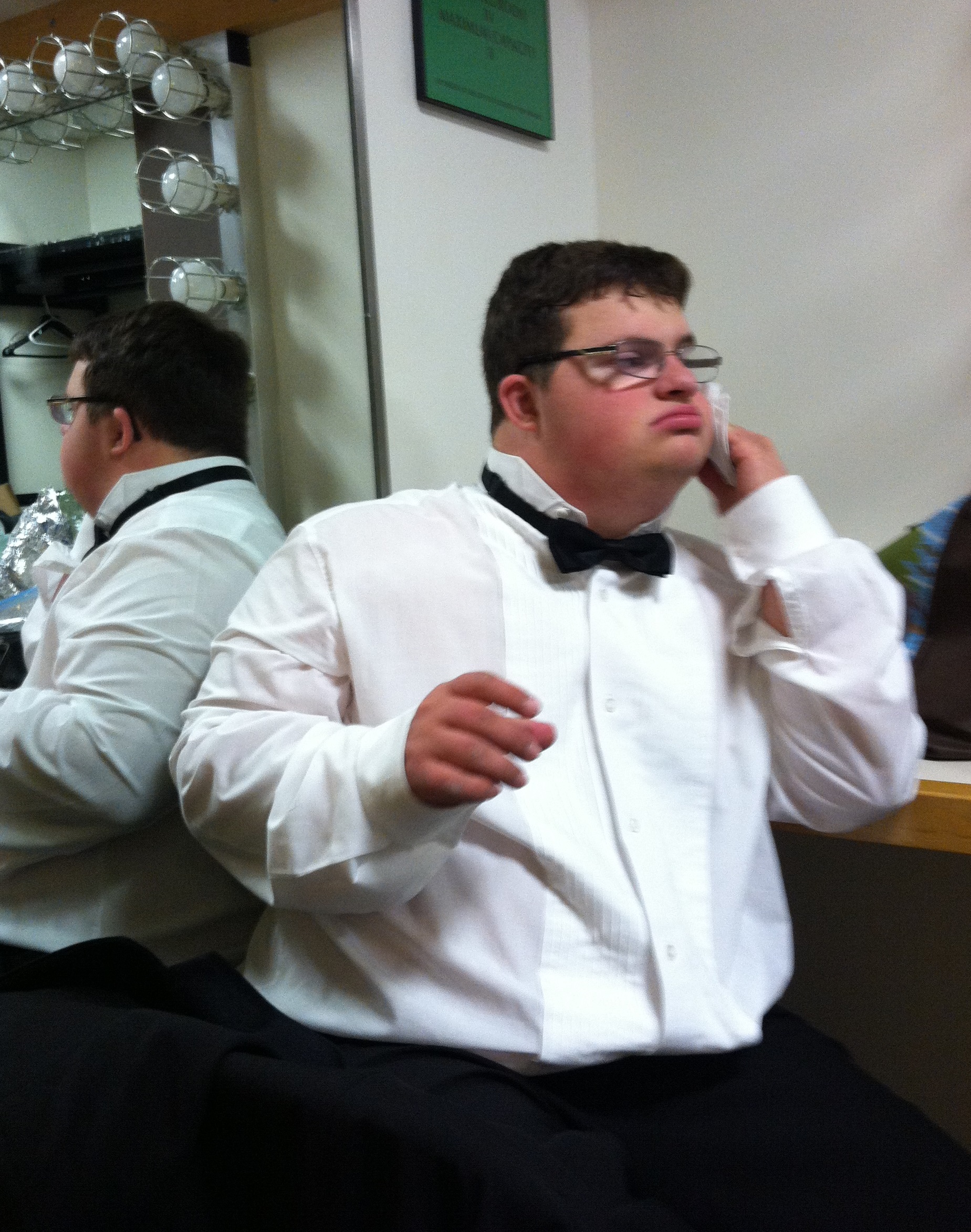 During our public school experience there seemed to be a lot of people behind the scenes who did paperwork about my son with me not really knowing for what bureaucratic reasons they were involved.  We saw or heard from them once a year when there was a report to be written.  There were other sorts of specialists who he met with once a month or so, teachers he knew who were not in his classroom, teachers' aides of varying skill and commitment, and security and custodial staff who befriended him.  When we were on campus we could tell who in this crowd were important to our son by those who had ever reported getting a word out of him, glances he'd make in their direction, smiles or pulling a face, and even a few well-rehearsed handshakes.  There were many students who were so terrifically good to him, and we were also told of some ridicule and teasing incidents by those less charitable.
My Down syndrome son has spent a lot of time in the public schools and outside my sphere of influence.  He's been with a tremendous number of people who I don't even know.  All have had an impact on his life – a handful of them impacted him for the very, very greater good.
Just as with my general ed children though, I can observe that home is still the most important influence of all.  I don't know that my teaching of my son has given him every single little thing he could have learned here but I do know that when he is with me is when he feels like his world in most in order.  He may not be happy where we are, or he may want to "go home", but wherever we are he knows that if he stays by me he is safe no matter what else is going on, and he feels like it's his best chance to end up with a happy day.  As much as anyone else has ever had his best interest at heart or given him training and life experience, he knows that his sure foundation is with us and that makes me feel like a successful teacher too.
What to look forward to
So now that high school is ending, now that my son is entering whatever will be the shape of his adulthood, it's good to look back and see that with all the wonder and worries that precipitated it, his school days have gone pretty well.  Pathways that were once unknown played themselves out with even some blue ribbons and audience applause.  What comes next is a little less scripted.  For these unknowns there are many fewer advisors.  My son doesn't understand a lot of what goes on around him, has no idea what's going on or that he might be missing in the broader outside world, but we've been through so much together that I know we'll get through the rest, whatever that turns out to be.  Hold on, I noticed that I changed subject pronouns just in that sentence . . . from all about him, to something about me . . . maybe it's me I've been writing about in this last paragraph.  Maybe it's me who needs reassurance that it's going to be alright or needs to know that even though he is going to be literally at my side all the time from now on I can come out of it with happy days and the world will be alright, and I won't know or care what I might be going to be missing.  Hmmm . . . while I think about that . . .
Let me share with you the most shining experience we had with teachers in our 16 years of special education in public school. The two women in this video are literally the most gifted we ever met in bringing their students to life.  This was just at the end of our last day of middle school (bulletin boards taken down, last good-byes said) and I talked with these ladies about their perspective on their special education student's abilities and potential.  They mention that they had seen my son blossom – – it wasn't by age or by chance, it happened because of them.
About Jane Thurston

Twitter •