This is the time of year when we hear accolades of the great fathers everywhere. And that is totally appropriate and warranted. Fathers teach great lessons that can't be learned as efficiently anywhere else. We all have stories of dad giving a piece of advice, encouraging us when we fall, or just lending a listening ear.
But this year I would like to provide a different point of view from a father's perspective.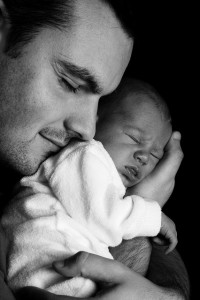 We fathers are not missing in action. Indeed our families are our most important endeavor. But what is rarely expressed eloquently is how lucky that we are to be doing what we love most. People everywhere are looking for a job that's fulfilling, rewarding, and important. Very few people in life wake up every morning excited for the events of the coming day. How often do you hear "Great. I love Mondays!" Sometimes I have to pinch myself. My children are my pride and joy and best friends. I have six. Dads get to celebrate life every day. Don't misunderstand me. Life comes with raging storms, and dad's often take the brunt of it, but that's what heroes do. And they do it for their families, which makes it all worthwhile.  Here's a great Father's Day video from Dove.
The privilege it is to be a father doesn't come about because of stellar capability. Often I feel the least qualified, but that's why fatherhood is so great. My wife and children support me anyway. So when you're thinking about recognizing your father this year, know that from our perspective we appreciate being given the chance.
That's where I have really learned as a father. If you could see what I see in you, I am sure you would realize something wonderful, something exquisite like is unequaled anywhere else in the world. It gets better every day. How can that be? I don't rightly know, but it does.
Every dad is a hero, because he is someone's father.
And he has the best job on earth. Really.  Here's another touching video. Dads really do care.
"Each of us has to deal with the conditions that life has given us. To one person the challenge is ill health, another may have a difficult marriage. A third may struggle for faith. Still another may have a hot temper to overcome. Perhaps to some the challenge is that life is just too easy. I believe that we will be judged by God according to his knowledge of our challenges and we may well be surprised, if we get to heaven, to see who else is there. My greatest challenge is to be a righteous follower of Jesus Christ. That takes a great deal of effort and sacrifice. In specific terms, I have covenanted to be a good wife and a mother. If I have not made a success of that, I have been a failure in life. All my other worldly activities, as satisfying as they are, are incidental to that one."
This quote is attributed to Camilla Kimball.
Here is some more inspirational reading.
Blessings Resulting from Reading the Book of Mormon
About Walter Penning
In 1989, Walter Penning formed a consultancy based in Salt Lake City and empowered his clients by streamlining processes and building a loyal, lifetime customer base with great customer service. His true passion is found in his family. He says the best decision he ever made was to marry his sweetheart and have children. The wonderful family she has given him and her constant love, support, and patience amid life's challenges is his panacea.
Twitter •