This article was previously published on latterdaysaintwoman.com
The other day I saw a headline on my news tracker about Susan Boyle, the woman who caught the world off-guard by singing beautifully without looking the way people think a singer should look. The article said the children in the neighborhood used to make fun of her and throw things at her, which she took good-naturedly. Today, however, because she's famous, they are nice to her and congratulate her, and in general, most people are treating her with respect.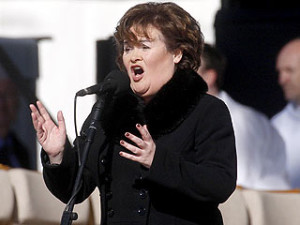 I wonder if the children have stopped teasing all people who are different in some way, or just Susan. Did someone sit them down and say, "You know, it's easy to be nice to Miss Boyle now, because you know she's really talented, but she was just as talented before you knew about it. She was worthy of your respect last year, too, but she didn't get it. I wonder how you're going to treat all people from now on, knowing there might be more to the person than you see?"
God planted a spark of divinity inside each of us. We have the potential to become like Him, and each commandment is meant to lead us in that direction. One of the most important is to love one another–not just the pretty ones, or the smart ones, or the talented ones, but everyone.
Even though we can't always see the talent or even the divinity, it's there, and we need to try to aim our treatment of them toward the divinity. As a writer, I've been trained to ask why and what if. When I read about someone who commits a crime, I ask why–what happened in his life to cause this? What could happen to restore the spark he's hidden away? When I teach a child in Primary who won't behave, I ask questions until I uncover the reasons. When I know the reasons, I find it easier to love, to be compassionate, to be empathetic.
Why and what if are good questions for all of humanity, not just writers. Add another W word–who. Who is this person, really? What are his talents, his gifts, his passions? If you don't know, find out.
Just imagine how different Susan Boyle's life would have been before this year had those around her asked the W questions and acted accordingly.
About Terrie Lynn Bittner
The late Terrie Lynn Bittner—beloved wife, mother, grandmother, and friend—was the author of two homeschooling books and numerous articles, including several that appeared in Latter-day Saint magazines. She became a member of the Church at the age of 17 and began sharing her faith online in 1992.