This article was previously published in Latterdaysaintwoman.com
This article was first written when I was teaching a split nursery– one for junior nursery and one for senior nursery.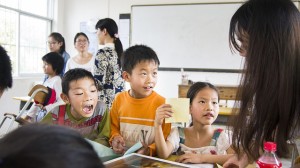 Senior nursery consists of the children who will be Sunbeams in January. We began this in the summer, when the class size reached fourteen with four more yet to come. We have a nice arrangement for this. Our classroom has a divider in the middle and the senior side has a very tiny classroom adjoining, which can be reached without going into the hall. We use this for lesson and sharing time and it's set up like the Sunbeam room. The curtain is opened for the combined snack and singing time.
I think of our nursery as having three stages for a child.
Stage 1:
The last six months or so of the year, the children are in a divided class. The younger children have a structured class, but it is lightly structured. The teacher teaches the lesson and does each stage, but as the lesson manual says, we don't worry if they don't participate. There is one large toddler toy always out for the youngest children, who often don't join in the lessons and activities.
Stage 2:
In January the class is no longer split, since the oldest children move to Sunbeams and the numbers are small. The structure picks up at this time and playtimes are shortened and lessons are lengthened.
Stage 3:
Preparation for Sunbeams. Our ward doesn't gradually increase the structure for Sunbeams, so we do it in nursery. The older children have their own class from summer on, and we are very structured, using chairs for lessons. However, each segment is short and we move around a lot. When I taught Sunbeams, I taught the lesson for twenty minutes and did the rest in coloring and activities related to the lesson, so for these older children, I do ten minutes, which is half of what I figure they'll need for Sunbeams.
Of course, this isn't ideal, since some children start right in with stage two, but it's the best I can do.
Staffing for our LDS Nursery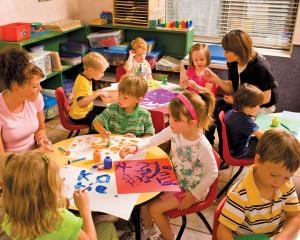 During the time we split, we have five people on the nursery staff–two for each class and a "nursery grandma" who sits in the rocking chair and rocks criers, cuddles children who needs a break, and works to get new children to stop crying and start playing. She monitors their readiness to join the crowd and helps them settle in. Often they will come to her for a moment's break, a cuddle and a hug before returning to their toys. She stays in the junior room unless she's needed elsewhere. I consider her the key to our nursery's success, since we have far fewer criers since we added her to our staff.
When we re-combine, we will most likely release one teacher and the others will take turns attending Relief Society and Sunday School. As the nursery leader, I'll stay all the time, providing continuity and teaching the lesson so it's taught the same way each week. Anyway…I don't want to attend classes that don't use flannel boards and puppets.
Schedules for our LDS Nursery
Note that I haven't done a stage two yet, so this is theoretical. I've done nursery many times, but I'm aiming for a higher level this time.
Our schedule was designed around the need to have the music leader at 11:30, when she is free, and a desire not to have snack too close to when they're going home to lunch.
Stage 1 schedule (junior nursery, children who won't go to Sunbeams in January.)
10:50 Arrival and project.
11:00 Gathering routine, opening song and prayer, lesson.
11:10 snack
11:30 singing time and musical activities.
11:45: free play, clean up
12:15-12:30 Review, group games, story time, or educational activity, closing prayer.
Having just started this, the junior nursery teacher is experimenting with the schedule. She is finding it best to start the lesson right away, and do the project afterwards (the coloring page from the lesson) but she has only a small group and they all come quickly. If your class trickles in, it won't work. However, she finds starting the lesson helps to end the tears more quickly.
The junior and senior nursery combines for snack and music, since the music leader from Primary does our singing time.
Stage 2 schedule: (combined class from January to July or so.) 10:50 Arrival and coloring page
11:00 Gathering routine, opening song and prayer, lesson.
11:10 snack
11:30 singing time and musical activities.
11:45: free play, clean up
12:10-12:30 Closing activities: a scripture story (using the stories that will be taught in stage 3) and related activity, such as acting something out or an action rhyme related to it. This is a very brief start to the sharing time concept, but much shorter and without the craft or singing time.
This is followed by group games, stories, or a single activity such as puzzles or sewing cards, with a small bin of toddler toys for the one-year-olds who don't want to do the activity. The final five minutes or so we'll review the lessons.
Stage 3 Schedule: This is a very structured schedule and requires leaders with the time and energy to do it. The work can be divided up.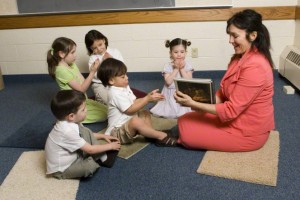 10:50 Arrival and project. (Usually the coloring page for that lesson.)
11:00 Gathering routine, opening song and prayer, lesson.
11:10 snack (Combined with junior nursery.)
11:30 singing time and musical activities. (Combined with junior nursery)
Nursery Mini-Sharing Time:
See sample sharing times for nursery.
11:45: Craft related to the sharing time, involving both coloring and gluing (teach gluing skills.)
12:00 Lesson Segment:
5 minutes: Learn a scripture story and do a related activity. One story per month.
5 minutes: Singing time related to sharing time story, same songs all month.
5 minutes: Review the fun parts of the regular lesson.
12:15: Game or educational toy/activity (We bring out only one most weeks and rotate between sewing cards, puzzles, file folder games, plastic connecting blocks (large sized), flannel board, and flannel dolls (like paper dolls, but with flannel) or other toys with educational value.
Yet another LDS Nursery Schedule:
I am now teaching the junior nursery in another ward and I'm testing this schedule, since I do my own music here:
Arrival: Color or play on floor. (Most of the children don't color, so I just put their names on a paper to send home if they don't.) When I tried this with the older class, I had a craft going. I invited a few children at a time to the craft table. They glued and then colored.
10:25 Lesson
10:40 Snack
11:00 Singing Time
11:15 Play time
11:45 Group Activities
I like this schedule because it breaks up the structured time. The children behave better. They are more mellow after they've eaten. It also lets me set up the lesson while they eat–whoever is helping me handles the snack time.
About Terrie Lynn Bittner
The late Terrie Lynn Bittner—beloved wife, mother, grandmother, and friend—was the author of two homeschooling books and numerous articles, including several that appeared in Latter-day Saint magazines. She became a member of the Church at the age of 17 and began sharing her faith online in 1992.