If you've been reading this column regularly you might have gotten the hint that I'm a big Disney fan.  Certainly if you take a look at my blog you will see I am all things Disney all the time!  It might surprise you then that I was cautiously optimistic going into their latest animated feature film, Zootopia.  The trailers had not sold me on the film and the studios last anthropomorphic movie, Chicken Little, is one of the few from their canon that I hate.  I also am not as high on Wreck-it Ralph as most people; although, I do like it.   So, I went into the theater Thursday with all of this on my mind and I am delighted to tell you- I was wrong.  It's a masterpiece!  Take your family as soon as you can and I even recommend seeing it in 3D, which is rare for me.
There are a lot of things that make Zootopia special.  It's hard to think of a non-musical Disney film that is better than it.  My friend and Disney expert Kyle said he believes it is the best Walt Disney film since Walt's death.  
Enough with the hyperbole-Why is it so great?  There are a couple ways and I will break it down by category and will keep it spoiler free:
Great characters– Judy Hopps is one of the most likable Disney protagonists in a long time.  She's willing to break the status quo for bunnies and try to be a cop.  This is a dream that not only makes her parents very nervous but that is unwelcomed by the police department itself.  However, each step on the way she is resourceful in figuring out solutions.  She's never going to be the biggest or strongest but she climbs the obstacle courses and catches criminals in her own unique way.  
The rest of the characters are also a delight including her partner a con-artist named Nick Wilde.  You have the mayor, her boss Chief Bogo and many other great characters. All the voice acting is wonderful including Ginnifer Goodwin as Judy and Jason Bateman as Nick.
Gorgeous setting– The world building in Zootopia is stunning.   Everything about it is so lush with an amazing attention to detail. Zootopia is not just a big city with anthropomorphic animals but it has boroughs that are designed for different kinds of animals.  You have Sahara Square, Tundratown, BunnyBurrow, Rodentia and The Rainforest District.  
This is why I recommend seeing the film in 3D.  I normally hate 3D but this isn't 3D shoving stuff in the viewers face but more of an immersive experience.  You feel like the city surrounds you while watching.  It's beautiful!
Humor and Heart– Going into Zootopia I thought it was an uproarious comedy but really it's not.  It's very funny but there is also some really great heart with Judy trying to solve a case in 48 hours and prove her value to her boss. The relationship between Nick and Judy feels authentic and they have terrific chemistry together.
This may be Disney's most rewatchable film as there are tons of background gags which you can pick out if you are watching.  Like for instance when they go past a store it says DNKY and has a picture of a donkey.  That's so clever.
There are some adult jokes but not in a tawdry way- just some winks to pop culture, Disney, and even Breaking Bad that may go over kids' heads.
Powerful Layered Messaging–  This is the true standout of the film.  I sincerely hope families will see Zootopia and it will lead to a lot of productive discussions, just like Inside Out did last year.  To begin with Judy is a minority and isn't treated with much respect, but there is a moment where she falls into stereotypes and labeling for a different minority. This makes the lesson much more effective because nobody is a paragon of virtue.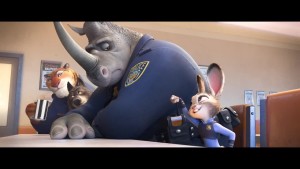 There are also great messages about bullying, hatred, tolerance, workplace discrimination, and especially fear.  A character in the film tries to use a fear of the predator animals to manipulate the people of Zootopia.  We can certainly see this same practice in our society today!
Yet the film never becomes preachy.  This is not a Fern Gully or even a Fox and the Hound.  This is because all of the characters have these fears and prejudices and are also victims of them at different points in the story.  This makes great characters without a bad corporate greedy guy villain like in The Lorax (boy what a contrast that movie is with this!).
Zootopia is one of those films that I can't imagine not liking.  I'm sure there is someone out there but I feel like it has something for everyone.  It's funny, sweet, and emotional, with a fantastic message.  The only caution I'd give is for kids 5 and under there are a few scary sequences when they are investigating the animals that have gone savage.
I kind of hope they change Splash Mountain at Disneyland to Zootopia.  There's a waterfall in the film and it would be so much more relevant than Brear Rabbit and Brear Fox.  Either way I can totally see it being integrated easily into the parks and would be more than happy to see sequels in the future.
So Zootopia is great in every way you can ask for in animated films. It's funny, sweet, imaginative and tackles tough topics without beating the audience over the head with it.  You should all go see it right away!!
Let me know what you think of Zootopia Put in the comments section below.
https://www.youtube.com/watch?v=TWssKZ3UT
I give it an A+.  It deserves it.  I loved it!
About Rachel Wagner

Twitter •