Very rarely in life can you have a truly unique original experience. Often you will have times that are exciting or that do themes and genres well but originality is tough to come by.  That is why Walt Disney's 3rd animated classic Fantasia is such a special film.  It is a wholly unique concert experience- meshing together the greatness of art, music and moviemaking all in one film.  It will never be duplicated (despite an attempt years later) and it changed animated movies forever.
Walt got the idea of doing Fantasia because he was worried about the waning popularity of Mickey Mouse.  He came up with an idea of a short called The Sorcerer's Apprentice that was originally going to be part of his Silly Symphonies series. However, as they worked on the short it became clear to the team that it was going to be too costly on its own for a short.  
Walt had met famous conductor Leopold Stokowski on a train and had the idea to expand the music and art concept into 8 segments with Sorcerer's Apprentice being the longest central portion. Stokowski brought in the Philadelphia Orchestra and music critic and composer Deems Taylor became the MC of the film.
One of the things I appreciate most about Fantasia is it is a concert experience.  It isn't very different from sitting down at a symphony and hearing the beautiful music and it feels like you get into the composer and the animators heads at the same time.  This was such a bold idea from Walt and I love bold filmmaking.  It's what most people get wrong about the movie.  You can't watch it like any other movie.  You have to watch it like going to a concert because that's what it is.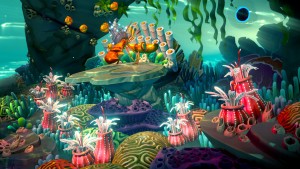 What annoys me about Fantasia 2000 is it isn't a concert any more.  It is a clip show with witty banter and celebrity introductions.  That drives me crazy.  Fantasia is a meant to be a concert experience and what a great way to introduce children to the concept of a concert and to the classical music greats.
They were very wise with the songs they selected because they managed to incorporate a ton of different tones and feels.  You get everything from Mickey, to dancing ostriches and the Devil himself.  This is why it baffles me a bit when people say it is boring.  The shorts aren't that long and you get so much variety that I at least am never disengaged.
Let's talk about the individual shorts:
Toccata and Fugue in D Minor by Johann Sebastian Bach-
This is in many ways a great introduction to the film because it shows lines and music and how they interact. It feels like the base point where the two worlds of sound and art meet. I love Bach so this is very neat.
Nutcracker Suite by Tchaikovsky-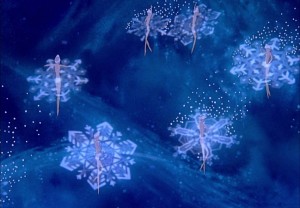 One of my favorite segments.  I love how they capture the different worlds from Nutcracker in the creatures and foliage of the forest.  The mushrooms and Russian flowers are probably my favorite.
The Sorcerer's Apprentice-
The most famous segment and the only one with a real narrative but it is a complete delight.  I love seeing Mickey learn his lesson for being lazy!
Rite of Spring by Stravinsky
The most epic of the shorts.  It takes us all the way from the start of the world to the extinction of the dinosaurs.  It is beautifully animated and I love how it fits with the music.  I would never have picked that for Stravinsky but it works.
Intermission/Meet the Soundtrack-
Kind of a funky segment where you get to see how the sound is rendered and the way it moves during an animated sequence.
Pastoral Symphony by Beethoven-
A  very creative take on the pastoral symphony.  We get a story of the Greco-Roman Gods celebrating the God of Wine.  The use of color especially stands out here with blues, pinks, yellows that pop.  We get to see centaurs, cupids, fauns and other mythological creatures and it is beautiful.
Dance of the Hours by Ponchielli-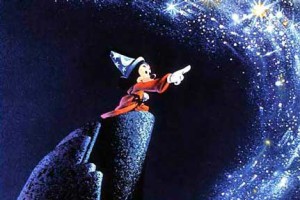 Aside from Sorcerer's Apprentice, Dance of the Hours is the most famous segment of the Fantasia.  It shows animals playing the parts of ballerinas in Ponchielli's ballet.  I love that whether it is hippos, elephants or gators it feels like dancers.  It has a flow and rhythm you expect form a great dancer. T is of course very funny but it all works within the world of film.
Night at Bald Mountain by Modest Mussorgsky and Ave Maria by Franz Schubert-
With its striking imagery it is probably my favorite segment in the film.  We start with the devil and all his minions.  It is creepy and menacing with nothing citifying anything up.  It starts swirling and becoming a mass of fire and demons and then towards the end you get a ray of light and the calming Ave Maria.  Just beautiful, stunning, wonderful, whatever other adjective you want to use.
The quality of the animation throughout can't be overstated.  It looks like it was done yesterday not in 1940.  Also the orchestrations are top notch with Walt bringing in an entire orchestra to record, which was very rare back then.
If you are someone that struggles with silent movies or classic music I suggest giving this a try but watch it in small doses.  Watch a segment here, another one there.  I think you will grow to really love it as I have.  It is without a doubt a masterpiece and again one of the purely unique movies that exists on film.   It's not just a movie but a concert experience!
You can stream it on Netflix right now.  Also I am reviewing the Disney Canon on my channel. I highly recommend subscribing if you are a Disney or movie fan.  I think you will enjoy the series.  
About Rachel Wagner

Twitter •