Last week I told you guys about Walt Disney's 3rd animated classic Fantasia and today we are profiling his 4th classic Dumbo.  For some Dumbo is seen as a controversial picture but I personally think those concerns are a bit overblown and they shouldn't detract you from seeing a lovely film with a great message.  
Dumbo was released in 1941 and has an interesting backstory.  Due to the war in Europe both Fantasia and Pinocchio had failed to turn a profit.  This left the relatively new Walt Disney Animated Studios cash short and in a pickle in trying to complete the laborious Bambi.  To alleviate this problem the decision was made by Walt to do a quick low cost film that could bring in some income.  One of the 9 Old Men (Disney's 9 greatest animators) Joe Grant wrote up a storyboard based on a Roll-a-Book panorama about an elephant with big ears that could fly called Dumbo.  
Clocking in at 65 minutes, Dumbo, is one of Disney's shortest feature films and is relatively simple.  It tells the story of Dumbo, the elephant with the big ears, and his friendship with a mouse named Timothy Q Mouse.  It's essentially an anti-bullying story at its core.  Mrs. Jumbo even stands up for her son from both the elephant and human bullies and ends up in the circus jail.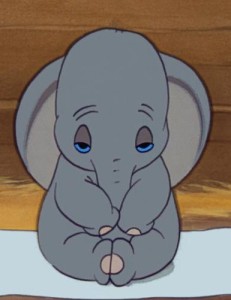 Most people remember Dumbo for 2 reasons- First, Baby Mine- this is a heart wrenching lullaby sung by Mrs. Jumbo to Dumbo when she is imprisoned in the circus jail.  It's a very moving, beautiful song and I don't think it is bad for kids to see films that make them cry from time to time.  There are certainly enough other emotions in the film that it doesn't feel downbeat or morose.  It's one of those Disney films that has a little bit of everything emotion-wise.
Second, people often remember the crows.  They have a reputation of being racist. The crows despite being voiced by African American actors many felt they had a mocking tone and the illusions to "Jim Crow south" combined with some of the slang dialogue rubbed people the wrong way.  I can see their point; however, I think you have to consider the entire movie and not just one song, or group of characters.  The whole message of Dumbo is about tolerance and accepting people that are different. The crows are a caricature and they are silly but they are actually quite encouraging of Dumbo once they understand his unique situation.  I can see being offended but I still think they are tolerable for the era they are in and with a little explanation the movie can still be enjoyed and even loved.
The animation is a joy to watch in Dumbo.  Because they were on a tighter budget they used simple plain color backgrounds and implemented a watercolor approach to the film.  I love the look and feel of it almost as much as the lush backgrounds of Bambi and Pinocchio.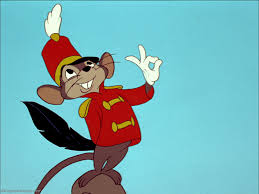 There are also surrealist touches particularly in the brilliant Pink Elephants on Parade sequence.  This is a somewhat bizarre section of the film where Timothy  Q Mouse and Dumbo accidently get drunk on champagne and have a wacky dream about you guessed it 'pink elephants on parade'!  The way the elephants merge in and out of each other and the near-fluorescent bright colors is amazing.  It has absolutely nothing to do with the rest of the story but I love it!   It is such a great example of when Disney was making art with their animation first and commerce second- even in a small budget movie made for quick income.  

I also love the character of Timothy Q Mouse.  Elephants and mice are supposed to be afraid of each other but Timothy hears the elephants and the men making fun of Dumbo and immediately jumps to his rescue.  He is one of my favorite Disney sidekicks they've ever had.  
Many of the early Disney films I have gained greater appreciation for as I've gotten older but I still think it is important to introduce children to them when they are little.  The best movies should inspire creativity and evoke emotion and all these films do- Dumbo possibly most of all.  I love it and think it is one of the more underrated Disney classics.  
You can stream it on Netflix and so gather the family together and check out one of Walt's masterpieces.  Let me know what you and your kids think in the comments section.  
About Rachel Wagner

Twitter •