There is perhaps no word that is more casually thrown around than 'classic' in the world of movies. In fact, my beloved Disney claims all of their animated films are 'Disney Classics'. But occasionally there will be a movie that has a near universal agreement that classic or masterpiece is the appropriate hyperbole to describe it. One such film is 1939's The Wizard of Oz. It is either Mary Poppins or Wizard of Oz that to my eyes is the greatest live action family film ever made. It's actually kind of hard to write about Wizard of Oz because I love it so much but I will make the attempt.
Wizard of Oz was directed by Victor Fleming based on the novel by L. Frank Braum. It stars Judy Garland in the iconic role of Dorothy from Kansas. Dorothy is a frustrated little girl who feels that nobody will listen to her. Then a mean woman named Miss Gulch takes her beloved puppy away and Dorothy decides to run away from home.
On the way she meets a fortune teller who convinces her to return home but a storm has erupted and she is hit in the head and taken away in the tornado. When she wakes up she is the magical world of Oz. She finds out she has killed a wicked witch with her house and must go to the Emerald City so the Wizard (Frank Morgan) will help her get back home. She also gets the ruby slippers which the Wicked Witch of the West (Margaret Hamilton) desperately wants.
The Wizard tells Dorothy she must get the broomstick from the Wicked Witch of the West- a seemingly impossible task. But luckily she has gathered a group of friends along the way with a scarecrow (Ray Bolger) who needs a brain, a Tin Man (Jack Haley) who needs a heart, and a Cowardly Lion (Bert Lahr). Dorothy faces the Wicked Witch and with her friends and some lucky water she is successful and gets the broom. Well, when she brings it to the Wizard it turns out he is a fraud and cannot get her home. But it turns out that she can get home with the ruby slippers and reciting 3 times 'there's no place like home'.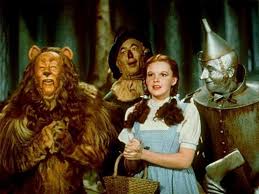 It is perhaps unnecessary to repeat the plot of Wizard of Oz. It is such a beloved film that most everyone I think knows the goings on of Dorothy and her friends. What's perhaps most remarkable is how well the film has held up over all these years. Everything from the production design, performances to the songs are first rate. Judy Garland is perfection. I especially love her singing Somewhere Over the Rainbow which is my favorite song. Margaret Hamilton is fantastic as the Wicked Witch and I love Ray Bolger as the Scarecrow. But they are all great.
Over the years I've heard many theories trying to explain the 'true meaning of Wizard of Oz'. One theory even said that it is an allegory for atheism and that the Wizard is meant to symbolize God who is actually a charlatan. If that's what it means to them than so be it but that is not the lesson I take from it.
I think the main message in Wizard of Oz is about happiness. Dorothy sings about seeking happiness in Over the Rainbow. 'If happy little bluebirds fly across the rainbow, why oh why can't I?' She's asking a question that the movie then answers. While in Oz she is presented with a good and wicked witch. She must defeat wickedness and only then is she ready to listen to the good. But you can dig deeper than that- The Wizard is symbolic of all the salesman who try to convince us what they are selling is the recipe for happiness. Buy this outfit, live in this neighborhood, be friends with this person, change your body this way and then you will be happy. Such promises are like the Wizard a lie and unable to make us happy.
But what does bring lasting happiness? Home. There's no place like home. Dorothy learns that home and family- her aunt Em in particular- is what really matters and will make her happy. Is there more of a Mormon message than that? ☺
I kind of wish I had children so I could share movies like Wizard of Oz with them. It's such a magical experience and when I rewatched it this week the 1 hour and 41 minutes flew by and I almost wanted to start it over again. There are so many other things I could go into like the gorgeous black and white and color change but just go and watch Wizard of Oz with your family. It's one of the untouchable masterpieces of cinema. I know you will have a magical experience and please let me know how it goes.
About Rachel Wagner

Twitter •