As an animation fan I love finding little gems that are much better than you expect. I can honestly say the Barbie movies fit into this category. They are easy dismiss as direct to dvd films made solely to sell toys to little girls but that is doing them a disservice. They are better than that and I think they can be enjoyed by the entire family.
What makes them special is the stories, music and vocal performances. All of these attributes are in fine form in the 3rd Barbie film (2nd we've reviewed in this series), Barbie of Swan Lake. Based on the Tchaikovsky ballet Swan Lake gives us a very creative and unique take on a traditional story.
The plot features Barbie as the daughter of a baker named Odette. She lives in a kingdom near an enchanted forest. One day a unicorn named Lila comes out of the forest and Odette follows it into the forest. The unicorn ends up getting caught in a trap and Odette takes a magic crystal from a tree to free Lila. Little does she know that the crystal is kind of like the Sword in the Stone and whoever retrieves it from the tree is the chosen one to defeat the evil sorcerer Rothbart.
Odette tries to not take her place as the chosen one but Rothbart turns her into a swan. Fortunately, the Fairy Queen is able to temper the curse so that she turns into a human at night and is a swan during the day. She then is determined to defeat the curse and defeat Rothbart. Along the way Odette meets a Prince named Daniel who naturally becomes involved (all of these Barbie fairytales turn into Cinderella at one time or another).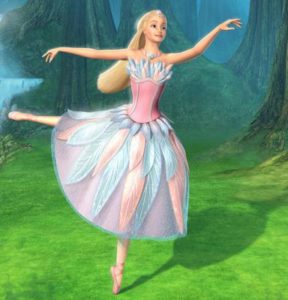 As is always the case with the Barbie movies the vocal performances in Swan Lake are outstanding. Kelly Sheridan is terrific as Odette. Kelsey Grammar is sufficiently evil as Rothbart and Maggie Wheeler is fun as his wicked daughter Odile. They are all great.
The animation is still not the greatest but I think it is an improvement on Barbie Rapunzel. It was released in 2003 and you can tell it is the early days of cgi animation with a small budget but I think everything else is so strong it is watchable.
In anything called Swan Lake the music must be up to par and in this case it is. I wasn't able to uncover if they used a symphony orchestra for the recording of the Tchaikovsky but it sounds like it. There were even moments where the score was so good it was a little distracting and I think I was focusing on it a little bit too much. There was also an original song by Leslie Mills called Wings that I enjoyed very much.
Obviously Barbie of Swan Lake is not going to win any awards or compare with Pixar or Disney but I enjoy it very much. I like the story, music and vocal performances. What more do you need out of an animated film?  I think your girls will particularly love it but I know grown ups that enjoy the Barbie films. They are very well done.
Let me know if you see Barbie of Swan Lake or Barbie as Rapunzel and what you think?  Is the rough animation a barrier for you or do you enjoy them like I do?  I would love to hear your thoughts.
About Rachel Wagner

Twitter •