In searching for insight into the Savior's suffering in Gethsemane, I did a word search on lds.org for sweat. The results actually were enlightening!
The word "sweat" is used in only three scriptural scenarios with a total of five references.
Sweat of thy Face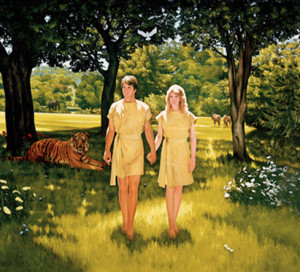 Three scriptures use the word "sweat" in relation to Adam:
"In the sweat of thy face shalt thou eat bread, till thou return unto the ground; for out of it wast thou taken: for dust thou art, and unto dust shalt thou return" (Genesis 3:19).

Similarly, "by the sweat of thy face shalt thou eat bread, until thou shalt return unto the ground—for thou shalt surely die—for out of it wast thou taken: for dust thou wast, and unto dust shalt thou return" (Moses 4:25). 
And the fulfillment of the Lord's decree in Moses 5:1
"And it came to pass that after I, the Lord God, had driven them out, that Adam began to till the earth, and to have dominion over all the beasts of the field, and to eat his bread by the sweat of his brow, as I the Lord had commanded him. And Eve, also, his wife, did labor with him." 
Sweat provides an essential function to our body's health. Perspiration, produced in sweat glands and brought to the skin's surface, combats body heat when air temperature increases, during physical exertion, illness, or stress. Sweat amounts may also relate to foods or medicines ingested. Humans generally sweat 278 gallons a year!  99% of that sweat is water, but 1% is salt and fat.
Sweating Blood from Every Pore
Luke referred to the Savior's sweat in Gethsemane
"And being in an agony he prayed more earnestly: and his sweat was as it were great drops of blood falling down to the ground" (Luke 22:44).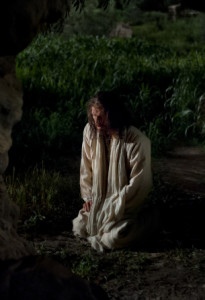 Hematohidrosis is caused when capillary vessels feeding sweat glands rupture because of extreme physical conditions, acute fear, or intense mental contemplation. The capillaries constrict under pressure and dilate until they rupture. Blood seeps into the sweat glands and sweat pushes the blood to the skin's surface.  The body suffers weakness from the severe stress and mild to moderate dehydration because of the blood and sweat loss.
The Savior described His intense experience by saying,
"For behold, I, God, have suffered these things for all, that they might not suffer if they would repent;  But if they would not repent they must suffer even as I; Which suffering caused myself, even God, the greatest of all, to tremble because of pain, and to bleed at every pore, and to suffer both body and spirit—and would that I might not drink the bitter cup, and shrink" (Doctrine and Covenants 19:16-18).
Priests and Sweat
The scene of the other reference to sweat drops the reader in the middle of Ezekiel's divine temple vision. The Lord described the temple's specifications and then described those who can serve in His holy house.
"But the priests the Levites, the sons of Zadok, that kept the charge of my sanctuary when the children of Israel went astray from me, they shall come near to me to minister unto me, and they shall stand before me to offer unto me the fat and the blood, saith the Lord God:

They shall enter into my sanctuary, and they shall come near to my table, to minister unto me, and they shall keep my charge.

And it shall come to pass, that when they enter in at the gates of the inner court, they shall be clothed with linen garments; and no wool shall come upon them, whiles they minister in the gates of the inner court, and within.

They shall have linen bonnets upon their heads, and shall have linen breeches upon their loins; they shall not gird themselves with anything that causeth sweat" (Ezekiel 44:15-18).
I've read before that Adam and Eve's condition of sweat necessitated the baptism we need and the Savior's condition of sweat provided the sanctification we need. These verses in Ezekiel really expanded my thoughts of the impact of both sweat and blood-sweat.  While fat is a minuscule percentage of actual sweat, when I read verse 15 in the context of sweat, I saw the sacrifice in different light. "[T]hey shall stand before me to offer unto me the fat and the blood," wearing garments that do not cause sweat.
The non-sweating priest eats the sacrifices.
"They shall eat the meat offering, and the sin offering, and the trespass offering; and every dedicated thing in Israel shall be theirs."

What is the impact of the internalization of that sacrifice? Ultimately, "it shall be unto them for an inheritance: I am their inheritance: and ye shall give them no possession in Israel: I am their possession." (Ezekiel 44:28-29).
So, what did I learn while studying about sweat? It pointed me to an end of physical exertions and anxieties as I know them, to sanctification through Jesus Christ, and towards a transcendent inherited, eternal life with God.
About Delisa Hargrove
I am a member of The Church of Jesus Christ of Latter-day Saints. I have moved 64 times and have not tired of experiencing this beautiful earth! I love the people, languages, histories/anthropologies, & especially religious cultures of the world. My life long passion is the study & searching out of religious symbolism, specifically related to ancient & modern temples. My husband Anthony and I love our bulldog Stig, adventures, traveling, movies, motorcycling, and time with friends and family.