When I was 14, I listened to someone who experienced Brigham Young University's Jerusalem Study Abroad Program. I sat spellbound as she mentioned places she saw and described the paths, smells, and culture that infused such life into her story. I couldn't get Jerusalem out of my mind and decided I needed to go!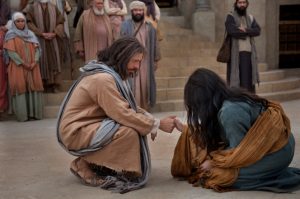 I wanted to walk the path where Jesus walked (understanding that walking the exact stones was really unlikely). Being in spaces and places where people saw Jesus has always called to me. I've been to almost every place I know of where Jesus was seen physically or in vision. Knowing I could walk where Jesus walked in Jerusalem became a springboard for this innate desire to be where He's been and, ultimately, to catch up and be with Him where He is.
I went to Jerusalem during the summer of 1991, right as the Gulf War ended. In awe, I cried from the balcony at the Jerusalem Center on the Mount of Olives overlooking the Holy City as a spectacular sunset flooded the sky. I loved the experience of exploring, seeing, feeling, smelling, sweating in, and hearing that sacred land.
I was 20.
While sitting near an olive press writing in my journal, I realized there were many other ways to walk where Jesus walked and to be in places where Jesus was.
Walk the Path Where Jesus Walked
Jesus walked with sinners and publicans. Jesus walked with society's outcasts. Jesus' steps took him to Jacob's Well and Zaccheus's tree. He walked across the Sea of Galilee and into Jordan River. He walked with disciples and persecutors. Jesus walked to men with God-given authority and men with man-made power. He walked to Bethany to raise His friend from the dead. He walked to Calvary before He was raised from the dead.
Jesus walked into people's hearts and consciences. He walked into people's pain and agony. Jesus walked into people's anger and oppression. Jesus walked into people's unbelief and fear. He walked into paths strewn with demons and devils.
And in every circumstance, Jesus walked with His Father. He said, "I am not alone, because the Father is with me."
Thomas S. Monson described ways we can walk where Jesus walked:
In a very real sense, all can walk where Jesus walked when, with his words on our lips, his spirit in our hearts, and his teachings in our lives, we journey through mortality.

I would hope that we would walk as he walked—with confidence in the future, with an abiding faith in his Father, and a genuine love for others.

Jesus walked the path of disappointment. …

Jesus walked the path of temptation. …

Jesus walked the path of pain. …

We, with Jesus, can walk the path of obedience. …

We, like Jesus, can walk the path of service. …

Finally, he walked the path of prayer. …

As you and I walk the pathway Jesus walked, let us listen for the sound of sandaled feet. Let us reach out for the Carpenter's hand. Then we shall come to know him. He may come to us as one unknown, without a name, as of old, by the lakeside he came to those men who knew him not. He speaks to us the same words, "… follow thou me …" (John 21:22), and sets us to the task which he has to fulfill for our time. He commands, and to those who obey him, whether they be wise or simple, he will reveal himself in the toils, the conflicts, the sufferings which they shall pass through in his fellowship; and they shall learn in their own experience who he is.
We can walk the path Jesus walked — with Him, like Him, as He did — until He comes to us and we abide with Him forever.
Jesus answered and said unto him, If a man love me, he will keep my words: and my Father will love him, and we will come unto him, and make our abode with him.
About Delisa Hargrove
I am a member of The Church of Jesus Christ of Latter-day Saints. I have moved 64 times and have not tired of experiencing this beautiful earth! I love the people, languages, histories/anthropologies, & especially religious cultures of the world. My life long passion is the study & searching out of religious symbolism, specifically related to ancient & modern temples. My husband Anthony and I love our bulldog Stig, adventures, traveling, movies, motorcycling, and time with friends and family.