This article was previously published on latterdaysaintwoman.com
A couple of years ago I was teaching some very bright senior Primary students as a long-term sub. The new youth program, "Come, Follow Me" had just been released and we decided to try using some of those techniques while still teaching the actual Primary lesson. I didn't do it very well, partly because the program was so new I only had a few lessons to look at. Over time, I have given it more thought. The idea still appeals to me and I've tried to imagine how I would do it if I found myself back in Senior Primary. I am looking forward to getting to try it out someday, even if it means having to leave my puppets at home.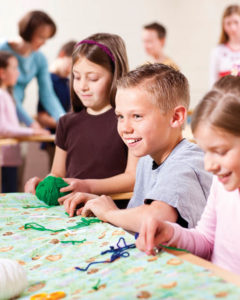 Following is a sample of what I have in mind. Since I have a lot more experience with preschoolers than I do older students, I'd love to hear your thoughts on this subject. Do you think it's a good idea? How would you do it? What changes would you make to the lesson I've posted here? I do realize there is more in this plan than I can do in forty minutes. This is how I plan lessons. I plan a lot and then choose among the list based on the individual students and the direction the class takes. I try to teach students, not lessons, so I need to be prepared to follow their leads and needs.
My goals: In light of so many people incorrectly suggesting questions aren't allowed in the Church, I would want my students to see that questions are very respectable, but that they need to be approached from a faith-based perspective. I would want them to feel safe asking even difficult questions. I would want them to learn how to research answers to their questions, using faith-based methods. Finally, I would want them to grow their testimonies.
I am imagining myself teaching nine children, since I tend to be assigned larger classes. Two are from less active families and may not know what fasting is.
Sample Lesson: Lesson 38: Esther Saves Her People
This lesson is in the Primary 6 Manual on the Old Testament.
The purpose of the lesson is to help the students learn how fasting can help them. I need to keep that in mind as I prepare.
If I was teaching this class using the 'Come, Follow Me' methods, I would give each student a folder with brads to keep their materials in. Each week, I would hand them a page for the coming week, which tells what lesson we will be learning, the major thought question, and a list of resources. I would encourage them to learn a little about the topic before coming to class. I would also ask them to write the thought question on a card and decorate it at home (if they like to decorate) and to put it where they will see it throughout the week. This will help them think about it and come to class with some thoughts in mind.
Lesson Plan:
On the board I would have the week's major thought question: Why should I fast?
Since I love to tell stories, I would begin by telling the story. I would use flannel board pictures, not to act out the story, but merely as visual aids. When I was finished, I would lead a discussion on the story, making sure to learn whether or not the students had any concerns or questions about it.
I would then use the attention activity given at the start of the lesson, teaching it essentially as offered, but, since they've already heard the story, I would ask them what this demonstration has to do with Esther, and let them start discussing it.
I would then divide the students into three groups of three. We would rotate the group memberships each week so the students learned to work with different people. I would want a table in our classroom so I could have each group assigned a station. They could work in another area of the room if they chose, but their materials would be at their station. Each station would have appropriate research materials for their question—church magazines, General Conference talks, scriptures, and so on. Ask them to make a chart showing the most important answers. As they work, I would move between the groups, making suggestions. (We would have had training at the start of my calling to teach them how to do this.)
Group One: What do the scriptures say about how and why to fast?
Group Two: What do the modern prophets say about how and why to fast?
Group Three: What blessings come from fasting?
I would have each group find the answers to their questions from the resource packet I give them. Then we'd return to a full group and each group would present their findings.
After we did this, I would point out the week's question again. What does what we've learned tell us about how to answer this question? Turn their attention to the blessings list. Are these blessings something you want to have? Why? What would your life be like if you had them? Do they have any further questions they would like to discuss on this subject?
Next, I'd address practical issues. Some children find it scary and others don't feel they have the self-discipline to fast. Some people can't fast due to health or because their parents won't allow it (less active children in the class)—what can they do instead? I would like to have a Missionary Rehearsal every week, and this is a good time to use it. Have the students pretend they are missionaries teaching an investigator (this can be me unless some of the students have shown a gift for playing investigator). This allows children to figure out the solutions to their own concerns without having to admit they have concerns, if they are shy about doing that.
10. Present fears and concerns and let the missionaries help the investigator become confident enough to agree to fast
11. Application: Invite students to decide how to make a fast effective and to outline a plan for a really great fasting experience, including what sorts of things are appropriate to fast for. Write it out and promise to give them a copy next week or to email it to them.
12. Inspiration: Tell the story in the lesson plan about the Mexican Saints. Talk about when Jesus fasted for forty days and nights. Finally, return to Esther. Ask the students what they think about fasting. Do they consider it valuable? Do they still have any concerns? Which story we learned today do they find most helpful in gaining a testimony of fasting?
13. Scripture story wrap-up: Ask them to share their thoughts about Esther as a person. Invite them to add her to their scripture hero list if they feel that she makes a good hero for them. (Have the students keep a list in their notebooks.)
14. Encourage them to talk about this subject at home and to plan for a personal experience with it if health allows.
15. Testimony
About Terrie Lynn Bittner
The late Terrie Lynn Bittner—beloved wife, mother, grandmother, and friend—was the author of two homeschooling books and numerous articles, including several that appeared in Latter-day Saint magazines. She became a member of the Church at the age of 17 and began sharing her faith online in 1992.