Many years ago, my wife and I purchased a video tape recorder. This was a brand new technology at the time, and the particular device we had chosen fit an entire VHS cassette and looked something like a news camera. Though it was massive when compared to the little, hand-held devices of today, but at the time, it was the peak of technology and we were delighted.
We brought the camera down to Castle Valley with us when my oldest two were still small children–not knowing exactly what we were going to capture. But we knew we should begin filming something for our personal family history. The whole family loved spending time on the farm with my parents.  They had enthusiastically adopted the names of Granny and Grandpa, embraced fondly by their grandchildren. Well, it so happened one morning that I had the camera out just as Grandpa was preparing to go milk the jersey cow Janey, so I started filming.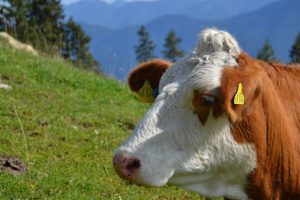 My Dad, AKA 'Grandpa', saw what I was doing and played along. Rather than just completing the steps as he prepared for milking, he began narrating the incident in behalf of those that would soon be watching the video. "So first, we get the milking pail and put grain in this bucket for Janey to munch on. –One, two, three cans, like that." He scooped the grain from a large metal garbage can, and in his characteristic, animated way he performed the task with a smile on his face and warmth that radiated to his audience to be. "We keep the washing bucket and rag here, so we will bring that along with us as well." I loved being with my Dad and capturing this experience on video cassette was really great.
He continued with his daily routine, entering the milking shed, positioning Janey, speaking softly and affectionately to her as he sat down on his three-leg stool, and washed her udder before milking. As the streams of milk flowed into the pail, the steel of the bucket resounded with vibration until the milk shortly began filling the container. His hands were moving rapidly and never slowed to rest his weary muscles. After years of milking, Dad's grip was firm and the strength of his hands and forearms now lasted longer than the milking. It wasn't always that way, as I well knew. But over years of milking twice a day, 7 days-a-week, 365 days-a-year, Dad's endurance, consistency, and strength shown through.
Then he began telling a story about his life. I continued recording as he told about his mission in Nova Scotia where he served as a young missionary without purse or script. Dad said that back then, missions had the option of choosing that method from among others, and that meant he depended on a kind soul to give him and his companion a room and a meal in exchange for preaching the gospel. Most days that worked fine, but occasionally he and his companion went hungry and even spent some nights under the stars. At other times, they boiled fresh lobsters in large tin cans on the beach. He shared with us many other experiences, as well.
Grandpa had the uncanny ability to draw people in with his stories, especially when they were about real-life events and included fun and interesting observations about life's lessons. This moment was no exception, and not surprisingly, this became the favorite video tape for our children. They watched it constantly, literally every day. That way, they were able to enjoy the farm, the animals, and Grandpa from long distance. Eventually the tape became so worn and battered that it began showing signs of wear. Before long the sound on the tape faded in-and-out until it altogether ceased. Later, the video was misplaced before I had a chance to transfer it to a DVD. But in our memories, we will forever cherish the numerous viewings on that tape.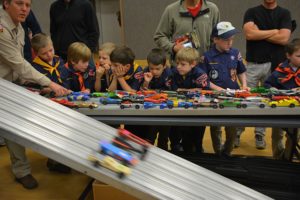 I have many favorite memories spending time with my father. I remember that he was scoutmaster for a period of time when I was a boy. He took his scouts on monthly camping activities, and of course I wanted to go with him every time. He listened to my pleas with empathy but declined knowing that I could not go with the older boys to these regular activities.  Thinking it would upset the boys or leaders or something, he resisted my appeals.  But I continued asking. I'm not sure if the rules were different back then, but scoutmasters today are allowed to take their own 11-year-old boys on camp-outs, so my dad said "OK Walter. I know you want to go on a camp out with me and the scout troop, so I will make you a deal. If you help us earn the necessary money for our super summer activity, I will let you come on our two-week-long trip to the Grand Canyon." Of course I was elated!
We earned money that summer by trimming the grass around headstones at local cemeteries. That in-and-of-itself was quite an experience for a lad. I got to spend time with the boys I admired and with my Dad. What could be better than that? That same summer we went on the promised camping trip. We visited Bryce Canyon, Zions, and Hoover Dam on our way down to the Grand Canyon. We setup camp, had flag ceremonies, cleaned up the camp sites, and always left the area better and cleaner than when we arrived. We played games like Capture the Flag, had uniform checks, and enjoyed Scoutmaster Minute every night.
Interesting how the things one remembers are not what you would expect to recall at the time. It was fantastic. I was with the older boys, and the trip to and from the canyon was a highlight.  We sang camp songs, had fun, and laughed the whole way. We packed dehydrated food for the 26-mile, three-day hike from the north rim to the south rim of the Grand Canyon. I will always remember how big the Colorado River is at the bottom of the canyon. It's enormous!! We returned from the south rim to the north rim, 3 or 4 at-a-time, in a small propeller plane.  It took us to where the parked cars were waiting for us and then we continued our journey home. What a great trip!  And I got to do it with my dad.
With seven siblings, spending one-on-one time with Dad was rare. To alleviate this problem, Dad instigated 'Dad's Night Out'.  It was simply a regular weekly time when one of the children would get to spend an evening with dad doing something we liked. I'm not really sure what others did with Dad on their night out.  But I was young, and we kept things simple. I remember going to Fernwood's for ice cream on 23rd East. Just being with dad was a treat.
These and many other recollections of my Dad have become treasured memories that I have reflected on often.  I'm lucky to have spent time with him over my entire life.
About Walter Penning
In 1989, Walter Penning formed a consultancy based in Salt Lake City and empowered his clients by streamlining processes and building a loyal, lifetime customer base with great customer service. His true passion is found in his family. He says the best decision he ever made was to marry his sweetheart and have children. The wonderful family she has given him and her constant love, support, and patience amid life's challenges is his panacea.
Twitter •