So, Mother's Day has been challenging for me for awhile.  I don't say that to garner any sympathetic responses, just to be honest.  While I think I'm very logical and rational, I have a very intrepid Mother's Day emotion that pops an elbow to the cranium and whacks an ultimate take-down of all reasoning on Mother's Day. I've felt emotionally high-jacked every Mother's Day for years. [Note, I'm writing logically about these experiences AFTER Mother's Day. ☺]
I've felt irreparably broken. Doctors couldn't ever identify what was "wrong" with me that kept me from becoming a mother. There were things, but the things shouldn't have totally hindered motherhood the way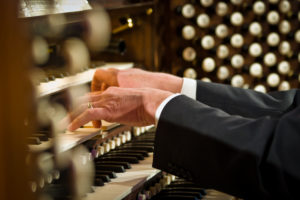 I've experienced it. Dealing with something without a reason or an answer is probably the hardest test of all. If I know what's up, I can deal with just about anything.  It may not be easy or pretty, but I can deal.
But with this, there were no reasons. No answers. Or so I thought.
On the way to church, I thought about what I'd agreed to do. I agreed to play the organ for Sacrament meeting. Sometimes it's nice and therapeutic to hide behind a big, loud organ. Nobody can really talk to you there.  And I also agreed to lead a Relief Society discussion for all the women and young women in our ward. I felt like I should teach and could teach. So, I said I'd do it.
I also had an unexpected disturbance in the Mother's Day gloom.  Two friends, Kim and Tabbi, stopped by and gave me the coolest picture collage of happy memes with a note that said how much they loved me. Their sweet gesture warmed my heart. Because of their love and friendship, I knew I could handle Mother's Day.
Anthony still thought I was crazy.  The last time I agreed to do something on Mother's Day, two years ago, was disastrous. I became completely unhinged and ugly sobbed in front of the whole congregation.

But that was different, I reasoned to him. Back then I served in the Primary presidency.  There were only 14 children in our ward in Salt Lake City. The bishop asked the Primary children to sing "The Family Is of God."  Since there were so few children, the primary president asked the teachers and her presidency to sing, too. We'd practiced it for months. I loved the song!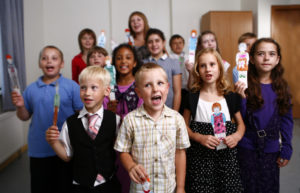 I stood behind 6 year old Emma in the chapel.  It was sweet. Everything was fine. But then, as soon as we began the chorus after the first verse, I lost it.
"God gave us families to help us become what He wants us to be. This is how He shares His love, for the family is of God."
The tears became cries and I finally sat down behind Emma and ugly sobbed the three other verses of the song. Awesome.
I'd already had a fairly emotional week.  Friends and family were experiencing substantial milestones with their children that I knew I would never experience: babies born, children baptized, teenagers graduated, missionaries called, missionaries coming home, weddings, baby blessings. I'm always so happy for them, but when it's all smashed into a few days leading up to my 'emotional high-jack day', I need to take some time and just hide.
This is why Anthony thought I was crazy (well, at least why he said he thought I was crazy ☺). Anthony had a migraine on Mother's Day, but said he was going to church anyway to support me. He is the best!
We drove to church in silence…the kind of silence that springs from migraines, fear, and dread.
I bowed my head to say a silent prayer. I thanked God for allowing me to serve on Mother's Day. And then I just sat there with my eyes closed and the air conditioning blowing on my face.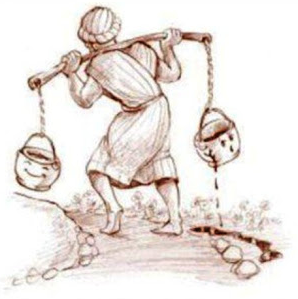 In my mind, I suddenly saw the story of the water-bearer with one cracked pot. So, the water-bearer filled both pots in the river and then attached them to a rod that he carried across his back. As he walked back, the cracked pot dripped water along the dirt path.  Eventually, there were flowers along the path because of the cracked pot's drips.
I smiled. There it was, the perfect metaphor of a broken vessel having some purpose.
I felt Anthony's hand on my shoulder.  He looked anxious. I told him I was praying. I was ok.
We arrived just in time for the cracked pot to play the prelude. I grabbed my scriptures before going to the stand. I usually read John 17 during the Sacrament.  But, instead, I felt like reading my patriarchal blessing.  
My patriarchal blessing has been such an awesome gift to me. I'm advised, actually commanded, to pursue and choose joy—over and over again. It never mentions children, but does mention service and callings—over and over again.  I read along, not expecting any major newsflash, just seeking my Father's peace.
Then, on the 5th sentence from the end—the sentence I know by heart—I saw something I had never seen. It's a long sentence. After counseling me to have joy in my opportunities, it finishes by saying "the Lord will bless you with that health and strength and spiritual strength necessary" to accomplish my life's work. Then, "Do these things in joy, remembering always whence you came and why you are here."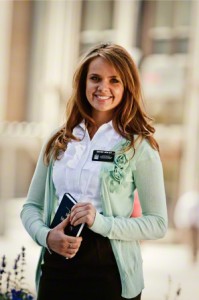 I have to explain something. I've heard the phrase "health and strength and spiritual strength" in EVERY setting apart blessing I've received as an adult, EVERY one of them. That's one reason the phrase is so meaningful to me.  The other main reason is because of the disease that followed me home from my mission.
So since my mission, I always saw the phrase as a reminder that I will be only healthy and strong enough to do whatever the Lord needed me to do.  But, especially when I started miscarrying, I really felt this element of brokenness—a feeling that even with Him, I can just barely be enough, because He promised me that much. But, I've been reminded of health and strength and spiritual strength so often in my life, because I get callings so regularly, that I've relied on that phrase as an abundant promise, and thus overcame most of the disease's effects and now feel almost-all-the-way healthy again.
I suddenly saw this phrase differently. The Lord had promised me health and strength and spiritual strength to do everything He tasked for my life. EVERYTHING He tasked for MY life. The Holy Ghost washed over me.  So, if I didn't have the health and strength and spiritual strength necessary to do something in life, it wasn't an assignment or responsibility tasked to me.
My perception changed in an instant. I had an answer!  Instead of being broken or cracked in error and used regardless, the Potter designed the water pot to drip and create a fertile pathway. It wasn't designed to water both sides of the pathway, or maintain its water level the length of the journey. It had a specific purpose that was different than most pot's purposes.
"Behold, as the clay is in the potter's hand, so are ye in mine hand."

"For shall the work say of him that made it, he made me not? Or shall the thing framed say of him that framed it, he had no understanding?"

"For I know the thoughts that I think toward you, saith the Lord, thoughts of peace, and not of evil, to give you an expected end. Then shall ye call upon me, and ye shall go and pray unto me, and I will hearken unto you. And ye shall seek me, and find me, when ye shall search for me with all your heart."
I experienced one of those moments. I called to the Potter and He found me during the Sacrament while I was hiding on an organ bench in Ewa Beach, Hawaii. And for the first time in 24 years, I didn't feel broken.
About Delisa Hargrove
I am a member of The Church of Jesus Christ of Latter-day Saints. I have moved 64 times and have not tired of experiencing this beautiful earth! I love the people, languages, histories/anthropologies, & especially religious cultures of the world. My life long passion is the study & searching out of religious symbolism, specifically related to ancient & modern temples. My husband Anthony and I love our bulldog Stig, adventures, traveling, movies, motorcycling, and time with friends and family.