The creases in his face, and hunch in his back hinted at the frailty of his worn body.  But the distance that his lips stretched to form his wide smile, which he so often radiated, illustrated the vivid spirit that was still so alive in him. His rough, gentle hands told a story of the experiences he'd had.  And his narrow legs reminded you of the thousands of miles he'd walked throughout his life in the service of his fellow man. More stunning than anything were his eyes: my Grandpa's eyes. When I looked into my Grandpa's eyes I felt overwhelmed with all the love he'd gathered into his heart over the past 78 years. His eyes told me more about him than anything else ever could.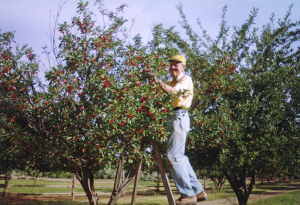 I used to spend weeks at a time on my Grandpa's farm. He would explain to me how I could help him best, and the easiest way to accomplish the chores I was assigned. I can picture times when his eyes would warn me of the danger I put myself in when I either misused tools or equipment, or let my excessive energy get me caught in sticky situations. My Grandpa's eyes always told me when he was pleased with my work, and when he was disappointed. But his disappointed glances never out shined his willingness to help me where I fell short, and learn from my mistakes. Some of my favorite experiences on the farm were when I made silly mistakes, and then I would see my Grandpa's eyes laugh as he said, "Don't worry, that happened to me once."
My Grandpa's eyes were clearly a window into his character when they shone in anguish from the misfortunes of others. So often I would see my Grandpa's eyes shimmer with tears over the struggles of others. I never saw my Grandpa complain because of his trials. and he never expected others to share his pain. I've been comforted when I saw my Grandpa's empathetic eyes reach out to me.  He has spent his whole life reaching out to help others- and it showed in his eyes.
Nothing could tell me more about my Grandpa than the marks his eyes have painted on others. I could see the canvas of their lives had been greatly influenced by his love.  My Grandpa was diagnosed with cancer recently. This news rang sharply in the ears of all who loved my Grandpa so dearly. On one occasion, I was driving home from my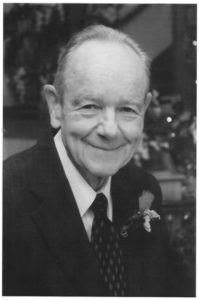 Grandpa's house with my dad. He was explaining to me, for the first time, that Grandpa had cancer. As my dad explained the situation his eyes filled with tears that rolled down his cheeks.  That was the first time, as I watched and listened to my dad, and felt the tears form in my own eyes, that I understood how special my Grandpa really was.
All those years spent on the farm, and all those times my Grandpa's eyes spoke to me; they were just stepping stones that made me love seeing his eyes. But as I drove home with my dad, after visiting him, was when I truly felt the power of my Grandpa's eyes. And I regretted how long it had taken for me to see it.  That Grandpa's eyes were magical, that I had been given a great blessing.  And I wasn't ready to let go.
By Steven Stucki
Wednesday March 11, 2006
William Richard Stucki died Wednesday February 27 at the age of 79, just two years after this memory was written. The inscription on his gravestone follows:
I rejoice that I am born to live, to die and to live again. I thank God for this intelligence. It gives me joy and peace that the world cannot give, neither can the world take it away.
-Joseph F. Smith
About Guest Author

Twitter •